2024 CRUISE DEALS SAILINGS
---
---
Subscribe Our Newsletter, Receive Cruise Deals by Email.
I agree to receive news and promotional material from this website and I understand that I can cancel at any time. Please refer to Our
Privacy Policy.
---
Are you ready to embark on a voyage of a lifetime in 2024? Cruise enthusiasts, prepare for an unforgettable adventure as you sail on some of the world's most captivating waters. Whether you dream of exploring exotic destinations, basking in the sun on pristine beaches, or immersing yourself in vibrant cultures, the Cruise Deal 2024 has something extraordinary in store for you.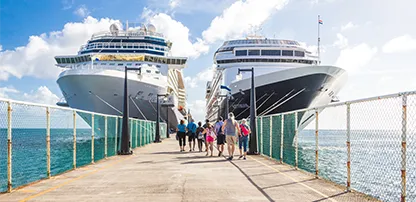 What to Expect for 2024 Cruises?
Incredible Itineraries: The Cruise Deal 2024 offers an impressive array of itineraries, ranging from tropical paradises in the Caribbean to historic treasures along the Mediterranean coast. You'll have the opportunity to discover new horizons and check off those bucket-list destinations.
Luxury and Comfort: Indulge in the lap of luxury with state-of-the-art cruise ships that boast spacious cabins, world-class amenities, and gourmet dining experiences. Expect unparalleled comfort as you unwind and savor every moment of your journey.
Adventure and Exploration: Dive into thrilling excursions and immersive cultural experiences at each ports of call. From hiking lush rainforests to exploring ancient ruins, there's an adventure waiting for every traveler.
Entertainment and Relaxation: Cruise ships are renowned for their entertainment options. Enjoy Broadway-style shows, live music performances, casinos, and relaxing spa treatments. It's the perfect balance of excitement and relaxation.
Culinary Delights: Delight your palate with a wide range of culinary delights. Savor international cuisines, indulge in fine dining, and explore regional flavors as you savor exquisite meals on board.
Social Connections: Meet fellow travelers worldwide and forge new friendships during your cruise. Cruise Deal 2024 attracts diverse passengers, creating a unique social atmosphere.
Safety First: Rest assured, cruise lines prioritize your safety. Stringent health and safety measures are in place to ensure the well-being of passengers and crew.
Book Your 2024 Cruise Deal Today!
Don't miss out on this opportunity to make 2024 a year of unforgettable adventures and cherished memories. Secure your spot on a Cruise Deal 2024 and get ready to set sail on the journey of a lifetime. Whether you're a solo traveler, a couple seeking a romantic getaway, or a family searching for exciting experiences, a cruise is waiting for you. Get ready to explore, relax, and create lasting memories in 2024!
FAQs for 2024 Cruise Deals
The Cruise Deal 2024 booking windows may vary by cruise line and travel agency. It's advisable to check with your preferred cruise provider for specific booking dates and details.
Cruise lines often provide special offers, discounts, and perks for travelers booking during the Cruise Deal 2024 promotion. These may include reduced fares, onboard credits, or complimentary amenities. Be sure to inquire about any available promotions when booking.
Many cruise lines offer family-friendly itineraries and amenities, making it an excellent option for travelers with children. These cruises often feature kids' clubs, family excursions, and entertainment tailored to all age groups.
Travel insurance is highly recommended for all cruise travel. It covers unexpected events such as trip cancellations, medical emergencies, and travel disruptions. Comprehensive travel insurance is advisable to protect your investment and ensure peace of mind.
To book your Cruise Deal 2024 trip, contact our team directly or click the Book Now button. We will assist you in selecting the itinerary, cabin type, and any additional preferences. Be sure to inquire about available promotions and payment options when booking.