Sailings for Princess Cruises - Special Offers & Deals
---
Subscribe Our Newsletter, Receive Cruise Deals by Email.
I agree to receive news and promotional material from this website and I understand that I can cancel at any time. Please refer to Our
Privacy Policy.
---
---
You can't go wrong with a Princess cruise. Princess Cruise Line offers outstanding service and luxurious experiences, making it one of the best cruise lines. With Princess cruise vacations, you'll visit fantastic destinations around the world. Everyone in your group will enjoy their features.
When you're on a Princess Cruise, there's always something to do. Every Princess guest will enjoy every aspect of their cruise, from their rich culinary offerings and Broadway-style entertainment to SeaWalk and Movies Under the Stars. The new Medallion ClassTM aboard Princess cruise ships launches in 2019. Whether you're boarding Princess Medallion ClassTM, streaming content, getting drinks delivered, or finding companions on board, your vacation will be truly personalized and hassle-free.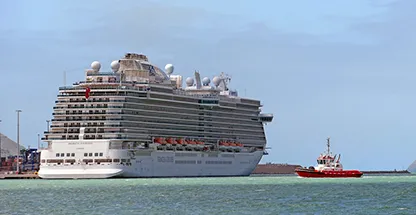 There are a few practical tips you should consider when booking your 2024 Princess cruise. Ensure that the costs include everything you need, and that you don't need to budget for or purchase insurance for anything else. If your Princess cruise is longer than a week, consider what onboard amenities you may need. Programs for youth, entertainment, fitness facilities, spas, and room service, for instance. Second, take note of the weather conditions in the region where you will be traveling and where your destination is located. The weather can vary greatly between summer and winter in some locations. The ship layout can also help you decide which cabin you'd like to choose. Keep an eye out for visa requirements and flight details.
There are many amazing Princess Cruise deals available for those who want to book a Princess Cruise. You must enter the destination, the cruise vacation, and the number of passengers. Your results can then be sorted by price, duration, and departure date. Besides filters for cruise lines and ships, you can also filter by cabin type. On each Princess cruise, you'll find a variety of amenities to meet your vacation needs. A youth program, a fitness facility, and a spa, for example.
If you are looking for a relaxing and enjoyable cruise vacation, Princess Cruises is an excellent choice. With a Princess cruise, you'll get great service, a wide choice of dining, modern amenities, friendly staff, and fun activities. It is worth the price to experience this exceptional quality.
Princess cruise deals: how do you find them?
A Princess cruise can take you to many different locations and provide you with a variety of experiences. To make your vacation even more comfortable, you can add additional features for a lower price. By searching for your destinations and selecting your preferred cruise lines, you can find the best deals. Using this method, you will only see companies that you are interested in traveling with. Your results can also be sorted based on price and duration.
Different types of Deals
Holiday Cruise Deals
Black Friday Deals
Presidents' Day Deals
Last Minute Deals
Family-friendly Cruise Deals