About Costa Cruises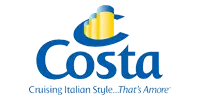 If you want to go on a cruise from Europe, Costa Cruises should be your cruise line of choice. It is the European brand of Carnival Cruise Lines and allows you to visit exotic destinations around the world, like Mumbai (Bombay) and Dubai. Whether you are keen to explore the rugged lands of Scandinavia or the colorful landscape of Thailand, Costa Cruises never disappoints.
When the Costa Cruises ships drop anchor at a port of call, you can choose from myriad excursions. The cruise line offers a mammoth 2,000 shore adventures to choose from. Besides opting for the regular excursions, you can customize one to suit your interests. Each Costa Cruises ship has a unique theme, like the Costa Favolosa, which has a two-deck water park that is replete with a castle and a pirate ship. Costa Cruises offers adventure aboard each ship and you will be thrilled with the cruise experience.
Costa Cruise Ships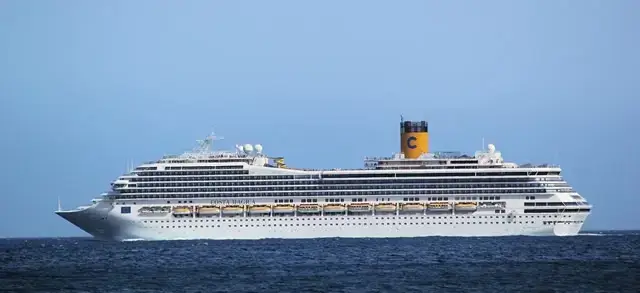 Costa is the leading cruise line in Europe, with a fleet of modern vessels inspired by Italian design, worldwide itineraries, and an identifiable European personality. As part of Costa's international fleet, there are ships like the Costa Atlantica, Costa Deliziosa, Costa Diadema, Costa Fascinosa, Costa Favolosa, Costa Fortuna, Costa Magica, Costa Mediterranea, Costa Pacifica, Costa neoRiviera, Costa Serena, and Costa Victoria. From three to 27 nights, these 15 ships offer tours to Baltic & Russian, China, Dubai, Eastern & Western Caribbean, Eastern, and Western Mediterranean destinations, Far East, Indian Ocean, Red Sea, South America, the North Cape/Fjords, and Transatlantic, and a 104-night voyage around the world.
Each Costa Cruise Ship is different from one another but has one thing in common: a colorful, lively atmosphere and live music. The costa ships are a different world waiting for you with their own unique style and everything you would need for an unforgettable cruise vacation. A centerpiece of Costa's cruise ship design is its 'Italian style,' which can be described as vibrant, glitzy, and glamorous. The Italian people are just like that!
You can enjoy much comfort, style, elegance, and fun on this cruise line. You can enjoy Karaoke, Bingo, poolside games, talent shows, Teen Zone activities, Squok club, family activities, and more on Costa cruises. A cruise with the most acceptable onboard activities will never disappoint you, as they bring you a lot of fun.
All Costa Cruise ships offers a host of amenities and comforts that will make your vacation unforgettable. You lick your fingers whenever you eat on board because of the Italian touch in every dish. You will be captivated by food, music, and fun at Mid-Night Spaghetti Session. There are more than 2500 off-shore destinations to explore and discover. With the Costa Cruise line, you are guaranteed to have an unforgettable experience that you will never forget.
Costa Cruises Destinations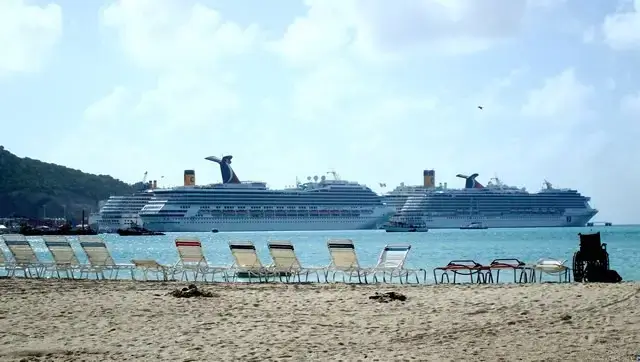 Embark on a cruise "Italian-style" with Costa, combining mouthwatering Mediterranean cuisine with dynamic entertainment. There is a strong emphasis on elaborate decor and accessories on their ships, which are sleek and contemporary. The hotel's sculptures, paintings, murals, wall hangings, and handcrafted artisan furniture adorn the public areas. The attentive staff ensures that each guest has an enjoyable stay.
With a limited but exciting cruise schedule, Costa Cruise Lines focuses on particular cruise needs as a Mainstream cruise line. These cruises offer an experience not available from other larger, more mainstream cruise companies. You can indulge in your culinary passion, learn about history, relax on the beach, or venture into the wild. There are lots of amazing destinations offers by Costa Cruises on their itineraries. Among Costa's cruises are Caribbean cruises, Mediterranean cruises, Scandinavian & Northern Europe cruises, South America, The Orient, Transatlantic cruises, and world cruises.
Costa Cruises Departure Ports
Discover the natural beauty and silence of the deserts of the United Arab Emirates, the vibrant colors of South America, and the white beaches of the Caribbean. It's time to pack your bags and explore the world with Costa Cruises and its major departure ports!
There is much to see and do on your Mediterranean cruise, from history to culture to stunning landscapes and iconic tourist attractions. A dazzling landscape changes with the seasons in the Mediterranean Sea (Mare Nostrum). The cold, clear light will accompany you to Northern Europe. Experience a one-of-a-kind adventure among mazes of rock, where tiny, colorful villages greet us like characters in a fairytale. There are Caribbean cruise ports that are perfect for anyone who loves the sea, beaches, and dreams and enjoys music and good food. Shining sun and good humor await you on the "treasure island." Its exotic departure ports are Dubai and Bombay, which Costa Cruises sail to from its European arm. Norway's stunning landscape, Thailand's colorful culture, and many more are just some places you can explore. On South American cruises, you are accompanied by the rhythm of the Latin world. In a kaleidoscope of colors where nature reigns supreme, there is the beautiful sea, beautiful landscapes, and many emotions. Taking a transatlantic cruise means retracing the routes of the ancient navigators and discovering new and exotic worlds, not just being a tourist.
The world is waiting for you on a world tour. Discover new cultures and admire unique landscapes on long shore excursions. Experience different latitudes and destinations along the continents while immersing yourself in unique destinations and atmospheres. Is that all there is to it? Decide as to what you want to explore. Booking your Costa cruise vacation through CruiseBooking.com gives you access to cruise lines' best deals!
FAQs for Costa Cruises
Costa Cruise Lines specializes in cruises that have an Italian vibe (get ready for delicious pasta on the menus) and attract a diverse global clientele.
Costa Cruises' ships offer absolute Italian style that combines comfort, entertainment, and pleasure. The Costa Cruises suites are the epitome of sophistication on a cruise. Aboard the most prestigious, modern ships, you will be surrounded by luxury and exclusivity. You and your partner will enjoy an unforgettable experience on the grand suite jacuzzi veranda.
Costa Cruise Ships all have their own unique qualities. It is the ideal choice for families and adults who are looking for a large cruise ship with a lively continental atmosphere and varied onboard entertainment.
Go to the Costa Cruise Itineraries tab to know about the schedule of the Costa Cruises by departure ports, destinations, and cruise ships.
All Costa cruises are perfect for family cruising. A Costa Cruise makes both kids and parents happy as it offers exclusive advantages for all family members. Besides its size and amenities there is one thing in common, they are colorful, lively and always full of music.
There is much to enjoy on Costa Cruises, from the standard meals to the activities on board, both sports and wellness facilities to the evening entertainment. It does not include extra amenities such as drinks, excursions, spa treatments, or service charges.
Costa Cruise is focusing on cutting down food waste, eliminated items of single use plastic, using two-third water the sea, and using the advanced technology that guarantees the emission reduction for the best environment performance as a part of its sustainable development strategy.