Disney cruises are a perfect choice if you're looking for an unforgettable vacation. Disney is one of the best cruise lines in the industry, with a successful history of providing excellent service and luxurious experiences. The Disney cruise vacations take you to some of the world's most beautiful and fascinating destinations. They're sure to have features to please everyone in your group.
Disney Cruise Line offers a unique 3-in-1 cruising experience, combining the classic cruise vacation with the magic of Disney. The ships are designed with families in mind but also cater to adults, with exclusive pools, hot tubs, nightclubs, and adult-only dining venues. Kids will love the onboard youth clubs, like Disney's Oceaneer Club, where they can interact with their favourite Disney characters, or Vibe, the lounge built exclusively for teenagers. Parents can also take advantage of the "It's a small world" nursery hosted by Huggies®.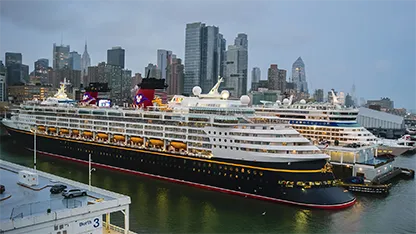 A Disney Cruise wouldn't be complete without Broadway-quality, original Disney musicals like Frozen, Tangled, and Beauty and the Beast. Onboard you'll also find first-run Disney movies and Disney character meet and greets. Disney Cruise Line is also the first in the industry to have fireworks spectaculars at sea.
Suppose you're departing from Port Canaveral, Florida. In that case, you can easily add more magic to your trip by staying at Walt Disney Resort near Orlando, Florida, before your Bahamian, Caribbean, or repositioning cruise. All add-ons, like hotel accommodations, theme park tickets, and more, can be purchased as a package with your cruise so the trip. Most cruises also include a stop at Disney's private Bahaman island, Castaway Cay, reserved exclusively for Disney Cruise Line Guests. On this island, you'll find the Castaway Family Beach, a Snorkeling Lagoon, an adult-only Serenity Bay, a children's play area and teen hideout, and a 2,400-square-foot floating platform called the Pelican Plunge.
A few tips to keep in mind when booking your 2024 Disney cruise. Make sure you know what the cost covers and if you need insurance. Take into account any amenities or onboard services you might need. Room service, fitness facilities, and entertainment programs. The second thing you need to do is research the weather conditions. Temperatures can vary significantly between summer and winter. Look at the ship layout to determine where you would like to stay. Consult the visa requirements and flight details.
CruiseBooking.com lets you book Disney cruises by filtering by the cruise line. Discover the perfect cruise with our pre-selected cruise deals. Choose your dates and departure port once you've found the one you want. Cabin experiences and cruise ships can also be refined. We offer room service, fitness, and spa facilities on each ship. With Disney Cruise Line, your family can experience premium Disney-style hospitality while experiencing the thrill of cruising.
Disney cruise deals: how to find them?
Depending on your destination and desired experiences, many Disney cruise deals are available. Make your vacation even more comfortable with these deals. Search by destination and cruise line to find the best deals. By doing this, only your preferred companies will appear. Prices and time can also be sorted.
Different Types of Deals
Holiday Cruise Deals
Black Friday Deals
Presidents' Day deals
Last Minute Deals
Weekend Deals
Family-friendly Cruise Deals