Luxurious, elegant, and opulent Silversea. Silversea offers its clients a taste of Monaco royal life with 6 ships named after Rolls Royce cars and 5 smaller expedition ships. They make you forget you're on a cruise by making you feel like you're in a six-star hotel. Itineraries include overnight stays and all-inclusive prices.
Silversea provides the comfort and elegance you deserve to explore the world's most beautiful corners. These ships are meticulously detailed. It reminds you that you deserve the ultimate luxury imaginable while showing you the farthest reaches of the globe. Your experience can be tailored to your needs with 300 cabins on board.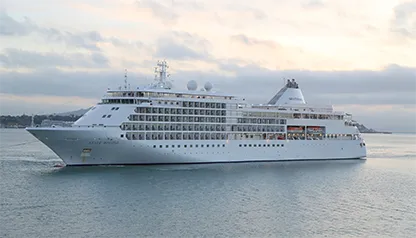 Guests at Silversea can expect exemplary butler and concierge services. Customers return to Silversea because of its quality service. Silversea ensures you leave knowing you received the best service available, whether you need a second towel at 11 pm or someone to listen. There are many reasons to choose Silversea for your next luxury escape, including fine dining, luxurious ships, immersive itineraries, and first-class service.
Every guest is treated as a family member at Silversea Cruises. Due to Silversea Cruises dedication to impeccable service and accommodations, its itineraries have become a fantastic bonus. In addition to other luxury cruise lines offering expedition cruises, the bar provides small intimate ships that travel to faraway places. The Arctic, Micronesia, East Russia, and Northern Australia are all stops on these sailings. An expert anthropologist, biologist, ornithologist, and guide may accompany your sailing. Silversea Cruises' best promotions are below.
To find the best Silversea cruise deals, scroll down and find the best Silversea cruises available. Get started with your Silversea cruise planning by contacting one of our luxury cruise experts.
Silversea Cruise Deals: How do you find them?
Search for your desired destinations and select cruise lines to find Silversea cruise deals, allowing you to compare prices and durations. Additionally, you can look for promotions and special offers on Silversea's website or through their email newsletter. Consider traveling during the off-season or being flexible with your travel dates to find the best deals. Working with a travel agent who specializes in cruises can also provide access to exclusive discounts and promotions.
Different Types of Deals
Holiday Cruise Deals
Black Friday Deals
Presidents' Day Deals