You can travel in luxury on a floating hotel to such diverse and unique destinations as the Greek Islands with Celestyal Cruises. Every moment of your cruise experience will be enriched by the line's passion for guests' comfort and happiness. Many accommodations have balconies, making you feel right at home. Stunning onboard restaurants offer exquisite cuisine, especially regional dishes from your destination. Every day, the entire family can enjoy award-winning entertainment. Enjoy a spa massage or work out in the gym on selected ships.
With Celestyal Cruises, you can visit some of the fascinating places on Earth. See why people repeatedly return to this magical part of the world by visiting Mykonos, Santorini, Rhodes, Heraklion, Piraeus, and Kusadasi, Turkey, based on the itinerary.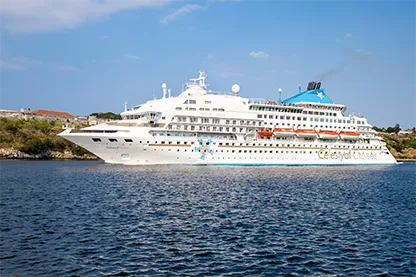 Cruise with Celestyal Cruises and enjoy breathtaking destinations and outstanding Greek hospitality. The Greek Isles and Eastern Mediterranean are Celestyal's specialties. Smaller ships allow them to visit unspoiled destinations like Patmos, Samos, and Milos that larger ships cannot. They also visit familiar favorites like Santorini, Crete, and Rhodes. Istanbul, Cannakale, Kusadasi (Turkey), Cyprus, Ashdod (Israel), Port Said, and Alexandria (Egypt) are some of the locations in the Eastern Mediterranean that offer ancient sites, culture, and cuisine to tourists.
Crystal-clear seas, stunning landscapes, romantic locations, fascinating historical sites, authentic cultural experiences, sumptuous cuisine, and a full range of entertainment await you. The idyllic Greek islands and Eastern Mediterranean are yours to discover on Celestyal Cruises. You can enjoy an authentic and generous all-inclusive offering with premium beer, wine, spirits, and a legendary itinerary.
With Celestyal Cruises, you can be sure you will have an unforgettable Mediterranean cruise you want to relive repeatedly. With Celestyal Cruises, you can experience warm, authentic Greek hospitality with an inclusive package that adds that special touch to your holiday. Embark on one of our Celestyal Cruises Deals and immerse yourself in the Greek Islands and East Mediterranean culture and hotspots.
Celestyal Cruise Deals: How to Find Them?
To find Celestyal cruise deals on Cruisebooking.com, follow these steps:
Go to www.cruisebooking.com and enter your preferred destination, travel dates, and the number of passengers in the search box on the homepage.
Click the "Search" button to see the available cruises.
The page will refresh to show only the Celestyal Cruises available for your selected destination and dates.
You can sort the results by price, departure date, duration, and other criteria using the filters on the top and left-hand side of the page.
Click on the "View Deal" button for more information about a particular cruise and book your preferred option.
Follow the booking process to confirm your reservation and secure your Celestyal cruise deal on Cruisebooking.com.
This helps you find the best Celestyal cruise deal for your next vacation!
Different types of Deals
Early Bird Cruise Deals
Holiday Cruise Deals
Black Friday Deals
Presidents' Day Deals
Last Minute Deals
Weekend Deals
Family-friendly Cruise Deals