Holland America Line is a premium cruise line that offers a range of exciting itineraries to some of the world's most captivating destinations. Plenty of options are available if you're looking for a great deal on a Holland America cruise. The line frequently runs promotions and special offers, such as reduced fares, on board credits, and complimentary upgrades. Additionally, booking early or last minute can result in significant savings. Holland America also offers a loyalty program called Mariners Club, which provides exclusive perks and benefits to repeating cruisers. With its elegant ships, exceptional service, and diverse itineraries, Holland America is a fantastic choice for anyone looking for an unforgettable cruise vacation at great value.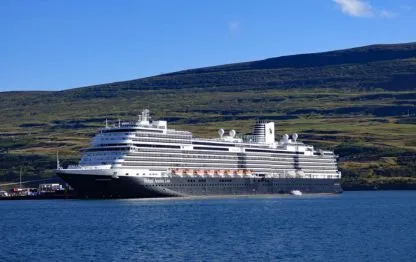 Holland America Cruise Line is a famous cruise line operating for over 140 years. The line's fleet consists of 14 ships that sail to destinations around the globe, including Alaska, the Caribbean, Europe, Australia, and more. Holland America is known for its exceptional service, gourmet cuisine, and luxurious amenities like the Greenhouse Spa and the Culinary Arts Center. The line also offers a range of activities and entertainment options on board, from live music and Broadway-style shows to cooking classes and wine tastings.
If you're interested in booking a Holland America cruise, there are several ways to find deals and discounts. One option is regularly checking the line's website for promotions and special offers. You can also sign up for Holland America's email newsletter to receive notifications of upcoming deals.
Another option is to work with a travel agent who specializes in cruises, as they may have access to exclusive deals and can help you find the best value for your money. Holland America Line is excellent for a high-quality, value-packed cruise vacation. Holland America will surely provide a memorable and enjoyable travel experience with its exceptional service, elegant ships, and diverse itineraries.
Holland America cruise deals: how to find them?
Go to the Cruisebooking.com website and select "Cruise Line" from the main menu.
Select "Holland America Line" from the dropdown menu as your preferred cruise line.
Select the destination and the departure port of your choice.
Choose the departure date and the cruise duration you want to book.
Scroll to the "Deals" section and click the "View all Holland America Line Deals" button.
Browse through the available deals and select the one that best suits your needs.
Follow the prompts to complete your booking.
Different types of Deals
Early Booking Discounts
Free Upgrades
On board Credits
Group Discounts
Mariners Club Perks
Presidents' Day Deals
Black Friday Deals
Holiday Cruise Deals
Last Minute Cruise Deals
Holiday Cruise Deals
Specialty Cruise Deals