About Holland America Line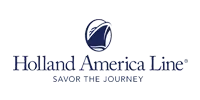 The cruise line's prestige dates back to 1873 when its ships first commenced the journey in the seas. Since then, Holland America Line has only evolved to provide a luxurious cruising pad for its passengers. Its premium and upscale amenities aim to optimize the comfort of the cruisers.
A Holland America Line ship is where recreation collides with passion. Cruisers have an array of onboard activities to try their hands at. If gourmet meals awaken your curiosity about behind-the-scenes preparation, Holland America's exquisite Culinary Council will edify you at the Culinary Arts Center.
Be a spectator to Dancing With The Stars: At Sea as the competitors bedazzle you with their graceful moves. Indulge in the heart-pounding rock concert at the deck and recycle the energy onboard. The BB King's Blues Club is sure to sweep you off your feet with its jazz rhythms. The cruise line covers all 7 continents and embarks on a total of 370 ports. Cruise back home with a suitcase full of unique experiences and memories!
FAQs for Holland America Cruises Lines
With 11 ships operating in 98 countries, territories, and dependencies around the world, Holland America Line offers more than 500 cruises.
A cruise passenger can check in 72 hours before their sail date. So, when you arrive at the pier on embarkation day, you won't have to spend as much time at check-in.
Holland America cruises allow guests older than 21 to bring one bottle of champagne or wine onboard. If the passengers are enjoying their drinks in their stateroom, no corkage fee is charged. However, if they are in a public area or restaurant, a corkage fee of $18 will be assessed.