Below sailings offer Group Cruise deals
---
---
Subscribe Our Newsletter, Receive Cruise Deals by Email.
I agree to receive news and promotional material from this website and I understand that I can cancel at any time. Please refer to Our
Privacy Policy.
---
Group Cruise Packages and Group Cruise Deals
Welcome to CruiseBooking.com! We are your premier provider of unforgettable group cruise packages throughout the year. Our group cruises are designed to make planning and enjoying a cruise with your family, friends, or colleagues easier than ever. We'll take care of all the details so you can enjoy your vacation stress-free. Our group cruise packages offer a variety of options to fit any budget and travel need. With our experienced cruise advisors, you can be sure that every detail of your group cruise will be taken care of. We look forward to helping you plan the perfect cruise experience!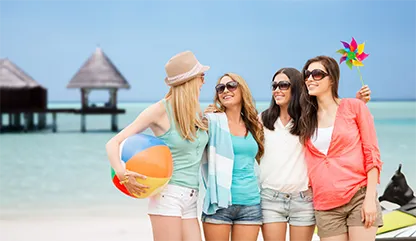 Top Group Cruise Packages
Our group cruise packages are designed to offer the ultimate comfort, convenience, and value. With various itineraries and destinations, we offer packages catering to all groups, from small gatherings to significant events.
Some of our most famous group cruise packages include:
Family Reunion Cruises - Bring the family together on a fun-filled cruise vacation that everyone will enjoy. Our family reunion packages include activities for all ages, from kids' clubs and games to adult-only lounges and entertainment.
Corporate Retreat Cruises - Take your team on a well-deserved break with our corporate retreat packages. Our cruises offer a range of team-building activities, conference rooms, and amenities to keep your team productive and relaxed.
Group Getaway Cruises - Whether planning a girls' weekend, a guys' trip, or a couples' retreat, our group getaway packages offer the perfect way to escape and have some fun. With various dining options, nightlife, and entertainment, our cruises are the ideal way to bond with your friends and loved ones.
On our website, we work with the top cruise lines in the industry to provide you with the best group cruise packages available. We offer flexible payment options, expert advice, and personalized service to ensure that your cruise experience is everything you want it to be.
So, if you're looking for an unforgettable group cruise vacation, look no further than our website. Browse our selection of packages today and start planning your dream cruise adventure!
Group Cruise Best Rates
We offer the best rates on group cruises. We understand that planning a group trip can be challenging, but our team of experts is here to help you find the perfect cruise at the best possible price.
We work with top cruise lines, including MSC Cruises, Royal Caribbean Cruises, and other leading companies, to offer exclusive group rates and discounts, so you can enjoy all the benefits of a luxury cruise vacation without breaking the bank. Our team is dedicated to finding the best deals for you, and we'll work with you every step to ensure that you get the most value for your money.
Our group cruise packages include a variety of itineraries and destinations so that you can choose the perfect cruise for your group's needs. Whether you're planning a family reunion, a corporate retreat, or a group getaway with friends, we have packages catering to all groups and budgets.
When you book your group cruise with us, you can rest assured that you're getting the best rate possible. We offer flexible payment options, expert advice, and personalized service to ensure your cruise experience is stress-free and enjoyable.
Group Cruises Are Best For
Reunions
Weddings/Anniversaries
Birthdays
Special Occasions
Churches
Associations
Special Interest/Specialty Groups
Benefits of Booking a Group Cruise from CruiseBooking.com
1. Special group rates: Most cruise lines offer discounts and special rates for group bookings so that you can stretch your budget further.
2. Group activities: Cruise lines often offer special activities for groups, such as cocktail receptions, shopping excursions, and private shore tours.
3. Socializing: Cruises are a great way to get friends, family, and colleagues together to socialize and make new friends.
4. Convenience: Booking a group cruise can be easier than organizing individual travel, as all the details can be taken care of in one go.
5. Flexibility: Depending on the cruise line and type of cruise, you may be able to customize certain aspects, such as the itinerary, food, and entertainment.
FAQs related to Group Cruise Deals
1. How many people are required for a group rate on a cruise?
A group is considered a minimum of 8 double occupancy cabins or more.
2. Which month does the Carnival Cruise release its group rates?
The group rates are only available when booking in advance. The group fares should be booked at least 6 months prior to sailing.
3. What kind of group rates does Norwegian Cruise line offer?
The group rates are a type of cruise fare and sometimes there might be amenities offered such as onboard credit or in cabin gift.
4. How much are Disney Cruises group rates?
Many factors can influence the cost of a Disney group cruise, including your needs and preferences for sailing. The price increases depending on your choice of cabin, trip duration, and destination.
5. How to save money on small group cruises?
There are several ways to save money on small group cruises such as booking early, looking for last minute deals, consider shoulder season travel, use a travel agent, book a group package, look for onboard discounts, and consider alternative ports of call. By following these tips, you can save money on small group cruises.
6. How many staterooms must you book on the Carnival cruise line to get a group discount?
On the most cruise lines, you may be eligible for a group discount if you book at least eight staterooms.
7. How to book a cruise for a group?
Booking a cruise for a group requires some planning and coordination, but the process can be relatively straightforward if you follow these steps: choose a cruise line and itinerary, contact the cruise line or a travel agent, reserve your staterooms, plan group activities, share information with the groups, and, confirm details with the cruise line. By following these steps, you can book a group cruise that meets the needs and preferences of your group members, while taking advantage of group rates and activities.