SAILINGS FOR World Cruises - 2024 SPECIAL OFFERS & SAVINGS
---
---
Subscribe Our Newsletter, Receive Cruise Deals by Email.
I agree to receive news and promotional material from this website and I understand that I can cancel at any time. Please refer to Our
Privacy Policy.
---
If you want the ultimate travel adventure, take a journey around the world in one uninterrupted voyage with our World Cruise Deals. With our selection of world cruise offers, we provide an extraordinary experience of discovery, luxury, and cultural immersion. Our world cruise deals offer something for everyone, whether you're a seasoned traveler or taking your first-world cruise. Prepare for a remarkable journey worldwide, where every port is a chance to discover the world's wonders, and each day at sea is a moment of pure serenity. With our incredible world cruise deals, you can begin your journey of a lifetime right now.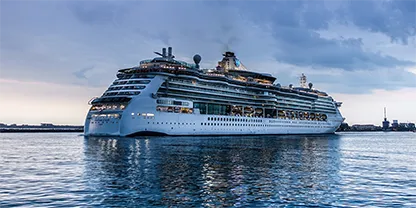 Our Selection of World Cruises Offers
Cruise Lines that offer world cruises are famous for travelers seeking an immersive and unforgettable vacation experience. These cruises allow passengers to explore multiple destinations around the globe, giving passengers the chance to visit iconic landmarks, experience diverse cultures, and indulge in luxurious amenities onboard.
1. Cunard Cruise Line
One renowned cruise line that offers world cruises is Cunard Line. With a rich history dating back to 1840, the Cunard Cruise Line is known for its elegant ships and impeccable service. Their world cruises typically span several months and visit a wide range of destinations, from bustling cities to remote islands. Passengers can enjoy fine dining, live entertainment, and various activities onboard.
2. Holland America Cruise Line
Another prominent cruise line that offers world cruises is Holland America Cruise Line. With a fleet of modern and luxurious ships, Holland America Line takes passengers on a journey of exploration and discovery. Their world cruises often include unique ports of call, allowing travelers to experience lesser-known destinations alongside popular ones. Onboard, passengers can indulge in gourmet cuisine, relax in spa facilities, and enjoy enriching activities.
3. Princess Cruises
Princess Cruises is also a notable cruise line that offers world cruises. With their "World Cruise" program, Princess Cruises takes passengers on a global adventure, visiting diverse regions such as the Caribbean, South America, Asia, and the Mediterranean. These cruises provide passengers with a comprehensive experience, combining relaxation, cultural immersion, and thrilling adventures.
4. Regent Seven Seas Cruise Line
Regent Seven Seas Cruises is a luxury cruise line that offers world cruises, providing an all-inclusive experience for discerning travelers. Their world cruises often include unique shore excursions, such as wildlife encounters or private tours of iconic sites. On board, passengers can enjoy spacious suites, gourmet dining, and personalized service.
5. Seabourn Cruise Line
Seabourn is another cruise line offering world cruises, providing an intimate and luxurious experience. With their smaller ships, Seabourn Cruise Line takes passengers to lesser-known destinations, allowing for a more exclusive and immersive travel experience. Passengers can enjoy personalized service, gourmet cuisine, and enriching onboard activities.
Also, Read: How long is a world cruise?
World Cruises Are Best For
World cruises are best suited for a particular type of traveler or someone looking for a unique and extended travel experience. Here are some types of travelers for whom world cruises can be an ideal choice:
Retirees and Seniors
Adventure Seekers
History and Culture Enthusiasts
Solo Travelers
Bucket List Enthusiasts
Cruise Enthusiasts
People with Flexible Schedules
What to Expect on a World Cruise?
A world cruise promises an extraordinary voyage of discovery, spanning several months to over a year and encompassing a diverse tapestry of destinations across the globe. Luxury and comfort are the hallmarks of these epic journeys, with opulent cabins, gourmet dining, and a wealth of onboard entertainment. Each port of call presents the opportunity for enriching shore excursions while onboard activities cater to various interests. World cruises foster a unique social environment where you can forge lasting connections with fellow travelers. As you traverse oceans during stretches of sea days, you'll find moments of tranquility and reflection amid the endless horizon. With stringent safety measures and the importance of up-to-date travel documents, a world cruise offers a transformative adventure filled with personal growth and global exploration.
Cruisebooking.com: Benefits of World Cruise Booking
Booking a world cruise is a dream come true for many travelers, offering the chance to explore many destinations in one extraordinary journey. When you choose a reputable cruise booking platform like CruiseBooking.com, you can access a treasure trove of options, expert guidance, and exclusive amenities. From finding the perfect itinerary to securing the best deals, CruiseBooking.com makes the process seamless. So why wait? Embark on the adventure of a lifetime and start planning your world cruise today with CruiseBooking.com – where your voyage to discover the world begins! Book now and set sail on an unforgettable journey.
FAQs Related to World Cruise Deals
World Cruises can vary in duration but usually range from three to four months. Some cruise lines offer shorter segments of a World Cruise, allowing passengers to join or leave the cruise at specific ports.
Yes, World Cruise Deals can be an excellent option for solo travelers. Cruise lines often offer special fares and accommodations for solo passengers, making it easier for them to embark on a memorable journey while meeting new people and enjoying the onboard amenities.
The cost of World Cruise Deals can vary depending on various factors, including the cruise line, the ship, the duration of the cruise, the cabin category, and any additional perks included. However, as a general guideline, World Cruise Deals can range from tens to hundreds of thousands of dollars per person.
Booking a World Cruise Deal as early as possible is recommended, as these cruises sell out quickly. Many cruise lines start accepting reservations for World Cruises up to two years in advance. You can secure the best cabin selection and take advantage of early booking incentives.
While the overall itinerary of a World Cruise is predetermined, some cruise lines offer optional shore excursions and pre/post-cruise packages that allow passengers to customize their experience further. Additionally, passengers can join the World Cruise for the entire duration or select specific segments that align with their interests and preferences.
The refund and transfer policies for World Cruise Deals vary depending on the cruise line and the specific terms and conditions of the booking. Reviewing the cancellation and change policies before making a reservation is essential. Some cruise lines may offer flexible options, while others may have stricter policies.
World cruise packages can vary, but they often include accommodation, meals, entertainment, and some shore excursions. Luxury world cruises may offer additional amenities like airfare, pre-cruise hotel stays, and exclusive events.