About Viking Ocean Cruises
Viking River Cruises started Viking Oceans, a new style of vacation that Combines River cruising and ocean cruising. Taking you to the most attractive and exciting destinations and cultures will be the highlight of Viking Oceans' show, the Viking Star. Get a Nordic perspective on things. View incredible scenery from your accommodations while enjoying the plush comforts of the brand-new cruise ship. An all-new home with an all-veranda and every amenity you might imagine. Next time you're planning a cruise, consider Viking Oceans.
Itineraries focusing on destinations and inclusive luxury ships have made Viking Ocean Cruises a hit since 2015. In addition to learning about a destination's history and culture, Viking Ocean Cruises appeal to active adults and intellectuals. There are nine identical 930-passenger ships, each with complimentary Wi-Fi and verandas for every guest.
Among the newest luxury fleets on the waves, Viking Ocean Cruises has a fleet of 930 passengers, mostly older adults, on largely inclusive ships. The itinerary includes ports at every stop, as well as shore excursions.
Viking's ocean ships have sleek, yacht-style bows and teak promenade decks, making them a million miles from large liners. The Infinity Pool is a great place to take a dip. The wraparound deck is a perfect place to take a stroll. In the Explorers' Lounge, you can gaze out over the city. Observe the Atrium's triple height. Take advantage of your private veranda to soak up the sun. Enjoy a relaxing spa treatment in Nordic style. There are many elegant restaurants to choose from. It is impossible not to be impressed by these ships' outstanding beauty and comfort.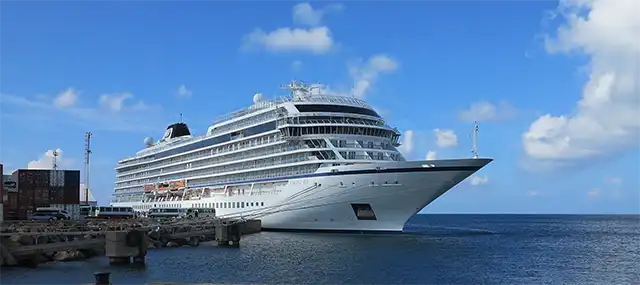 There is no better way to travel the world than with a Viking Ocean cruise. Viking holidays feature more overnight stays and less time at sea than any other cruise line. The Viking Star, Viking Sea, Viking Sky, Viking Orion, Viking Jupiter, Viking Venus, Viking Mars, and Viking Neptune are identical sister ships carrying 930 passengers. Viking Star has all-veranda accommodations and has been called "one of the most luxurious, design-forward ships sailing today" by Architectural Digest."
The Viking Octantis, the first vessel of Viking Expeditions, will debut in 2022. A submarine, enclosed marina space, and Laboratory are set to be among the many features of Viking Polaris, offering adult-only explorations to just 378 passengers later.
Whenever you dine on a Viking Cruises ship, it is an occasion to remember. The ship's signature restaurant has a daily menu featuring local specialties and fresh ingredients. Many ingredients are hand-picked each morning from local markets. In The Chef's Table, a superb wine pairing complements each course of the exquisite tasting menu, offering a taste of Tuscany.
Viking Ocean ships have more al fresco dining options than any other ship of its size because they put you as close to your destination as possible at all times. The Aquavit Terrace offers a stunning view and fresh air for lunch. In contrast, the Winter Garden provides tranquil surroundings for afternoon tea.
Frequently Asked Questions about Viking Ocean Cruises
Most cruises cost between $1,699 and $4,999, depending on their duration and destinations.
To get Viking Ocean Cruise discounts, you can sign up for our email newsletter.
What to pack depends on your itinerary. Bring a pair of jeans and t-shirt, comfortable shoes, elegant casual attire, some basic toiletries, important medications, and documents.
The self-service laundries on Decks 3–6 provide irons and ironing boards, along with detergent without additional charge.
The menus and offerings change regularly. Once you get onboard you can visit each spot to get the lastest information.