About Carnival Cruise Line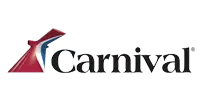 With 23 fleets and holding name as one of the world's most extensive cruise line is famous as Carnival Cruise Line. It is an American cruise line that offers luxury, comfort, and state-of-the-art royal ships for each traveler type. Generally, it sails in the Caribbean, North and South America by promising lots of fun and entertainment aboard and ashore for multi-generation. Yup, your six-month-old baby is also allowed aboard.
Further, the cruise line also caters to your baby's needs and known how to entertain them during the vacation. Suppose you want to spend some quality time with your partner or want to go for some adventure activity on the ship, you can hire babysitters aboard to help you. Aww, honeymooners, don't worry. This cruise line has lavish staterooms and private hospitality for you. Hurry lavish lifestyle, a lively atmosphere, a blast of fun-filled activities, and festive décor waiting for you.
There most sailed cruises are Carnival Sensation, Carnival Paradise, Carnival Dream, Carnival Liberty, and Carnival Legend. C'mon, take the final plunge and book a Carnival for you and your family!
Significant Highlights: RedFrog Tiki Bar, SkyRide, Waterworks, Adult-only retreat, Sky Zone, Spa carnival, Atrium, Mini golf, Lip Sync Battle, Casino, Dive-in Movies, Thrill Theater, and much more.
Carnival Fleets
1. Carnival Breeze
2. Carnival Celebration
3. Carnival Conquest
4. Carnival Dream
5. Carnival Ecstasy
6. Carnival Elation
7. Carnival Freedom
8. Carnival Glory
9. Carnival Horizon
10. Carnival Legend
11. Carnival Liberty
12. Carnival Magic
13. Carnival Miracle
14. Carnival Panorama
15. Carnival Paradise
16. Carnival Pride
17. Carnival Radiance
18. Carnival Sensation
19. Carnival Spirit
20. Carnival Splendor
21. Carnival Sunrise
22. Carnival Sunshine
23. Carnival Valor
24. Carnival Vista
25. Mardi Gras
Carnival Destinations It Sails To
1. Transatlantic
2. Alaska
3. Asia
4. Bahamas
5. Bermuda
6. Caribbean
7. Eastern Caribbean
8. Southern Caribbean
9. Western Caribbean
10. Europe
11. Hawaii
12. Mexican Riviera
13. Panama Canal & Central America
14. Australia & New Zealand
15. Canada & New England
16. South Pacific
17. Mexico
Carnival Cruise Ports Of Call
1. Grand Cayman (Georgetown)
2. Aruba
3. Nassau
4. Cozumel
5. San Juan
6. Port Canaveral (Orlando)
7. Miami
8. Tampa
9. Baltimore
10. Galveston
11. New Orleans
12. Charleston
13. Belize City
14. Freeport
15. Costa Maya
16. Grand Turk
17. Roatan
18. Half Moon Cay
19. Princess Cays
20. Amber Cove (Puerto Plata)
Carnival Cruise Ship Destinations
1. Carnival Legend Cruises to the Southern Caribbean
2. Carnival Ecstasy Cruises to the Caribbean
3. Carnival Sunrise Cruises to Mexico
4. Carnival Horizon Cruises to the Eastern Caribbean
5. Carnival Breeze Cruises to Mexico
6. Carnival Splendor Cruises to the South Pacific
7. Carnival Dream Cruises to the Western Caribbean
8. Carnival Paradise Cruises to the Caribbean
9. Carnival Radiance Cruises to Mexico
10. Carnival Pride Cruises to the Panama Canal & Central America
11. Carnival Conquest Cruises to the Caribbean
12. Carnival Legend Cruises to the Eastern Caribbean
13. Carnival Glory Cruises to the Eastern Caribbean
14. Carnival Panorama Cruises to the Mexican Riviera
15. Carnival Freedom Cruises to the Caribbean
16. Carnival Sunshine Cruises to the Eastern Caribbean
17. Carnival Pride Cruises to the Eastern Caribbean
18. Carnival Magic Cruises to Canada & New England
19. Carnival Magic Cruises to the Caribbean
20. Carnival Vista Cruises to Mexico
Carnival Cruise Ship Departure Ports
1. Carnival Glory Cruises from New Orleans
2. Carnival Ecstasy Cruises from the East Coast
3. Carnival Sunrise Cruises from Florida
4. Carnival Pride Cruises from Dover
5. Carnival Sunrise Cruises from the East Coast
6. Carnival Spirit Cruises from Singapore
7. Carnival Breeze Cruises from Texas
8. Carnival Pride Cruises from Tampa
9. Carnival Radiance Cruises from California
10. Carnival Miracle Cruises from San Francisco
11. Carnival Spirit Cruises from Brisbane
12. Carnival Pride Cruises from Dover
13. Carnival Pride Cruises from Florida
14. Carnival Magic Cruises from the East Coast
15. Carnival Pride Cruises from Rome
16. Carnival Paradise Cruises from the East Coast
17. Carnival Conquest Cruises from the East Coast
18. Carnival Panorama Cruises from the West Coast
19. Carnival Splendor Cruises from Sydney
20. Carnival Magic Cruises from Florida
Carnival Cruise Departure Ports
1. Baltimore
2. Brisbane
3. Charleston
4. Galveston
5. Jacksonville
6. Lisbon
7. Dover
8. Los Angeles
9. Miami
10. Mobile
11. New Orleans
12. Manhattan
13. Norfolk
14. Port Canaveral
15. Rome
16. San Francisco
17. Seattle
18. Singapore
19. Sydney
20. Tampa
21. Dover
22. Civitavecchia
23. New York
24. London
25. Florida
26. East Coast
27. West Coast
28. Gulf Coast
29. California
30. Texas
Carnival Expedition Duration
2 – 5 DAYS
6 – 9 DAYS
10+ DAYS
Why Should You Go On Carnival?
Carnival cruises are family-friendly and offer fun and entertainment for all age groups. It is best for its budget-conscious, gregarious families, couple, and solos looking for an unpretentious vibe you need to have for fun and entertainment. But this cruise is not suitable for anyone who doesn't appreciate off-color humor, thumping music, and lively hairy chest contests.
Carnival Ranking
The ranking of the Carnival is based on user reviews, expert suggestions, and health ratings.
1. It stands on #3 for best cruise line for families
2. It stands on #5 for best cruise line for money
3. It stands on #5 for best cruise line in the Caribbean
Different Types Of Carnival Cruising Style
Carnival Cruise Line offer different types of cruising style that includes cruises for Family-Friendly, Disabled, Senior Citizen, Romantic & Honeymoon Destinations, Fitness & Health, Solo Travelers, and Gourmet Food.
Carnival Types Of Cabin/Staterooms
When it comes to the stateroom, one size doesn't fit everyone—that's why Carnival has got enough variety of staterooms to provide comforts and satisfaction for their cruisers.
1. Interior rooms are the most affordable way to experience the cruise without cutting the corners of the comforts and privacy. Interior rooms are the perfect spot to curl up after those long tiring days. Up to 5 guests can sleep in this roomy size room. It also has a connecting room.
2. Ocean View rooms are comfy rooms with a view of sailing destinations. You will see the passing vistas along with some scenic ocean views that you won't find anywhere on land. These roomier rooms are perfect for up to 5 guests and provide connecting doors facilities.
3. Balcony rooms let you step into your personal oasis while you step into your stateroom. It is designed by keeping in mind that person should get the maximum sea breeze and most lovely views. It is available on all ships.
4. The suites provide home-like comfort and an absolutely hassle-free experience. They are one of the most spacious rooms aboard with a balcony to watch the oasis. When you select the suite stateroom, you will get priority check-in on both embarkation and debarkation, priority dinner reservation, pillow-top mattress, two complimentary large bottles of water, and bathrobes. It is available on all ships.
5. Family Harbor staterooms & suites bring the comfiest space for families with kids. They can spend their quality time and do an all-important activity of having fun simply being together. These staterooms have classically American nautical décor and multiple benefits such as board games, family movies, video games, and more. It is available on Carnival Celebration, Mardi Gras, Carnival Horizon, Carnival Vista, and Carnival Panorama.
6. Cloud 9 Spa staterooms are a little different from ordinary staterooms. Here you will find pleasing décor, in-room amenities, a relaxed atmosphere, Elemis toiletries, slippers, and a spa-branded bathrobe. You will also get benefits like free fitness classes, spa reservations, treatment discounts, unlimited access to thermal suites, and more. It is available on Carnival Breeze, Carnival Celebration, Carnival Dream, Carnival Horizon, Carnival Magic, Mardi Gras, Carnival Panorama, Carnival Sunrise, Carnival Splendor, Carnival Sunshine, and Carnival Vista.
7. Havana staterooms give you a feeling like you're at the exclusive resort island. It's inspired traveling, not far from the ocean or the Havana bar and pool. Step into the Havana cabana suite for more space and a luxurious rain shower. All Havana stateroom guests onboard should be 12 or older and are available on Carnival Horizon, Carnival Celebration, Carnival Panorama, Carnival Vista, and Mardi Gras.
Carnival Cabin Features
Babysitting: They have experienced and well-trained professional babysitters onboard. You can hire them or drop your kids with them.
Children's activities and playroom: Your kiddos and teenager will have quality time onboard. They can play and enjoy onboard activities and games, and video arcades.
Telephone: There is a telephone that is interconnected with the help desk and other cabins.
Television: You can spend your time while watching TV in your cabin.
Two-twin bed: This two-twin bed can be easily converted into a king-size bed for two.
24-hour room service: This line provides one crew member to make your cruising easier and convenient.
Youth program: There are specially designed youth programs for all teenagers and youth to enjoy onboard.
Other services: Flexible staterooms, connecting rooms, extra bathroom, accessible cruising, dedicated room steward, bathrobes upon request, in-room safe for valuables, stateroom climate control, plenty of closet and drawer space.
Carnival Dining Options
The Chef's Table: This place is one of the best places to dine-in. It features a set seven-course tasting menu in Dream's giant galley. Usually, The Chef's Table is sold out, so reservations are compulsory because the executive chef shows off the cuisine that might be out of the world.
Green Eggs and Ham Breakfast: Enjoy the world of Dr. Seuss by taking your breakfast here at Green Eggs and Ham breakfast. The tables are decorated with bright colors and different patterns, which feature fun and unique menus.
Coffee Bar: Treat yourself to a well-deserved coffee break with your partner. Drink freshly brewed coffee and have some delicious cookies. Also, you can satisfy your sweet tooth with ice-cream, milk-shake, or cake.
Steakhouse: Take your dining experience to the next level with a steakhouse. It has premium cuts and seafood that are extra-ordinary in taste.
Cucina Del Capitano: Capitano is a homey trattoria with red-checked tablecloths and Italian dishes. During dinner, the place requires reservations, while at lunch, you can eat at a free-pasta bar.
The Taste Bar: The Taste Bar is the perfect example of a voyage to new destinations and to try new things. Head to taste bar and try new dishes according to the port and local cuisine. Even you can pick up that complimentary appetizer before your dinner to taste something different.
Sweet Spot: This place is famous for its lemon cream pies, chocolate cheesecake, and more. The area also has healthy options such as fresh fruit medleys.
Guy's Burger Joint: If you're a massive fan of burgers, consider taking a bite at Guy's Burger joint. It is made by the celebrity chef Guy Fieri. Take a bite of a juicy and crispy burger.
Lido Marketplace: This place is a casual buffet restaurant, which is open from morning to night. You can get omelets (made on order), sandwiches, a dessert bar, and a salad bar for breakfast. There are also 24*7 soft-serve ice cream and frozen yogurt machines available. If you want to avoid the dress code in the evening or at night, then this place is worth to go.
Bluelguana Cantina: At Bluelguana Cantina, you can make your own burrito or taco with extra cheeses, peppers, meats, and beans. You can also try a salsa bar with ample toppings. Further, for breakfast, you can try the egg scramble, sausages, and wrapped burrito.
Pizza Pirate: Pizza Pirate is a 24 hours stand that bakes pizzas to order. So, you need to wait until your pies get warm and it is ready to eat.
Swirls: The best way to beat the heat is Swirls, an onboard ice parlor. Enjoy ice-creams and frozen yogurt anytime while onboard. Choose from vast flavors and toppings.
Good Eats: This place is a casual self-serve dinner aboard. Here you can get the New York strip steak to roasted potato to broiled pork chops with white rice, and more. You can also consider Good Eats if you want to eat well and healthy.
Seaday Brunch: The important meal of the day is Brunch. A brunch brings a mid-morning meal for all the cruisers, whether they are early birds or late-night owls. It offers tasty burritos, loaded mac 'n' cheese, special French toast, and more.
Mongolian Wok: This place has delicious Asian goodness. For that, you need to pick up veggies and noodles and then ask the chef to make the Wok by maintaining the sauce and meat you'd like to add. This place is open from early morning to late evening, go there and have as many combos as you want.
Carnival Activities That Are Included
Carnival onboard offers enrichment facilities that include below things.
Cooking Demonstration: These enrichment facilities help you learn to cook, Steakhouse-style from the head chefs as they demonstrate the tricks to make those multi-course dinners that everyone loves. The demo class fills-up fast, so consider getting there early.
Dance classes: When you go on a Carnival cruise, you have plenty of options to show your moves like dance clubs and deck parties. Some people are too good, while some need little instruction. The cruise is just the kind of vacation that puts you on the dancing floor.
Mixologist competitions: Many onboard competitions may be stiff, but don't let that shake you. Stir up your signature cocktails or mocktails and make a flavor worth a savor using spirits from all over the map. Throughout the cruise, everyone will enjoy this award-winning cocktail at bars throughout the ship.
Cruise the vineyards: When you opt for cruising, a Vineyard package is a must. You can choose it from the drinking packages on embarkation day. Even you can get discounts on the boxes in your main dining room.
Shore excursions: Carnival cruise lines have selected the best local shore excursion for their cruisers at every port of calls. On docks, you can relax and stay focus on having fun on your shore excursions. A detailed list will be given to you by your operator at the time of booking.
Carnival Cruise Health And Fitness
Below are the health and fitness options available on the board of Carnival cruises.
Cloud 9 Spa: Had a rough day at sea or a long and tiring day at the port? Head to Cloud 9 Spa for an excellent spa treatment and salon services when you need some pamper time while onboard. It is not just a spa; it's a shrine to relaxation. It gives a staggering variety of treatments, from reflexology to scrubs to hot-stone massage to oxygen facials and more. Even kids can enjoy spa here too, with treatments like father/son chill-out massage and the Acne Attack facial.
Jogging Track: Do you know that you can run on the water? Lace-up your running shoes and hit the jogging track for a long run. The way is always open and available for anyone looking to get their heart rate up over the great blue sea. If you're not a fitness person, count this track as a top-notch place for a late-night stroll and some stargazing.
Serenity Adult-Only Retreat: It is a free-to-use serenity deck that is reserved only for adults. Here you'll find the cushioned loungers, basket-weave clamshell-shaped "cabanas" for two, two hot tubs, and alone hammock. Take advantage of the complete bar service provided by attentive waiters. Enjoy listening to mellow music to keep the vibe and serene.
Yoga and Pilates: Attain the yoga and Pilates classes to help you find inner peace before you know it. The styles range from meditative stretching to more intensive and advanced levels that are perfect for you.
Fitness Centre: If you are worried about your fitness when you're carnival cruise, consider going to Carnival's fully-equipped fitness center. You can opt for indoor-cardio, aerobics, cycling, and more. Even if you're in a chill-out mood, try yoga or Pilates.
Hair and beauty salon: The onboard hair and beauty salon is all set to pamper you and your partner. This European-style salon is staffed with experts who have years of experience and specializes in bringing out the best features from you.
Mini Golf: Have you ever thought that you might be playing your favorite golf on a cruise on water? Spend some good time at the Mini-Golf onboard. The little golf course in green is well-maintained and is pretty spectacular. You can enjoy playing golf while sailing on the Caribbean Sea.
Pools: These three pools onboard, where two pools are for adults and one is for kids. You can relax and take a sunbathe along with a cool breeze and your favorite drink in one hand. The main resort-style pool is located in the middle of the cruise. You can enjoy the panoramic view of the sea at Sunset Aft pool, cool breeze, and serious poolside lounging sessions.
Medi Spa: Yes, you read it right. Your Carnival cruise line has its own Medi-Spa onboard. You might think that you don't need them but if you feel that you need a Botox or Dysport treatment, visit the Medi-Spa. Carnival has the licensed Medi-Spa physicians who use non-surgical and anti-wrinkle procedures to show results that last for months. Even you will feel it once you reach your home.
Men's Service: Men, are you all thinking that how you can pamper or groom yourself onboard? You can do it with Carnival's men's service. It includes a new hairstyle, quick hair-dying, freshly trim, or shaving. Even if you want some relaxing massage, you can get it. A cruise is a great time to upgrade your looks.
Carnival Waterworks: Head on over to Carnival Waterworks if you want to do some splish and splash. There are twister water slides that are specially designed to have onboard fun. It is four decks high, around 300 feet, and is the largest waterslide on any cruise ship. The carnival cruise line is the only cruise line that has the largest waterpark onboard.
Carnival Cruise For Kids And Teens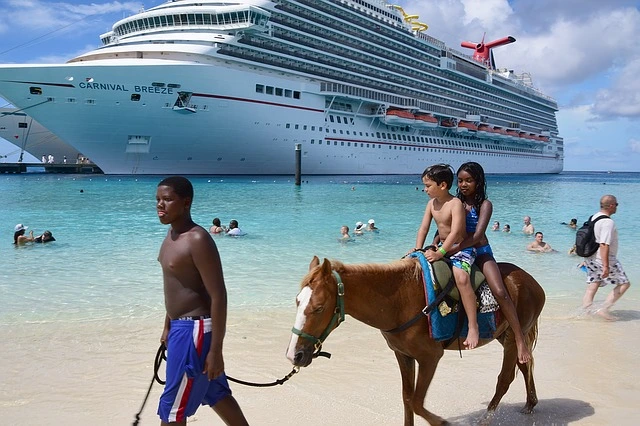 Carnival has improved its kid's program considerably. They provide creative and varied art and craft activities for children throughout the day. They also take them to different decks of the cruise for the entertainment of the kids and teens. Even there are many programs scheduled according to the kids' and teens' age groups. Some are listed below.
1. Camp Ocean is for kids who are 2 to 11 years old. They stay active during the daytime with all-new ocean-themed activities. The camps are based on the age groups like 2 to 5 years, 6 to 8 years, and 9 to 11 years. All the activities are designed accordingly.
2. Camp Carnival offers tons of different types of specially designed activities for the age group of 2 to 5 yrs., 6 to 8 yrs. and 9 to 11 yrs. Some counselors are experienced in taking care of the children and ensuring that kids have fun.
3. Night Owls is made for kids and is suitable for adults too! People enjoy until the wee hours of the morning.
4. Circle 'C' means to chill, connect, and calm. Here kids hangouts, make new friends, watch movies, play games, and enjoy great activities. Experienced and friendly people supervise it.
5. Club O2 is a hangout place where your kids can enjoy watching a movie, listen to music, video games, karaoke, and more. Even pool parties are allowed with the high schooled ages of 15 to 17 yrs.
6. Kids Active Play has many things to offer to kiddos, from treasure hunt to obstacle courses to sports competitions to playground outings. Allow your kids to go for Kids Active Play hours because your slow-time can be a fun time for them.
7. Teens Active Play offers a wide variety of sports games and activities that will include dodgeball, basketballs, video gaming, precision pastimes like ping-pong and foosball. Not only these, but there are several other games where they can play and win.
8. Kids Digital Play will teach your kids the world around them. They are entertained by movies and fostering empathy. Even video games, competitive plays, and yin and yang of cooperative will help them learn to relate.
9. Teens Digital Play motivates all teenagers on the cruise to participate in gaming. But for them, gaming is not an antisocial activity; it is about competition and cooperation. Digital play helps them to showcase their problem-solving skills and goal-oriented thinking. They can also hang out at Club O2 and Circle "C."
10. ZSPA is an onboard treatment that is provided to teens along with their unique needs. It helps teens look their best from head to toe, including trendy hairstyles and pedicures.
11. Beary Cuddly Workshop is a teddy-making activity. Carnival and your kids' team-ups to support the kids of St. Jude.
12. Arts and Crafts is a better way to spend an afternoon while cruising. Parents can motivate their kids to perform specific arts and crafts-related activities—for example, sand art, hand-printed t-shirts, and more.
13. Seuss At Sea activity is based on the timeless stories of Dr. Seuss. Cruisers will enjoy the story-time, the fantastical world of Dr. Seuss, unique character parade onboard, breakfast featuring Dr. Seuss, and more. This activity truly brings your kid's favorite book to life.
Carnival Cruise Facilities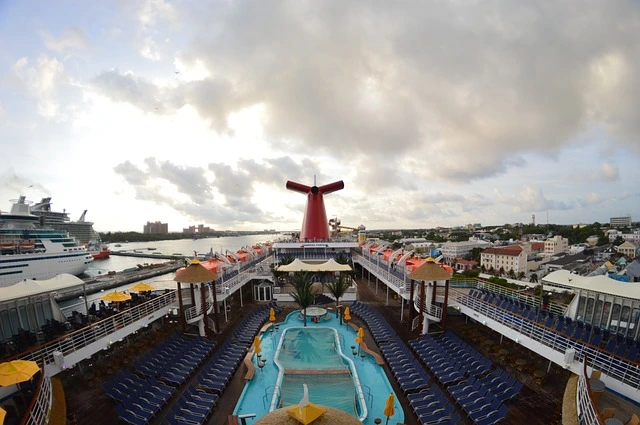 1. Limelight Lounge is perfect for the people who are artists – comedians, vocalists, musicians, and even karaoke stars. It has a capacity of 400 people.
2. An aboard night dance club with a capacity of 130 people is ready to entertain you till mid-night. Some DJs's willing to spin the trendy hits by remixing the golden oldies.
3. Piano Bar 88 is a piano bar with a capacity of 90 people. Here you can play the piano as much as you want and recalls the shots with your favorite songs. It can be a perfect spot for a before-dinner drink.
4. Winners Luck Casino is a gaming place with a capacity of 500 people. Generally, people come here to try their luck with a glass of wine or drink in their hands.
5. The Punchliner Comedy Club will add a little laughter into anyone's evening. You can count on them for the perfect evening with your family.
6. Carnival has specially designed Show Lounge to razzle and dazzle that features especially singers, musicians, and dancers who perform thrilling performances. All performances are based and designed to ensure that every night feels like an open night.
7. DJ Irie's and Carnival have teamed up to teach how to play DJ like a pro. DJ Irie is Miami's one of the best DJ Spiniversity.
8. The Cherry on Top Sweet Shop, you can enjoy life's little pleasures. With them, you can make your moments onboard more memorable and unique.
9. Live music is the most favorite program onboard for all music lovers. Carnival cruise line has hired some of the best bands at sea to entertain their fellow cruisers.
10. Karaoke lets you showcase your singing and channel your inner rock god, pop diva, and wow the world.
11. Ocean Plaza lets you enjoy the delicious sights, sounds, and scents around-the-clock while you stay onboard. It can hold 270 people at a time.
12. Atrium & Lobby Bar is on deck 3. The bar opens at night, where Latin singers entertain, DJ Spins, and some theater performances with dance.
13. Video Arcade brings out the winner in everybody. It lets all the players enjoy the latest arcade games and the olden Goldies. There is a fun time for all age groups, but ensure you bring a skilled friend who knows how to play.
14. Carnival's Seaside Theatre lets you watch a movie on a giant screen outdoors while relaxing in a pool or by lounging on a beach chair on the deck.
15. Dive-In Movies is settled into a poolside lounge chair. You can enjoy the movie under the open sky and stars.
16. Fun Shops is a place where you can find gifts for your loved ones and dear ones. You will get everything from a t-shirt to high-end jewelry to watches to cosmetics and beyond.
17. Library Bar is for all the book readers. Read your favorite book with wine and some new friends.
18. Internet Café is a place onboard where you can stay connected and share a good time onboard.
19. Art Gallery & Seminars range from classic to modern. You will learn something new at their onboard art gallery and seminars. Sometimes there are art auctions onboard for the fellow cruisers.
20. Hasbro, bingo, and trivia are some of the classic board games you might be playing during your childhood. You can play along with your kids or even adults.
21. Casino Bar is to test your good luck charm onboard. Head on over the place and make the most of this feeling. If you're playing your cards, there are more ways to be a winner than in other areas on the sea.
Other Details Of Carnival Cruise
Disabled Facilities: Guests who are using wheelchairs to access places have superior staterooms on Carnival ships. There are two types of staterooms – accessible staterooms and modified cabins. Accessible staterooms are designed for people who have a mobility disability or disability that requires accessible features. In comparison, modified cabins are for guests who may utilize a wheelchair or similar assistance device for covering distance.
Deaf/Hearing Aid: If you request before sailing, people with a hearing aid can get the kit. The kit includes the visual-tactile alert system that works as a sensor for them. It is connected with the door, telephone, alarm, and smoke detector. Not only that, there is a teletypewriter who is available 24*7 on the cruise help desk to meet the stateroom needs.
Blind/Visually Impaired: The cruise line has made some special arrangements for the people who are visually impaired. There are braille formatted documents, public room names, cabin numbers with braille signage, and a room-service menu. The audible format is also available in case it is needed. You can contact guest services for more information related to this.
Service Dogs: Carnival cruise line doesn't allow pets unless they are services/working dogs. A service dog is trained and is legally defined to meet the disability-related need. They don't let in the dog if it is under training. Also, ensure that it has been vaccinated according to the government rules.
Special Dietary Requirements: They don't have any special dieticians onboard. Still, yes, they can offer assistance with simple requests like maintaining the menu items' preparation methods. For example, suppose you have an allergy to any food item. In that case, you can take the crew's help for assistance with the meal options and food preparations. Carnival provides special dietary needs such as Low-sugar, vegan, gluten-free, Indian vegetarian, kosher, low-fat, cholesterol, low-carbohydrates, and more. PS. Any special dietary and food requests will be accommodated in the main dining rooms only.
Smoking and E-Cigarette: Carnival has designed certain exterior deck areas where cruisers are allowed to smoke. Some specific casinos/nightclubs are also there where smoking is permitted. Their policy focuses on providing a safe, fun, and memorable environment by offering their guests options to smoke.
Age Restrictions: For drinking alcohol, the guest must be 21 years or older. It should have a proper ID with a birth date. For Casino, the guest must be 18 or older to play on tables. Under 18 are not permitted in Casino. For spa and fitness centers, guests can be 12 or older. Adults must accompany their kids, who are 12 to 16 years. For shows, lounges, and dance clubs, guests must be 18 or older. A fellow who is under 18 must empty the dance club before 10:00 pm and are not allowed to attend the mid-nights shows and comedy shows, as it is designed especially for adults.
Dress Code: People can be in their comfortable casual wear during daytime like shorts, jeans, and a t-shirt. While in evening attire is casual—for example, nice jeans and dress shorts. There are one or two elegant nights in the main dining room and steakhouse. She can wear her comfortable tops and pants or short dresses for women while men can be there in their clacks and collared shirts. Moreover, daywear is acceptable in the buffet at dinner time. Tank tops for men, cutoff jeans, athletic shorts, baseball hats, swimwear, and flip-flops are not allowed in the main dining room and the steakhouse.
FAQs for Carnival Cruise Line
They are mostly all-inclusive in nature, meaning that most of the costs associated with a Carnival cruise vacation are already included in the price that you pay. There are a lot of things that fall under this category, including accommodation, dining, entertainment, activities, and programs for youth.
In order to purchase the beverage package for the entire voyage, one must purchase it through Carnival's website for $59.95 USD per person, per day plus 18% service charge. If purchased on board, the cost will be $64.95 USD per person, per day plus 18% service charge.
A number of items, including weapons and illegal drugs, are prohibited by Carnival Cruise Line on board its ships or on their crews for the safety of its guests. All luggage is scanned by Carnival for security purposes and any item deemed dangerous or potentially risky by Carnival may be confiscated. The items will be removed and disposed of without compensation. To avoid any hassle or delay in delivering your luggage to your stateroom, please unlock your luggage before handing it over to the porters. Additional information can be found in the Cruise Ticket Contract.