BOOK & SAVE TO UP 35% ON Regent Seven Seas
---
BOOK & SAVE FROM DECEMBER 1, 2023 THROUGH DECEMBER 31, 2023. Non-refundable fares.*
---
Subscribe Our Newsletter, Receive Cruise Deals by Email.
I agree to receive news and promotional material from this website and I understand that I can cancel at any time. Please refer to Our
Privacy Policy.
---
Sailings for Regent Seven Seas Cruises - Special Offers & Deals
---
---
With their inclusive luxury cruises, Regent Seven Seas perfects perfection. With five ships that can accommodate 750 passengers, they have been able to focus on what matters to their passengers. Your concierge and bartender will smile cheekily as they learn delight lie in the details. Regent takes their guests to the edge of the world with unparalleled luxury and elegance. They equally value moments of great and small importance. A sophisticated luxury adventure awaits guests. You are the focus of Regent Seven Seas.
Regent Seven Seas Cruises have successfully combined traditional cruising and modern luxury. It's always possible to capture a moment, gesture, or overlook a detail. Guests will experience sophisticated, inclusive luxury at Regent Seven Seas, where every detail is perfectly polished. Unlimited bars, minibars, gratuities, specialty dining, and a valet laundry service are included in your fare, along with 2-3 nights pre- or post-land tours.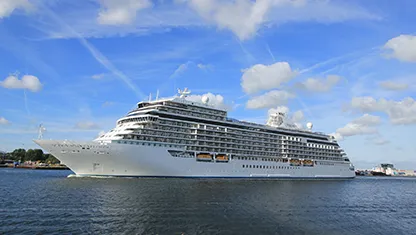 Regent delivers on its inclusive promise. Their "luxury" promises are fulfilled. Sophisticated is what they promise. They deliver on their promise of a great cruise experience.
There are over 300 ports to visit on six continents, including Antarctica, on Regent Seven Seas. A luxury vessel's ambiance is upscale but not stuffy, with a guest count of hundreds, not thousands.
With Regent Seven Seas, cruise vacations are like all-inclusive vacations. The suites feature a minibar, complimentary wine, premium spirits, and ground transfers. There are no additional charges at specialty restaurants such as Compass Rose, Prime 7 Steakhouse, and Signatures French cuisine. Free butler service is included in Penthouse Suites, as well as Hermès amenities.
A multi-glacier seaplane ride along Alaska's panoramic views or an authentic Brazilian lunch among the panoramic views of Rio de Janeiro. This cruise line's small groups offer unique, intimate experiences.
Regent Seven Seas cruises: how do I book?
Depending on your destination and the experiences you want to enjoy, there are many Regent Seven Seas cruise deals. Make your vacation even more comfortable by adding additional features for a lower price. Search for your destinations, and filter by your favorite cruise lines to find the best deals. By doing this, only your preferred companies will appear. Price and duration can also be sorted.
Check out our pre-selected cruise deals to find your perfect cruise. Then choose your dates and departure port. Cabin experiences and cruise ships can also be refined. There are spa facilities, fitness facilities, and room service on each ship.
Different types of Deals
Holiday Cruise Deals
Black Friday Deals
Presidents' Day Deals
Last Minute Deals