About Regent Seven Seas Cruises
Regent Seven Seas is an all-in luxury voyage line that creates lasting memories and takes you to the unseen world in the most delicate and most intimate atmosphere. It takes you to over 450+ different ports worldwide and is specialized in ships with fewer guests' capacity. Five vessels, namely – Seven Seas Navigator, Seven Seas Explorer, Seven Seas Splendor, Seven Seas Mariner, and Seven Seas Voyager.
Guests can enjoy the amendments onboard and treat themselves to the various exclusive and delicious food, wild and adventurous activities, and more in Alaska, Africa, the Mediterranean, Asia/Pacific, Canada/New England, and other popular destinations. Moreover, all five fleets have balconies and exude a sleek, spacious, and contemporary interior décor for the most relaxing and inviting atmosphere. Furthermore, it operates a modern, high-end fleet that offers the most extended list of inclusive features and destinations globally.
Regent Seven Seas Cruise Ships
1. Seven Seas Explorer
2. Seven Seas Mariner
3. Seven Seas Navigator
4. Seven Seas Splendor
5. Seven Seas Voyager
Regent Seven Seas Destinations It Sails To
1. Transatlantic
2. The British Isles & Western Europe
3. Alaska
4. Asia
5. Bermuda
6. The Caribbean
7. The Eastern Caribbean
8. The Western Caribbean
9. Europe
10. The Eastern Mediterranean
11. The Western Mediterranean
12. The Mexican Riviera
13. The Panama Canal & Central America
14. South America
15. Around the World
16. Canada & New England
17. The Baltic Sea
18. The South Pacific
19. The Mediterranean
20. Africa
21. Mexico
Regent Seven Seas Cruise Ports of Call
1. San Juan
2. St. Barts
3. Miami
4. Dominica
5. Southampton
6. Barcelona
7. Dubrovnik
8. Venice
9. Copenhagen
10. Rome (Civitavecchia)
11. Taormina (Messina)
12. Athens
13. Istanbul
14. Santorini
15. Kusadasi
16. Marseille
17. Corfu
18. Monaco (Monte Carlo)
19. Split
20. Kotor
Regent Seven Seas Cruise Ship Destinations
1. Seven Seas Explorer Cruises to Alaska
2. Seven Seas Voyager Cruises to the British Isles & Western Europe
3. Seven Seas Voyager Cruises to Africa
4. Seven Seas Mariner Cruises to the South Pacific
5. Seven Seas Navigator Cruises to Around the World
6. Seven Seas Voyager Cruises to the Baltic Sea
7. Seven Seas Explorer Cruises to Africa
8. Seven Seas Voyager Cruises to the Eastern Mediterranean
9. Seven Seas Navigator Cruises to the Caribbean
10. Seven Seas Voyager Cruises to Transatlantic
11. Seven Seas Mariner Cruises to the Eastern Caribbean
12. Seven Seas Splendor Cruises to the British Isles & Western Europe
13. Seven Seas Mariner Cruises to Asia
14. Seven Seas Mariner Cruises to Around the World
15. Seven Seas Mariner Cruises to Mexico
16. Seven Seas Explorer Cruises to the South Pacific
17. Seven Seas Mariner Cruises to the Panama Canal & Central America
18. Seven Seas Mariner Cruises to South America
19. Seven Seas Splendor Cruises to Europe
20. Seven Seas Voyager Cruises to South America
Regent Seven Seas Cruise Ship Departure Ports
1. Seven Seas Splendor Cruises from Piraeus
2. Seven Seas Mariner Cruises from Rio de Janeiro
3. Seven Seas Explorer Cruises from Hong Kong
4. Seven Seas Splendor Cruises from Venice
5. Seven Seas Explorer Cruises from Laem Chabang
6. Seven Seas Voyager Cruises from Piraeus
7. Seven Seas Navigator Cruises from Florida
8. Seven Seas Splendor Cruises from Southampton
9. Seven Seas Mariner Cruises from Barcelona
10. Seven Seas Navigator Cruises from Reykjavik
11. Seven Seas Explorer Cruises from Laem Chabang, Bangkok
12. Seven Seas Navigator Cruises from Barcelona
13. Seven Seas Explorer Cruises from Dubai
14. Seven Seas Navigator Cruises from Copenhagen
15. Seven Seas Voyager Cruises from Rio de Janeiro
16. Seven Seas Explorer Cruises from Klong Toey, Bangkok
17. Seven Seas Navigator Cruises from Southampton
18. Seven Seas Mariner Cruises from Auckland
19. Seven Seas Explorer Cruises from Anchorage
20. Seven Seas Navigator Cruises from Valparaiso
Regent Seven Seas Cruise Departure Ports
1. Abu Dhabi
2. Amsterdam
3. Anchorage
4. Piraeus
5. Auckland
6. Bali
7. Klong Toey, Bangkok
8. Laem Chabang, Bangkok
9. Barbados
10. Barcelona
11. Bilbao
12. Buenos Aires
13. Callao
14. Cape Town
15. Cartagena
16. Copacabana Beach
17. Copenhagen
18. Dubai
19. Dublin
20. Haifa
21. Hong Kong
22. Istanbul
23. Lisbon
24. Southampton
25. Los Angeles
26. Miami
27. Monaco
28. Montreal
29. Manhattan
30. Oslo
31. Reykjavik
32. Rio de Janeiro
33. Rome
34. San Francisco
35. San Juan
36. Santiago (Valparaiso)
37. Seward
38. Singapore
39. Stockholm
40. Sydney
41. Tahiti
42. Tokyo
43. Vancouver
44. Venice
45. Civitavecchia
46. New York
47. London
48. Lima
49. Monte Carlo
50. Tanah Ampo
51. Laviron
52. Florida
53. The East Coast
54. The West Coast
55. California
Regent Seven Seas Voyage Duration
Up to 9 Days
10 – 14 Days
15 – 20 Days
21+ Days
Why Should You Go On Regent Seven Seas?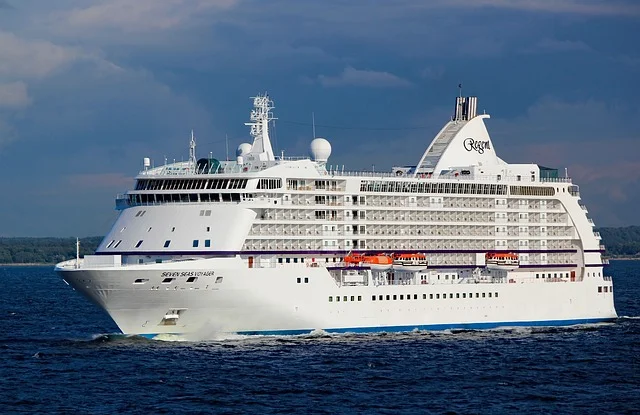 Regent Seven Seas is a combination of luxury and excellent dining and service. This cruise line offers an all-inclusive luxury cruise with spacious suite-style cabins and gourmet dining choices. But it's not for the folks who are on budget-traveling.
Regent Seven Seas Ranking
The ranking is based on user reviews, expert suggestions, and health ratings.
1. It stands on #6 for the best cruise line for couples
2. It stands on #4 for the best luxury cruise line
3. It stands on #7 for the best cruise line in the Mediterranean
Different Types of Regent Seven Seas Cruising Style
Regent Seven Seas cruise line offers different cruising styles that include cruises for families, disabled people, senior citizens, honeymoon, fitness & health, solo travelers, and gourmet food.
Regent Seven Seas Types of Cabin/Staterooms
All Regent cruises have different suites and benefits such as ocean views balcony, portholes, and other luxurious amenities.
Master Suite is a spectacular suite with elegant rosewood furniture, luxe fabrics, and a crystal chandelier creating a comfortable cabin for guests up to six. There are two bedrooms, two-and-a-half baths, a large living room, and two private balconies. This fantastic suite is perfect for hosting a party with new friends at sea in luxury.
Grand Suite glees the senses of exotic woods, rich mixtures, and luxurious drops. There is a large private balcony with a Jacuzzi, a full dining table, two comfortable chairs, and a large writing table that will make you feel right at home.
Seven Seas Suite is decorated with pleasing artwork, comfortable furnishing, and soothing colors. Enjoy standing or spending time with your loved ones on your private balcony to watch the ever-changing vistas and fresh ocean breeze.
Penthouse Suites are designed to maximize space and comfort. So pamper yourself or relax on your private balcony and indulge in your lavish suite's bath amenities as you refresh automatically for new ventures at the next port.
Veranda Suite has a private balcony that offers a cozy retreat. You'll enjoy amenities such as great bath products, TV, and bathroom vanities.
Voyager Suite is a luxury suite onboard Regent Seven cruises. Here elegance and comfort are the priority. So inhale the fresh sea air, enjoy your morning coffee at a cozy dining table, or put your legs in a soothing living room.
Concierge Suite is an exclusive luxury that offers comfort furnishing with different amenities such as cashmere blankets, espresso makers, and more. In addition, there is a private balcony with a small table and two chairs to enjoy the sunset and sunrise on board.
Deluxe Veranda Suite is beautifully crafted by keeping space and scenery in mind. The floor-to-ceiling windows are the major attraction of the suite. In addition, there is a private balcony to enjoy the ocean views.
Note: There are other suites with the same facilities onboard of each fleet of Regent Seven. The suites are Superior Suite, Explorer Suite, Regent Suite, Horizon View Suite, Navigator Suite, Splendor Suite, and Window Suite.
Regent Seven Seas Cabin Features
FREE Unlimited WiFi*
Welcome Bottle of Champagne with Fresh Fruit Arrangement
24-Hour Room Service
In-Suite Mini-Bar Set-Up & Refill
L'Occitane Mer & Mistral Soaps, Shampoos & Lotions
Regent Plush Bathrobes & Slippers
Vanity & Hair Dryer
Interactive Flat-Screen Television with Extensive Media Library, Complimentary Movies-on-Demand
Direct Dial Satellite Phone
Shoe Shine Service
Regent Seven Seas Dining Options
All Regent Seven Seas cruises include dining options that start from fancy gourmet French cuisine to steak till full-course menu and ice-cream to frozen desserts.
Pacific Rim has a lotus-shaped window with incredible ocean views, a signature cocktail, and an extraordinary culinary journey.
Compass Rose is an onboard European-Inspired restaurant that serves continental cuisine. It offers breakfast, lunch, and dinner and features natural light during the day.
Pool Grill offers different types of seafood, burgers, sandwiches, and ice cream with sprinkles.
La Veranda serves delicious breakfast and lunch buffets that include an authentic pizzeria, hot carving stations, and regional specialties that reflect cuisines from different places worldwide.
Prime 7 is an intimate space where guests feel a luxurious setting to an art-filled surrounding. It is a classic American steakhouse cuisine with a modern flair and a cocktail bar.
Sette Mari at La Veranda is authentic antipasti and Italian cuisine specialties that are open for dinners and offers fine Italian wines as complementary.
The Study is a complimentary place that is elegant and stately home. Even this place comes complimentary for Regent Suite.
Chartreuse is the hidden gem featuring a modern French menu and Parisian décor and a Parisian culinary gem on the high seas. Guests can experience the French dining experience go along with the finest French wines.
Coffee Connection is an informal area where guests can relax and meet other people and connect over a sip of coffee and a quick bite.
Room Services are offered 24*7 onboard in-cabins as Regent Seven Seas aims to ensure that their guests feel free to fully embrace and enjoy every aspect of their time onboard.
All passengers can use the Internet Café to stay connected with their family members on land. It offers laptops and desktops, where guests can browse and check their emails.
Regent Seven Seas Activities That Are Included
Regent Seven Seas offers a journey onboard that will change the experience of traveling. So whether you want to dance or enjoy different shore excursions, everyone will get a chance to enjoy and explore these simple onboard pleasures.
Destination Services will arrange onshore activities with the help of onboard staff—for example, pre-or post-cruise programs or a short stay at a luxurious hotel.
The Atrium is the central gathering place for all passengers with a glowing star and ample space for all passengers on board.
Observation Lounge is a comfortable reading place with a chic atmosphere and spectacular views. Even guests can enjoy live music that adds to the serene vibe.
Meridian Lounge is a popular spot to visit in the late afternoon or early evening for a cocktail drink while enjoying a dazzling theater show.
Constellation Theatre is an intimate venue for guests to enjoy full-scale musical revues till orchestra and inspiring singing.
Card Room is specially designed for all card lovers. So gather your favorite teammates in the card room for a lively time of board games and tournaments on selected voyages.
The library is well-stocked with classic books to destination-specific guides to best-selling authors and mysteries. In addition, this place is more welcoming, so readers might not wish to leave it.
Casinos onboard include games like poker, full craps table, slot machines, roulette, and blackjack. Passengers can enjoy going to casinos when they are not restricted by the border limites and are open daily at sea.
Boutiques aboard of all Regent's Cruises offers an intimate and branded collection of all designer garments and fashionable accessories, including upscale handbags and fragrances.
Connoisseur Club, an elegant hideaway where guests can order their favorite cigar or the rare vintage cognac and have good communication with other people.
Pool Deck has the most expansive space and some unforgettable ocean views along. In addition, some friendly crew members offer plush towels and cold drinks to passengers.
Pool Bar serves sipping frozen drinks at the poolside, where you and your new friends can hang out leisurely. Enjoy conversation with other people over your favorite frozen glass or cocktails while enjoying the elegant atmosphere.
Navigator Lounge is centrally located and a popular spot to hang out with friends and families on board. This additional space is perfect for enjoying barista-made coffee during an expedition.
Splendor Lounge is a signature cocktail lounge for some fun and laughter. Guests can enjoy soulful sounds floating on ocean breezes with plush chairs and a comfortable lounge from every angle.
Galileo is a perfect place for sipping pre-and post-dinner drinks and cocktails. In addition, this place offers different game shows, live musical events, and night entertainment events.
Seven Seas Lounge is a phenomenal entertainment musical venue where guests can enjoy Regent Signature Orchestra.
Mariner Lounge an inviting spot to chat and make new friends over cocktails before a delicious dinner. All night owls onboard gather here to dance and party all night or sing along in a karaoke competition.
Stars Lounge & Night Club is a throwback nightspot for after-dinner drinks and late-night cocktails. This place is a favorite spot for all-night owls.
Horizon Lounge is an ideal place for all cruisers who love to relax and engage in conversation with new friends over a glass of classic cocktails and some live music throughout the day.
Cart & Conference Room is a combined room where guests can play or attain the lectures or meetings onboard.
Voyager Lounge is a nightclub and a perfect venue to meet and greet new friends for a pre-dinner cocktail. During the late hour's guests can enjoy dancing on the DJ beats and spins records on the requests.
Explorer Lounge, a must-visit place for some pre-or post-dinner cocktail drinks. It is a spot where you will get some like-minded people to have some intimate conversations and sociability.
Reception, Concierge & General Manager is a welcoming reception desk and is open 24 hours a day.
Regent Seven Seas Cruise Health and Fitness
People who are fitness and health freaks are always welcomed onboard Regent Seven Seas. It offers gyms, spas, and other health care facilities and cures to calm both your mind and body.
Serene Spa & Wellness™ offers therapeutic treatments and activities to relax both mind and body. It also provides different therapies such as massages, body wraps, facials, manicures, and pedicures with exclusive treatments.
Fitness Centre is present on all Regent's cruises with the latest fitness equipment such as treadmills, dumbbells, strength machines, and spinning bikes. Also, those who are under 16 age are not allowed in the fitness center.
Jogging Track is on the topmost deck of each Regent cruise and is open all day and night for guests to walk or run while enjoying the most jaw-dropping views.
Mini Golf is present on the top deck with nine-hole miniature golf course fairways. All the golf balls and clubs you need are available.
Infinity-Edge Plunge Pool lets the cruisers soak and enjoy some dramatic views on the top deck of the cruise. It is an infinity pool on some of the Regent's Cruise.
Bocce Court is famous for Italian lawn bowling and is played with a pallina and 8 more giant balls.
Paddle Tennis Court is thoroughly screened. The surface is immaculate, along with some fresh ocean air and jaw-dropping views.
Regent Seven Seas Cruise Facilities
Enrich your mind and body with the most fulfilling programs at sea. Enjoy some music, dance, entertainers, and the art of pairing wine with food.
Featured Lectures & Special Programs are organized for guests with some guest speakers. These guest speakers have hand knowledge of these locales, and most come from the Foreign Service on select voyages.
Food, Wine & Spirits is where guests can learn and celebrate the Chefs' signature dishes along with their cooking skills. Then, sip and Savour your way through some of the world's most significant wine regions and explore fine spirits.
Discovery & Exploration is a unique place for learning and discovering the world.
Culinary Arts Kitchen has an impressive 18 individual cooking stations that sit atop three long, curved rows with white quartzite countertops and stainless steel accents. It also offers different classes such as Treasures of the Aegean, A French Love Affair, Batter Up, Familia Cubana, Flip-Flop Floribbean, Farmstand Fabulous, Island Fusion, and many more.
Gourmet Explorer Tours are offered on all Seven Seas cruises. It gives some unique knowledge about the world's most delightful destinations.
Business Center provides WiFi access throughout the ship. It allows guests to connect to the internet with whatever guests brought on board.
Other Details of Regent Seven Seas Cruise
Disabled Facilities: Each Regent Cruise ship is allowing people with disabilities and offers special services to them. Even service animals are allowed on board to help them. But it is advised to bring all documents related to your disabilities and service animals.
Special Dietary Requirements should be given in writing before 90 days of sailing by sending an email to rsscops@rssc.com so that they may offer your chosen ranges.
Age Restrictions on the board of Regent Seven Seas cruises are a bit strict. Guests under 16 are not allowed in Spa and other fitness areas unless an adult accompanies them. For alcohol, guests must be 21 or over.
The Dress Code ranges from casual to formal options. During the daytime, guests can wear casual clothing onboard or ashore. And for formal nights' elegant, relaxed resort wear. Formal and semi-formal attire is optional on the sailing of 16 nights and more.
E-Cigarette Policy: Smoking is allowed only in the selected areas. If anyone breaks the rules, the cruise charges the guest an additional fee. Even the use of e-cigarette is permitted only in the designated areas.
FAQs for Regent Seven Seas Cruises
It is calculated as a percentage of the total vacation cost based on the length of the cruise. Deposits of 15% are required for cruises under 25 nights. The deposit for cruises of 25 nights or more is 20%.
Regent Seven Seas Cruises offers families and young adults a chance to discover the world in an enriching, meaningful way. During the summer school holidays, it offers a children's program. There are also special rates for children under 18 years of age on selected sailings.
It is optional to wear formal or casual attire. Casual clothing includes denim, shorts, t-shirts, and tennis shoes, as well as resort-style outfits. Whether on board or ashore, it is appropriate for the itinerary.