Book Royal Caribbean Cruise Deals
If you're looking for a luxury cruise experience at an affordable price, look no further than Royal Caribbean! You can enjoy a memorable vacation without breaking the bank with a wide range of cruise deals.
One of the best available deals is the 50% off your second guest offer. This is valid for select sailings and applies to the interior, ocean view, balcony, and suite staterooms. Whether planning a romantic getaway or a family vacation, this deal will help you save big.
If you're traveling with children, the kids sail free offer is a great way to keep costs down. This offer is valid for select sailings and applies to kids aged 12 and under. Why not bring the whole family along for a fantastic adventure?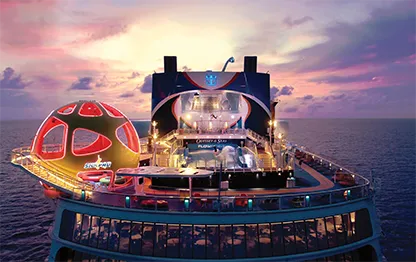 Royal Caribbean also offers last minute deals on cruises for those who are more spontaneous. These deals can be a great way to save money on your vacation, but act fast as availability is limited.
No matter which deals you choose, you'll be treated to an unforgettable cruise experience with Royal Caribbean. From luxurious accommodations to world-class entertainment and dining, there's something for everyone on board.
Booking your Royal Caribbean cruise deal is easy and convenient through our official cruise booking website. Browse through the available deals and select the one right for you. Our website also offers helpful information on each cruise ships, itinerary, and destination so that you can easily plan the perfect vacation.
So what are you waiting for? Book your Royal Caribbean cruise deal today and start planning the adventure of a lifetime!
Royal Caribbean cruise deals: How to find them?
Royal Caribbean offers a variety of cruise deals throughout the year, making it easy to find a great offer on your next vacation. Here are some tips on how to find Royal Caribbean cruise deals:
Check CruiseBooking.com's website: It is a great place to start looking for cruise deals. We often offer special promotions and discounts, so check regularly.
Sign up for email alerts: By signing up for Royal Caribbean's email list, you'll be the first to know about upcoming cruise deals and promotions.
Use a travel agent: Travel agents often have access to exclusive deals and can help you find the best offer for your specific travel needs.
Be flexible with your travel dates: If you can be flexible with your travel dates, you may find better deals during off-peak times or last-minute bookings.
Book early: Booking your cruise early can often result in lower prices and more availability. Keep an eye out for early booking promotions.
Using these tips, you can find the best Royal Caribbean cruise deals and save money on your next vacation. Happy cruising!
Different types of Deals:
Presidents' Day Deals
Black Friday Deals
Holiday Cruise Deals
Last Minute Cruise Deals
2-5 Days Sailing Deals
6-10 Days Sailing Deals
10-15 Days Sailing Deals
Weekend Getaways
Amazing seasonal Cruise Deals
Also Read: