By Cruise Booking Team
Updated on: November 30, 2023
Whether you are a seasoned cruiser or this is your first seafaring adventure, Royal Caribbean Cruises offers a variety of beverage packages to enhance your vacation experience. From unlimited sodas and premium coffees to crafted cocktails and fine wines, there is a package to suit every taste and preference. Continue reading to know all about the Royal Caribbean Drink Packages.
What is a Royal Caribbean Drink Package?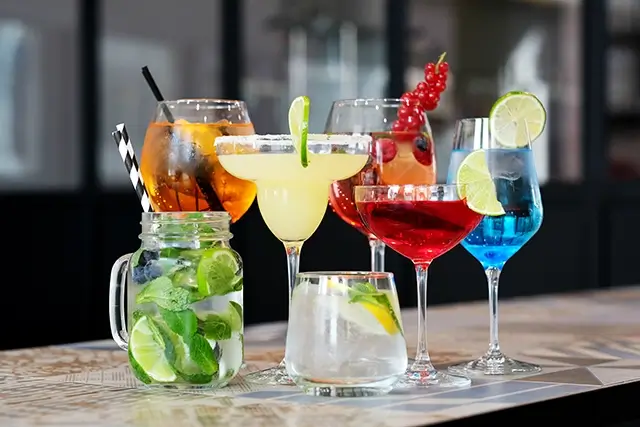 To help you stay refreshed while on board, Royal Caribbean offers all its guests an exclusive beverage package. These are designed to offer you the best value on a wide range of your favorite drinks. Whether you crave a Coca-Cola®, fine wine, premium or frozen cocktails, a variety of beers, fruit juices, or water, these beverage packages will have you covered.
You can choose to purchase them during your cruise or conveniently pre-reserve them before your voyage begins. These packages can be used at any of the bars or lounges, Café, the Main Dining Room, and even at private destinations. Also, it is essential to know that room service and minibars are not included in these packages.
During your voyage, you can purchase the all-inclusive packages as long as there are at least 4 days left on your cruise. These packages must be bought for the entire duration of the cruise, with an adjusted price based on the date of purchase. If you are interested in an alcoholic beverage package, it must be purchased by all legal drinking-age guests sharing the same stateroom.
Other beverage packages can be individually purchased by guests. Nonetheless, you should note that each package is intended for single-guest use and cannot be shared among multiple individuals.
What are the Different Royal Caribbean Drink Packages?
Know about the different Royal Caribbean drink packages price and what is included in them:
DELUXE BEVERAGE PACKAGE: Cost ($56 to $105 Per Person Per Day)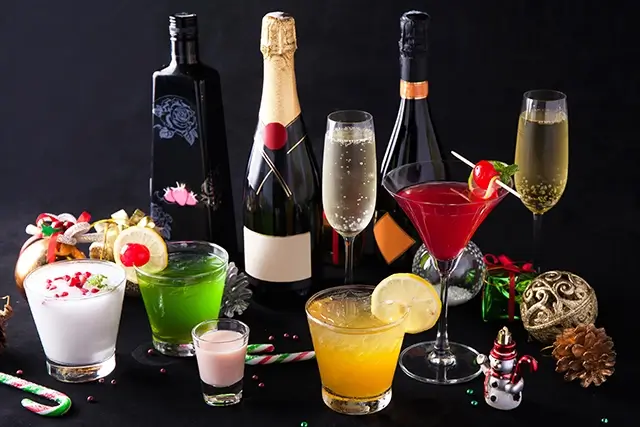 It is the Royal Caribbean's primary beverage package. In this Deluxe Beverage Package, the cruise line offers a comprehensive selection of beverages available on the ship. You can get a wide array of drink options in this package, which includes cocktails, beers, wines, coffees, teas, various juices, bottled water, and sodas.
It is important to note that this package does not cover room service orders or items from the mini-bar. Additionally, remember that drinks priced above $14 per glass are not part of the package. Fortunately, the majority of beverages offered on the ship fall within or below this price limit, making this restriction seldom an issue for most passengers.
Additionally, you can get the best Royal Caribbean cruise deals to save 20% on bottles of wine over $100 as well as up to 40% on any bottle of wine with a cost of up to $100 upon availing of this package.
Drinks Available: Beer, cocktails, liqueurs, spirits, wines by the glass, mocktails or non-alcoholic cocktails, fountain soft drinks, bottled still and sparkling water, freshly squeezed juices, Coca-Cola Freestyle® drinks with Coca-Cola® souvenir cup, premium coffees and teas, etc.
PREMIUM REFRESHMENT PACKAGE: Cost ($29 Per Person Per Day)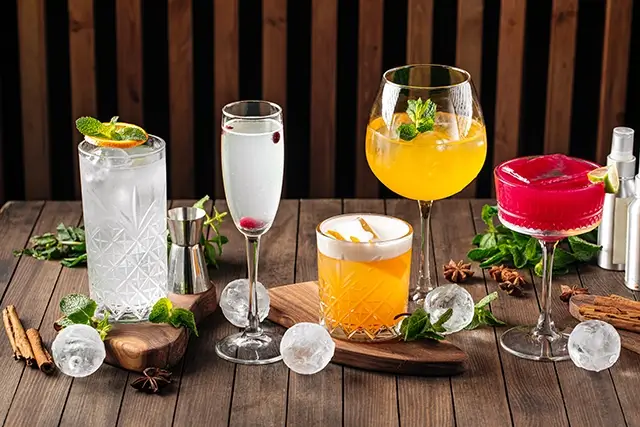 For those who prefer non-alcoholic beverages, the Premium Refreshment Package could be the ideal choice. This package offers all the similar drinks of the Deluxe Beverage Package, excluding alcoholic ones. It covers a wide range of options, including water, soda, juices, coffees, teas, and even non-alcoholic cocktails (mocktails). As a result, the Refreshment Package comes at a significantly lower cost compared to the Deluxe Beverage Package.
Drinks Available: Non-alcoholic cocktails, bottled still and sparkling water, premium coffees and teas, freshly squeezed fruit juices, soft drinks, Coca-Cola Freestyle® drinks, etc.
Related: How much are gratuities on Royal Caribbean Cruises?
CLASSIC SOFT DRINKS PACKAGE: Cost ($12.99 Per Person Per Day)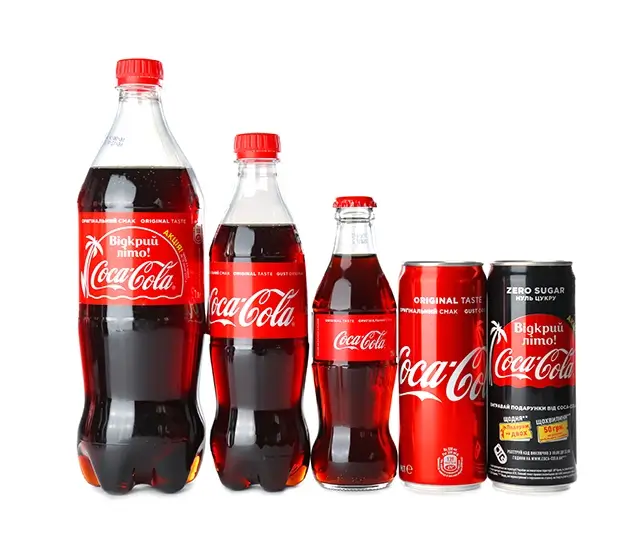 When ordering an individual soda on the ship, you can expect to pay a price similar to what you would find at a typical land-based restaurant. In addition to the base cost, there is an automatic 18% tax added to the charge. Therefore, when you request a soda from a bar server on the ship, you will incur a cost slightly exceeding $4 per soda, inclusive of the tax. This charge applies irrespective of whether the soda is served from a can or a fountain.
For those considering the Soda Package, it starts at just over $15 per person per day, including the tax. Also, it is essential to keep in mind that you would need to consume a minimum of four sodas a day for the package to be a cost-effective choice.
Drinks Available: Soft drinks with unlimited refills, Coca-Cola Freestyle® drinks with Coca-Cola® souvenir cup.
STANDARD WATER BOTTLE PACKAGE: Cost (12 Bottles for $39; 24 Bottles for $69)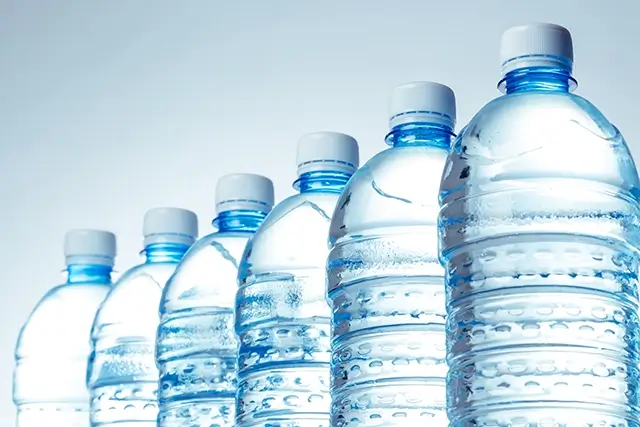 Royal Caribbean Water Packages consist of either 12 or 24 packs of one-liter bottles of water, all of which are thoughtfully delivered to your cabin on the first day itself. These bottled water packages provide a convenient and readily available source of spring water throughout your trip. They are an excellent choice for those who have a preference for bottled water over tap water.
Moreover, having bottled water at your disposal offers you the flexibility to carry it easily around the ship or even take it on your shore excursions. These handy water bottles ensure that you stay hydrated during your adventures. This water quality often exceeds the standards of public drinking water in many homes.
Drinks Available: 24 bottles of Evian water bottles.
Additional Drink Packages Offered by the Royal Caribbean
Other than the classic drink packages, there are a few more additional drink packages offered by the Royal Caribbean cruise lines:
CAFÉ SELECT COFFEE CARD
You can enjoy 15 specialty espresso-based coffees for a single low price with the Café Select Coffee Card. Start your day with a macchiato or latte, reenergize with iced coffee or espresso in the afternoon, and finish your meal with a cappuccino.
CLASSIC SODA + VOOM ONE DEVICE
With the Classic Soda + Voom One Device Bundle, you can save money and stay connected all cruise long. This bundle includes the Classic Soda Package and VOOM® high-speed internet. Enjoy unlimited soda while streaming music, and movies, and sharing your vacation moments in real time.
DELUXE BEVERAGE PACKAGE + VOOM ONE DEVICE
In this package, you can relax and unwind with premium and frozen cocktails, domestic and imported beers, and a wide selection of wines by the glass. Along with staying refreshed, you can stay connected with VOOM, the fastest internet at sea. Enjoy unlimited high-speed internet and stream all your favorite movies, shows, and music while onboard. You even can share every unforgettable moment of your vacation in real-time.
KID-FRIENDLY BEVERAGE PACKAGES
These beverage packages cater to all age groups, including children, with various non-alcoholic options. These include the Classic Soda Package for unlimited soda and refills at any venue. You can also get non-alcoholic cocktails, bottled water, premium coffees, teas, and fresh-squeezed juices in addition to these sodas. You can even opt for a package that exclusively provides delivered water bottles to your stateroom.
Also Read: Check out the Royal Caribbean Cruises Ships and Itineraries
Exploring the Bars of the Royal Caribbean Cruise Line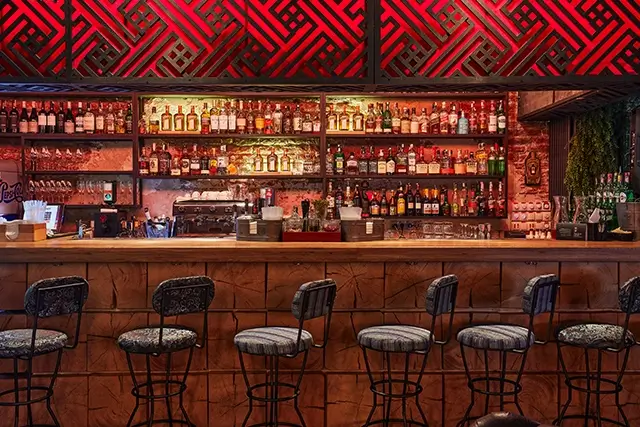 Here is a list of the best bars available at the Royal Caribbean cruise lines:
Diamond Club
Trellis Bar
Schooner Bar
Playmakers Bar & Arcade
The Lime and Coconut
Boleros
Rising Tide Bar
Solarium Bar
The North Star
Pool and Sand Bar
Suite Lounge
English Pub
Champagne Bar
Sunshine Bar
Wipe Out Bar
Bionic Bar
Viking Crown Lounge
Dazzles
Vintages
R Bar
Cantina Fresca
Vue Bar
The Lemon Post
The Bamboo Bar
Pool Bar
Two Seventy Bar
Which Drinks are Not Included in the Drink Packages?
Figuring out the beverages that are not included in these packages and that you need to purchase them separately can be a hectic task. Here are the specific exclusions applicable to the alcoholic drink package, which also apply to other packages:
Beverages from Starbucks stores
Beverages from room service
Items from the mini-bar
Exclusive beers
Drinks costing more than $14 per glass
Liquor bottles from the duty-free shops onboard
When to Buy Royal Caribbean Drink Packages?
You can purchase a drink package as soon as you book your cruise, but it is generally best to wait until closer to the sailing date to buy. This is because Royal Caribbean often offers discounts on drink packages, especially during Black Friday sales.
The Deluxe Beverage Package is the most expensive drink package, and its price can vary depending on the time of year and the cruise itinerary. It is always cheaper to buy this package ahead of time than after you board the ship.
If you are waiting for a deal on a drink package, it is important to look at the actual price per person per day, not just the percentage off or "buy one get one" deals. This will help you to compare prices and find the best deal.
Is Royal Caribbean Drink Packages Worth It?
Whether or not the Royal Caribbean drink package is worth it depends on several factors, including how much you plan to drink, whether you will spend time in port, and whether your traveling partner will also be drinking.
For example, the package may cost $50 per day on a shorter cruise duration but up to $100 per day on a longer cruise duration. Discounts are also available, such as buy one, get one 50% off, and so on. To determine if the drink package is worth it for you, you should calculate and determine how much you plan to drink. If you plan to have more than three or four alcoholic drinks per day, and you will be spending most of your time on the ship, then the drink package may be a good deal for you.
However, if you plan to spend a lot of time in port, or if you do not drink that much, then you may be better off buying drinks à la carte. Another factor to consider is whether your traveling partner will also be drinking. If your partner does not drink much, then you will essentially mean paying for two drink packages for only one person. In this case, it will be difficult to get your money's worth out of the package.
Ultimately, the decision of whether or not to purchase the Royal Caribbean drink package is a personal one. You should weigh the factors involved and decide if the Royal Caribbean drink package is worth it.
Conclusion
Now that you have a comprehensive idea about the Royal Caribbean drink packages, you can have a clear idea of whether it is worth your money or not. Keep the above-mentioned points in mind before you book a drink package. If you are planning to buy a package, visit Cruisebooking.com to get the best deals on Royal Caribbean drink packages.