About Royal Caribbean International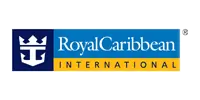 With this cruise line, cruisers can discover their next trip for an unforgettable vacation. People can enjoy the endless thrills onboard and make every moment memorable. This cruise line was first known as the Royal Caribbean Cruise Line (RCCL). However, now it's famous as Royal Caribbean International and was founded in 1968 in Norway.
It is a cruise liner operating 25 ships fleet sailing more than 280 destinations in 71 countries worldwide. Cruisers can navigate to the Caribbean and Mexico to Alaska, waterways of Europe, and drive the tides down under Australia and New Zealand. Whether on whichever ship the person is, they will get various eateries and activities, including kids' entertainment programs.
This cruise is best for families, trips to the Caribbean and Mediterranean, and affordable. Its list of international ships includes Symphony of the Seas, Liberty of the Seas, Oasis of the Seas, Allure of the Seas, Freedom of the seas, Harmony of the Seas, Adventure of the Seas, Voyager of the oceans, and many more. It also offers a wide selection of the shore that ranges from wildlife watching, bicycle tours, 4x4 off-road drives, sightseeing trips to helicopter tours, and many more adventures.
ROYAL CARIBBEAN FLEETS
Royal Caribbean Cruise Destinations
1. Transatlantic
2. The British Isles & Western Europe
3. Alaska
4. Asia
5. The Bahamas
6. Bermuda
7. The Caribbean
8. The Eastern Caribbean
9. The Southern Caribbean
10. The Western Caribbean
11. Europe
12. The Eastern Mediterranean
13. The Western Mediterranean
14. Hawaii
15. Around the World
16. Australia & New Zealand
17. Canada & New England
18. The Baltic Sea
19. The South Pacific
20. Transpacific
21. The Mediterranean
22. Mexico
Royal Caribbean Cruise Ports of Call
1. Grand Cayman (Georgetown)
2. Nassau
3. Cozumel
4. San Juan
5. St. Kitts (Port Zante)
6. St. Maarten
7. St. Thomas
8. Port Canaveral (Orlando)
9. Miami
10. Fort Lauderdale (Port Everglades)
11. Southampton
12. Barcelona
13. Rome (Civitavecchia)
14. Sydney (Australia)
15. Bayonne (Cape Liberty)
16. Brisbane
17. Perfect Day at Coco Cay
18. Labadee
19. Beijing
20. Shanghai
Royal Caribbean Cruise Ship Destinations
1. Royal Caribbean Mariner of the Seas Cruises to the Bahamas
2. Royal Caribbean Quantum of the Seas Cruises to Australia & New Zealand
3. Royal Caribbean Anthem of the Seas Cruises to the Eastern Caribbean
4. Royal Caribbean Freedom of the Seas Cruises to the Bahamas
5. Royal Caribbean Symphony of the Seas Cruises to the Caribbean
6. Royal Caribbean Anthem of the Seas Cruises to the Caribbean
7. Royal Caribbean Ovation of the Seas Cruises to Alaska
8. Royal Caribbean Serenade of the Seas Cruises to Australia & New Zealand
9. Royal Caribbean Explorer of the Seas Cruises to the Southern Caribbean
10. Royal Caribbean Anthem of the Seas Cruises to the Western Mediterranean
11. Royal Caribbean Harmony of the Seas Cruises to Transatlantic
12. Royal Caribbean Liberty of the Seas Cruises to Mexico
13. Royal Caribbean Anthem of the Seas Cruises to Europe
14. Royal Caribbean Explorer of the Seas Cruises to the Western Caribbean
15. Royal Caribbean Jewel of the Seas Cruises to Europe
16. Royal Caribbean Adventure of the Seas Cruises to the Western Caribbean
17. Royal Caribbean Voyager of the Seas Cruises to Asia
18. Royal Caribbean Harmony of the Seas Cruises to the Western Caribbean
19. Royal Caribbean Spectrum of the Seas Cruises to Asia
20. Odyssey of the Seas Cruises to Mexico
Royal Caribbean Cruise Ship Departure Ports
1. Royal Caribbean Independence of the Seas Cruises from Port Canaveral
2. Royal Caribbean Oasis of the Seas Cruises from Bayonne
3. Royal Caribbean Serenade of the Seas Cruises from Vancouver
4. Royal Caribbean Harmony of the Seas Cruises from Civitavecchia
5. Royal Caribbean Oasis of the Seas Cruises from Cape Liberty
6. Royal Caribbean Allure of the Seas Cruises from Port Canaveral
7. Royal Caribbean Navigator of the Seas Cruises from Port Everglades
8. Royal Caribbean Serenade of the Seas Cruises from Sydney
9. Royal Caribbean Freedom of the Seas Cruises from the East Coast
10. Royal Caribbean Anthem of the Seas Cruises from New York
11. Royal Caribbean Adventure of the Seas Cruises from Bayonne
12. Royal Caribbean Adventure of the Seas Cruises from Bayonne
13. Royal Caribbean Brilliance of the Seas Cruises from Venice
14. Royal Caribbean Voyager of the Seas Cruises from Stockholm
15. Royal Caribbean Spectrum of the Seas Cruises from Beijing
16. Royal Caribbean Navigator of the Seas Cruises from Miami
17. Royal Caribbean Vision of the Seas Cruises from Barcelona
18. Royal Caribbean Harmony of the Seas Cruises from the East Coast
19. Royal Caribbean Allure of the Seas Cruises from Fort Lauderdale
20. Royal Caribbean Ovation of the Seas Cruises from Sydney
Royal Caribbean Cruise Departure Ports
1. Amsterdam
2. Anchorage
3. Piraeus
4. Baltimore
5. Barbados
6. Barcelona
7. Beijing
8. Tianjin
9. Boston
10. Brisbane
11. Copenhagen
12. Fort Lauderdale
13. Galveston
14. Hong Kong
15. Honolulu
16. Miami
17. Bayonne
18. Port Canaveral
19. Rome
20. San Juan
21. Seattle
22. Seward
23. Shanghai
24. Singapore
25. Stockholm
26. Sydney
27. Tampa
28. Vancouver
29. Venice
30. Piraeus
31. Southampton
32. Cape Liberty
33. Civitavecchia
34. New York
35. London
36. Port Everglades
37. Laviron
38. Florida
39. East Coast
40. West Coast
41. Gulf Coast
42. Texas
Royal Caribbean Voyage Duration
2 – 5 Nights
6 – 8 Nights
9 – 11 Nights
12+ Nights
Why Should You Go On Royal Caribbean?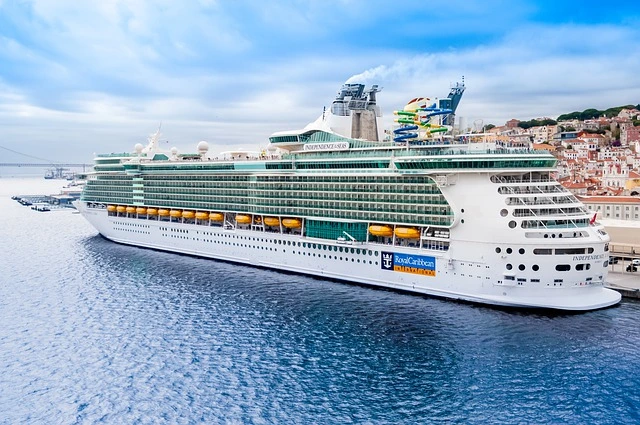 Royal Caribbean is perfect cruising for all people, and it offers onboard fun and vast entertainment throughout day and night. But it is not for people who want some intimate and quiet time or want to experience the small cruise.
Royal Caribbean Ranking
The ranking of the Royal Caribbean is based on user reviews, expert suggestions, and health ratings.
1. It stands on #3 as Best cruise line for the money
2. It stands on #2 for best cruise line for families
3. It stands on #2 for best cruise line in the Caribbean
4. It stands on #8 for best cruise line in the Mediterranean
Different Types of Royal Caribbean Cruising Style
Royal Caribbean cruise line offer different types of cruising style that includes cruises for Family-Friendly Cruise, for Disabled, for Senior Citizen, for Romantic & Honeymoon Destinations, for Fitness & Health, for Solo Travelers and for Gourmet Food.
Royal Caribbean Types of Cabin/Staterooms
Royal Caribbean elevates every aspect of your adventure that features a luxury cruise suite to customized adventures, exclusive access, and inclusive amenities. It's just little details that you'd expect, but it has more things and an experience that you will never forget.
Interior rooms are perfect for people who are looking for some privacy. There is a twin bed with a private bathroom, dressing area and more space to store your luggage.
Promenade View Interior has arched windows overseeing standard room facilities and the Royal Promenade.
M Central Park View Interior rooms have bowed windows that are overlooking the tranquil gardens of Central Park.
Ocean View staterooms have a porthole with a gorgeous view and a sitting area with a sofa for more comfort.
Ultimate Family Suite is perfect for families on the cruise because they don't even have to go out of their room for thrilling activities. Small kiddos can do sliding or play video games in-suite itself. Even parents can opt for some privacy by visiting the in-suite private balcony Jacuzzi and more.
Royal Suite offers many expansive accommodations that take your luxury one step up. It gives many options: Villa Suites, Owner's Suite, the Loft and even larger Royal Loft Suites, Grand Suites, or the iconic one or two-bedroom AquaTheater suites with different amenities.
Royal Caribbean Cabin Features
Every detail is accounted for just for you. Here are some cabins, services, and amenities that are present onboard for everyone.
Baby-Friendly
24-Hours Room Service
Connected Staterooms
Spa-Like Services
In-Room Voom Wi-Fi
Turn Down Service
Couples Retreat
Special Needs
Royal Caribbean Dining Options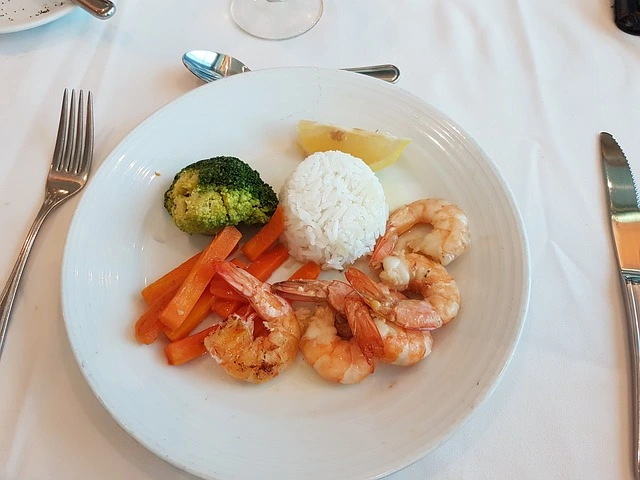 Royal Caribbean takes you to the world of multi-cuisine. It has over 40+ dining options such as favorites, dining and beverages packages, complimentary dining, Specialty dining and bars and lounges.
The Main Dining Room is a two- or three-tier main dining room on all Royal Caribbean fleets. It features a grand staircase and huge windows, allowing for impressive views. It is open for breakfast, lunch, and dinner. It also offers flexible "My Time Dining" to enable guests to eat whenever they want. Typically, it gives 4-12 people sitting on one table and the limited seating for two available upon request. Each ship has its own main dining room – Aquarius, Mozart, Strauss, Vivaldi, Minstrel, Leonardo, Isaac, Romeo and Juliet, Macbeth, King Lear, Tides, Rhapsody in Blue, Sound of Music and Top Hats & Tails.
Coastal Kitchen is exclusively for Pinnacle Club members and suite guests. It makes delicious Mediterranean cuisine that influence by some fresh-farm flavors from California.
Dog House is crafting hot dogs with a twist and serves classically.
Mini Bites offers you a quick, delicious snack and a wide variety of grab-and-go favorites, including sliders, grilled cheese, mini cupcakes, pizza, and other delicious dishes.
Park Café offers tasty and quick deli bites to please your taste palate. You can grab some fresh sandwiches, French-pressed Paninis, or your favorite, the legendary Royal Kummelweck roast beef sandwich. It is a perfect place to visit if you are craving for something light and green.
Playmakers Sports Bar and Arcade's menu of game-day favorites and signature tastes. You can experience the signature Playmakers Burger or the Buffalo wings and finish off with the four-scoop touchdown sundae.
Sugar Beach Candy & Ice Cream says you to go ahead and get your treat on, and they won't judge you for grabbing some extra candies.
Windjammer Café is a top spot with amazing views and a brilliant buffet breakfast, lunches, and dinner. Moreover, you will also get snacks throughout the day. You will get delicate Asian flavors to hearty all-American favorites, spicy Indian curries, authentic Italian pizza, and pasta.
Chop's Grille is a high-end grill where you'll find filet mignon and mesquite-grilled salmon on a menu that changes daily.
Izumi offers Japanese Cuisine, pure and refreshing Japanese flavors with sashimi, sushi rolls, or Hot Rock (Ishiyaki) Plates or sukiyaki.
Cafe Latte-Tudes serves Seattle's best coffee at sea. It is the most happening coffee shop onboard Royal Caribbean cruises. Their menu also includes lattes, cappuccinos, and espressos, including beer, wine, pastries, and soft drinks in this informal café.
Chef's Table is an intimate exclusivity and your very own chef's personal service in this wonderful culinary treat up to 14 guests. There is a specially-prepared menu for all gourmet food lovers along with paired wine.
Giovanni's Italian Kitchen & Wine Bar is a family-friendly restaurant at sea. It is specializing in the traditional dishes of Tuscany.
Johnny Rocket's Express offers a 1950s style diner that is fast and friendly and offers traditional style burgers, hamburgers, hotdogs, sodas, milkshakes and more.
El Loco Fresh offers your taste buds something to go wild over. It serves up the Mexican fare that's insanely delicious. Here guests can grab mind-blowing guacamole and tangy salsa Verde to classics like a beef burrito, fish tacos, and chicken enchiladas.
Sorrento's Pizzeria gives you a taste of New York and delicious wood-fired pizzas. Guests can try different types of creations every day – from Hawaiian to chorizo to Pizza Florentine. Even you can customize with your own choice of toppings.
Jamie's Italian is the celebrity chef Jamie Oliver's passion restaurant that serves Italian cuisine. It offers simple, delicious Italian dishes made with the best seasonal ingredients.
150 Central Park is an intimate surrounding dining area, savoring a six-course tasting menu and beautiful views. The menu includes fresh, seasonal, farm-to-ship ingredients. The award-winning chef Michael Schwartz does the art of cooking.
Hooked Seafood offers fresh seafood at sea and gets the ocean's real taste in a casual atmosphere. Guests can grab classic starters and tasty soups to fresh fish and some raw bar favorites.
American Icon Grill is the most favorite onboard restaurant that offers the taste of America at sea.
Chic offers a height of modern cuisine with fresh ingredients and some wild are evolved for the modern palate. You can grab the protein pack punch of beef rib-eye, lamb chops, prime beef, and more.
Seaview Café offers classic deli and bars food. The food is served outside in the air at any time of day. If you need a quick bite, one can head to this café.
Samba Grill is a café where 'gaucho' cowboys offer service. It offers 13 different types of meats and seafood specialties they carve onboard.
Boardwalk Hot Dog House features bratwursts, sausages, and other tasty toppings, all encased in a freshly baked bun.
Cup & Scoops is the ice-cream parlor that offers scrumptious sundaes, yummy shakes, delicious flavors, and toppings like whipped cream and hot fudge sauce.
Ben & Jerry's Ice Cream can satisfy your sweet tooth carving – because when it comes to delicious flavors, they've got it licked.
Boardwalk Donut Shop asks their guests to start their morning with a stroll around the Boardwalk with java in hand or simply grab a donut to tide your over.
Island Grille is within the Windjammer Café and offers a 454 guest seating place. It is a casual café where eggs are cooked in the morning and Thai and Asian dishes in the evening.
Fish & Ships is an all-new eatery within Splashaway Bay Water Park's splashing distance on Royal Caribbean cruises board.
Portofino is the chef's creations and Italian classics that offer intimate settings. This venue is also for the Mystery Theatre Dinner nights.
The squeeze is a casual café where guests can grab their favorite, freshly-made smoothie.
Sabor Modern Mexican offers Spanish flavor and has a vibrant venue, serving up various delicious and authentic Mexican dishes.
Wipeout Café is a little hide-out café where you can grab some sandwiches, salads, ice-creams, and more.
Starbucks is everyone's favorite while on land as well as sea. Guests can grab their favorite Starbucks coffee and enjoy it while looking at the sea.
Teppanyaki offers authentic oriental flavors cooked in one of Japan's traditional styles. Its menu includes top-grade steaks to succulent seafood right on the table. The expert chefs cook your dish right in front of your eyes on the table.
Rita's Cantina is a colorful place surrounding by lively flavors of Mexican classics such as Margaritas, fajitas, and nachos. Guests consider this place for a fun fiesta.
The Grande Restaurant is a luxury nod to a bygone era where every night is formal and special.
Silk is an Asian complimentary restaurant that offers different cuisines. They have balanced their menu with Japanese, Thai, Chinese, Indian, and Vietnamese cooking.
Windjammer Marketplace gives guests a complimentary dining experience. The crew prepares signature specialties tailored to your own taste – like fresh-pressed Paninis, juices blended before your eyes, and fluffy omelets.
Solarium Bistro inspired guests to eat healthy by offering delicious dishes that are light in calories but big on flavor.
Vitality Café is a chilled-out café that offers fresh fruits, smoothies, wraps, and more.
Wonderland, experience an elaborate multi-sensory experience of never-seen-before fare. Guests can venture down the rabbit hole on the 12th deck and ask themselves whether they see it for real or imaginary.
Royal Caribbean Entertainment That Are Included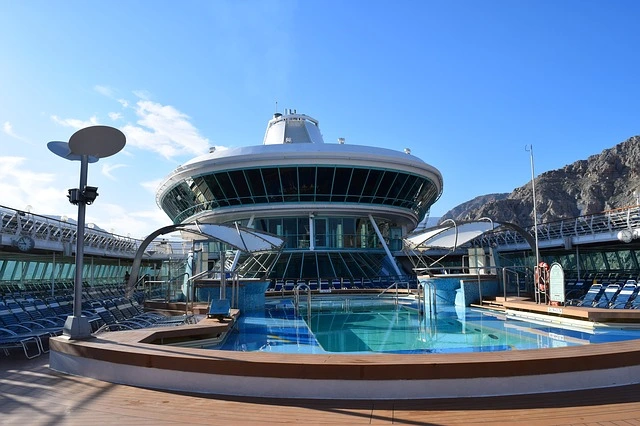 All cruises of Royal Caribbean offer unbeatable entertainment onboard and that for all ages and preferences.
AquaTheatre is only presented on the Royal Caribbean's Oasis Class cruises and the deepest pool at sea with 30-foot diving platforms and some awesome dive spectaculars.
At Pool Bars & Sand Bar, guests enjoy their favorite drinks at one poolside spot. This pool deck serves drinks like Mocktails, beers, wines, and delicious mixed drinks.
At R Bar, guests can toast vintage vibe to classic cocktails. You'll find plenty of savors here, such as dry gin Martini or the perfect gin and tonic.
Bass Bouncer is a musical world and power up sound –glyphs in the virtual reality Sky Pade game that is entirely powered by futuristic music and technology.
Bionic Bar has robots at your service. The robotic bartender will code an entirely and uniquely cocktail drink that refreshes you onboard. This mecha technology can make endless combinations of cocktails, from classic cosmos to custom-crafted sips that are specially designed for you.
Boleros is a place where guests can pair their mojito with some live merengue. You can stop here after your dinner for a fabulous salsa-stepping party and nighttime sizzles. This Latin-theme club serves Cuban mojitos, Brazilian Caipirinhas, and your favorite classic cocktails.
Bumper Cars at Seaplex is the most adventurous, thrilling spin and the most significant indoor activity space. Buckle the car seat, and take the wheels for a nonstop fun, bounce, and bang around the floor.
Captain's Reception would like to make a toast- to you. This is a special onboard reception dedicated to all guests sailing. So ensure that you bring your cams along with you, and you'll have the perfect opportunity to pose with the Caption and snap a shot.
Card Room is a place where all card lovers delve into their favorite card and board games. This place is well-stocked with plenty of board games and spaces to play. This peaceful onboard oasis is a perfect spot to recharge before your next big adventure.
Casino Royale & Golden Room is your little slice of Vegas right at sea. It offers thousands of square feet of lights, actions, slots, and tables along with several games that include three card poker, let it ride, baccarat, roulette, craps, reel shots, and video shots.
Central Park is a calm free space that syndicates nature and nautical. This makes it an excellent place for relaxing, fabulous shopping, fine dining, and for just strolling around.
Cinema is an indoor theater that shows first-run movies daily.
Clash for the Crystal City is the latest glow-in-the-dark laser tag faceoff. To play this, kids must be at least five years and 40 inches tall.
Concierge Club is specially design and reserved for Grand Suite-level rooms and higher. Guests who has reserved their suites in Diamond, and Pinnacle Club Crown can get free access to this club.
Cupcake Classes allows you to show your dessert cooking skills onboard and sprinkle some memories but you don't have to learn anything.
Dazzles asks the fellow cruisers to take a sip and get on the dance floor. It is a multilevel entertainment venue where people can dance on beats by taking their drinks in hand and show their moves.
Diamond Club is for the people who love to treat themselves as royalty. This exclusive club is for the people who are staying in the Diamond Plus and Pinnacle Club Crown & Anchor Society members only.
English Pub is a place onboard where you can laugh, libations, and enjoy live music. The pub's impressive drink menu offers a wide selection of beers that ranges from ales to lagers.
Escape the Rubicon is a puzzle room where you will be transported to another world and another time. You will get only 60-minute of life-support.
Hit the mark at Archery. You can become champion with bow and arrow as you practice your aim and technique in Royal Caribbean cruises.
Gear up, grab a foil and get ready for an introduction to the art of Fencing. Take out some time in between ports to learn how to stop-hit and plunge in fencing.
Ice Bar at sea is located within the Two70° venue. It serves delicious cocktails and features a spiraling staircase around the bar leading up to the second level.
Ice Skating Rink is the place for cold feet and an onboard excitement that comes complimentary. Children and adults can show off their moves on skates, no matter what their skill level is.
Laser Tag is a face of challenge onboard all cruise ships. Two forces will face off – one will be the robot team, and another is the alien. Aim and find out in the Battle Z about who will claim the last planet for light-years around.
Latin Fiesta encourages cruisers to move their hips and find their Latin rhythm with your fellow steppers to the sounds of a live Latin band. There are special dance classes, whereby in the end you will become a Latin dancer.
Let's Celebrate is a parade where every holiday is celebrated at once. Whether it the cruiser's birthday, Halloween, New Year's Eve, or something else, you don't need an excuse to celebrate when you're on vacation.
The library is available on each ship of the Royal Caribbean. It offers classic and popular family titles in various languages and comfortable reading areas for kids to relax and dive into a book, individually or with a parent.
Michael's Genuine Pub gives you a wide range of homebrew as well as cocktails, bourbon flights, and wine. Here you will get a selection of craft beers.
Mini-Golf Course is included in every guest's fare, so they can enjoy as much as they want. Also, no reservations are required. Play on this small green field as you enjoy a comprehensive, blue ocean view.
Mystery Dinner Theater hosts an evening of intrigue, full of mystery and lots of fun. For example, solve the crime over an attractive multi-course dinner paired with fine wine.
Outdoor Movie Screen shows the first-run movies and big-time sporting events how they were meant to be seen just under the open sky on the poolside.
Pacifica Theatre offers new and Broadway-inspired shows, headline musicals, and live comedy.
Playmakers℠ Bar & Arcade is a winner because their menu is the game-changer. You can have their favorite Signature Playmaker Burger or the Five-scoop Touchdown Sundae while watching your hometown team live on dozens of screens.
Pool Parties is the hot party where DJ will be spinning club anthems and dance classics, and the drinks will be pouring to keep you fueled up, so you'll be getting the energy to dance all night.
RipCord by iFly simulator, you can feel the freedom of freefall without even leaving the deck. Because it's time to let your spirit soar.
Rising Tide Bar is a wet elevator and the most relaxed way to move between Central Park and the Royal Promenade onboard all Oasis-Class ships. Here you can sip your favorite beer, wine, or cocktail while you enjoy a smooth ride and skylight views.
Royal Caribbean Arcade is where your favorite games from the 1980s and 1990s are found on royal cruises and some modern games.
Schooner Piano Bar is a lively late-night bar where you can have your favorite cocktail, cozy seating, the portholes, and the gleaming grand piano.
Shops & Boutiques offers various merchandise ranging from logo items to Jewellery to liquor and famous brands' clothes, including swimwear.
Sky Pad is a trampoline where people can have fun and enjoy their activities. So don't forget to launch yourself into a virtual world on a bungee trampoline.
Solarium Bar is a tranquil poolside retreat where you can have cocktails and other chilled tropical drinks. When you are enjoying your privacy at an Adult-only solarium, grab some refreshment from this bar.
Spanish Classes is an interactive onboard class that teaches the cruisers the Spanish language.
Spotlight Karaoke Show Lounge is an all-new venue where all eyes and ears are on the guest.
Star Moment is a lounge where you can get everything from pop classics to rock ballads. This is the most unusual activity one must opt for when boarding the Spectrum of the Seas cruise.
Starquest Nightclub organizes parties the night away. Make new friends, listen to the latest hits and tunes, and enjoy a late-night drink in the exciting nightclub.
Suite Lounge serves serenity with a twist of lime. This place is reserved especially for the Grand Suite level accommodations and above. It serves complimentary continental breakfast and evening drinks.
Sunshine Bar crafts smoothies to craft cocktails within the solarium and some tempting fresh and antioxidant-rich juices.
Supercell is the spin city onboard Royal cruises. It offers adventure seekers a way to test their courage on selected ships.
The Bamboo Room gives you throwback vibes, and some crazy good cocktails will whisk you away.
The Centrum offers panoramic views with a multitude of entertainment, casual eateries, and night-time performances. It also includes high-flying aerial acrobatics and daytime enrichment programs.
The Champagne Bar pops a bottle, raises a glass, and elevates your getaway. From bold brut to crisp cremains, discover your perfect pairing for good times at sea.
The Colony Club is a customizable entertainment space with different clubs. For example, in Jakarta Lounge and Singapore Sling's, the clubs are unique and fully packed with fun and amazing cocktails.
The Lime and Coconut give you a fill of sun-soaked sips and Caribbean cool. It turns your vacay vibes way up with DJs, live music, and two bars serving all your favorite poolside cocktails, including the signature Lime and Coconut.
The Music Hall aboard has a vast space that is specially designed for entertainment. There is a spacious dancefloor where they host and play to a great line-up of high-energy bands who'll entertain you the whole night.
The North Star elevates you high above the ship for unrivaled 360-degree views of the world as you wander. Just sit in the observation capsule, and it will rotate you in 360-degree for some incredible shores from over 300 feet above sea level.
The Royal Escape Room℠ is the royal society of puzzles. There are some puzzles you can solve, and there are some puzzles you escape. You can your squad needs to find the hidden clues, solve the riddles and unravel the mysteries.
The Royal Theatre is where the artists have danced, sung, and wowed audiences across six continents. It is available on three cruises Anthem of the Seas, Ovation of the Seas, and Quantum of the Seas.
Tidal Wave is the first boomerang-style slide at sea that fling up into total tidal weightlessness and an exciting rebound down the other side.
Trellis Bar is a perfect place to sip, sit and watch people while you listen to the soothing sound of the garden. There will a surprise guest performer to entertain you every time you visit.
Tribute bands allow you to enjoy the beats of timeless entertainers from every era.
Two70° Bar is set to deliver imaginative artistry with your favorite cocktail. This place has stunning views and stunning sips along with a floor-to-ceiling wall of windows. In the evening itself, it turns into a nightclub that keeps the party going strong.
Typhoon℠ and Cyclone℠ is the twin racers ride that lets you challenge your friends or family member on board to test the speed. This ride is the part of "The Perfect Strom," the boldest waterslides at sea.
Ultimate Abyss is the longest slide on Royal's cruise ships. This ride is only for brave people who want to do some bold venture and only the most courageous return. It is ten stories mysterious, darkest, and most thrilling slide at sea.
Viking Crown Lounge is the ultimate spot to soak up panoramic views while you sip your favorite cocktails.
Vintage's Wine Bar is where wine list and to-do lists get overlap. Whether you want a glass of red wine or white wine, you're sure to find both of them with a wide range of flavors here.
Virtual Concert relives the original performance on a stunning 4k screen. It is unique to the Two70 Theater on Quantum Class Ships. The performance is recorded on five 4k cameras to create a truly unique, immersive experience.
Vistarama is a place onboard where 18 projectors combine to create an ambient surface over 100 feet wide and over 20 feet tall. It looks as accurate as the world you know, but with fantastic scenes like nothing you've ever dreamed of.
Wipe Out Bar with a refreshing cocktail, or sip a fabulous tropical concoction while you soak up the sun.
Zip Line lets you see the whole ship from the ninth deck above the Broadwalk.
Masquerade Theatre is a Broadway-style performance space that offers new and Broadway-inspired shows.
Royal Promenade is two football pitches long and four decks high that are lined up with boutiques and 24-hour casual dining and drinking options.
Studio B is famous for different activities all day long that starts from cooking demonstrations to ice-skating.
The Attic & Jazz on 4 offers family shows, late-night adult comedy, and guest entertainers. Passengers can enjoy live jazz night in the Jazz on four lounges.
Boardwalk Arcade, young cruisers try their luck at the ring toss, skeeball, and other beloved carnival games.
Boot & Bonnet Pub is an authentic English pub offering a great meeting place for people, pints, performances, and more.
Focus lets cruisers create an excellent souvenir for families and couples. After that, you can check out those moments that the ship photographers have captured onboard.
Photo & Art Gallery showcases some of the original artwork to view, browse, admire and enjoy. You can even pop in to buy something for your home or to gift someone.
Sabor Taquería and Tequila Bar have much more to offer to fellow cruisers. They can enjoy a long heritage of fresh, simple ingredients, reimagined in full bloom.
On-Air Club is a place where a guest can grab a mic, make new friends and bring their voice to the hottest onboard karaoke bar in the Royal Promenade.
Video Arcade offers timeless games including Xbox, table hockey, and more including Pacman.
Coral Theatre is spans up to 3 decks with a fantastic atmosphere with Broadway-inspired shows, live comedy, headline musicals, and contemporary.
Dog & Badger Pub is an authentic British ale that is cozy and a traditional pub.
Open Air Cinema is along the poolside on a sunny day while enjoying a cocktail or wrapped up at night under the stars. Don't forget to enjoy blockbuster movies and major sporting events with a twist at this spectacular open-air poolside cinema.
The Raven is a two-story Gothic nightclub with a bar on each of its two levels. This place is the most happening place to be on the Royal Caribbean deck with a large dance floor, live DJ programming in the evenings. During day time, cruisers can enjoy dance classes, game shows, quizzes, and trivia are hosted here.
Hollywood Odyssey is a cigar bar onboard of Royal Caribbean cruises with an live entertainment atmosphere.
Hoof & Claw Pub is a British ally traditional pub that offers entertainment and drinks.
Olive or Twist is a small jazz club with a dance floor, bar and some live performances. There is a silent disco and special themed nights such as Murder Mysteries.
Pit Stop Sports Bar is just like your favorite sports bar at home. Travelers can grab a beer and catch all the big matches here.
The Safari Club is a customizable entertainment space with four different clubs: The Congo bar, Zanzibar Lounge, Serengeti Card Club, and the Game Reserves. All the clubs are unique, just like their names, and fully fun-packed.
Platinum Theatre offers Broadway-style musical shows, live comedy, and headline musicals that take away the cruisers' breath.
Dragons Lair Nightclub is the club on board where passengers can party the night away by making new friends, listening to the latest tunes, and enjoying a late-night drink in the exciting atmosphere.
Globe & Atlas Pub is an excellent meeting and get-together place for pints, people, performances, and more.
Blaze is a great onboard club where passengers can grab a drink, meet other shipmates, and dance until close.
Comedy Club organizes the fast-paced comedy show or improvised performance in one of the onboard theatre or tries some live underground comedy in comedy live show.
Boardwalk Bar attracts the cruisers to enjoy a drink in the fabulous neighborhood and watch the world go by after spending a whole day enjoying the fairground attractions.
Pinnacle Lounge has floor-to-ceiling glass windows with a small and intimate area. Generally, this lounge is used for small celebrations or private functions.
Connoisseur Club offers a place where one can play the gentleman or gentlewoman with a selection of fine cognacs and cigars in this sophisticated venue.
Quill & Compass offers a British pub atmosphere with an equally solid selection of traditional ales and lagers.
Explorers Lounge overlooks the Centrum of the ship. It provides a comfortable place to sit and relax on one of the large brown leather sofas and take in the views.
Jakarta Lounge offers guests a wonderful space to relax, with polished and luxury furniture, brass work, and tables inlaid with chess boards for guests.
Singapore Slings has floor-to-ceiling window seats that offer relaxing and panoramic views to 90 cruise members. Guests can enjoy their cocktails such as Blue Lagoon or Margaritas at a table near the window while watching the sea.
Bombay Billiard Club can be found at the Colony Club entrance and has a large sitting area with a large TV screen where Nintendo Wii competitions often occur.
Vortex Nightclub lets the cruiser party all night in their way. The DJ keeps on spinning the latest hits and some golden remix so that the guests can dance until late at night.
Café Promenade offers a delicious breakfast and lunch. Guests can grab their morning coffee or grab a tasty snack at this laid-back café.
Crown & Castle Pub has a British pub atmosphere with an equally solid selection of traditional ales and lagers.
The Game Reserve is home to ship's self-balancing Gyro pool tables and a large TV screen where guests can watch their favorite Nintendo Wii competitions.
Royal Caribbean Cruise Health and Fitness
Royal Caribbean features a fantastic array of health and fitness facilities that include a spa, a fitness center, a rock-climbing wall, and much more.
Adults-only Solarium offers a calm, quiet, peaceful atmosphere for an adult to relax. The solariums are indoors and outdoors. The lounger area can be covered during cooler weather by a large glass roof.
Amplified Pool Deck is a next-level pool game. The pool is overflowing with new ways to spend the day in the sun, literally. They have double the pool's surface area to cover the deck with tons of space to lounge, swim, and keep guests connected with the pool.
Flowrider is a 40-foot long surf simulator onboard Royal Caribbean cruises. You can grab your board and get ready because 30,000 gallons of water can rush anytime on the way.
PADI Scuba Diving Expedition encourages you to go and spend some time underwater and discover it. PADI dive instructor will lead you on an underwater adventure with a range of different courses so that you can get certified right onboard for diving.
Pools give you plenty of chances to make a splash and bask in the sun or relax in the shade while having your favorite cool tropical cocktail and enjoy the complimentary loungers and live music.
Rip Tide plunges their riders into new thrills on the only headfirst mat racer waterslide at sea that will take you twisting, exhilarating plunge and turning to the bottom.
Rock Climbing Wall makes it worth climbing because it gives unbeatable views at sea. It is rising forty feet above the deck on the signature rock-climbing wall. Everyone, even the beginners or experts, can strap in and go vertical.
Sports Court allows all guests who are sportsholic to enjoy their favorite sports. Play 3-on-3 with an ocean view here. Cruisers can play one-on-one games such as volleyball and basketball at sea, but with an energizing ocean view.
The Blaster is the longest water slide at sea. So get ready to chart a thrill-filled course for adventure on this aqua coaster. This blaster is more than 800 feet of drops, dips and straightaways with five waterjets.
The Living Room is a place on board of Royal Caribbean Cruise where kids can chill out and spend time with other kids onboard.
The Perfect Storm is the onboard slide which is the boldest twisting adventure at sea. So get ready to tackle hair-raising twists, turns, and adrenaline-pumping fun on this boldest slide.
Vitality Spa & Fitness Centre offers a range of services and relaxation treatments that includes massages, facials, body wraps, reflexology, and acupuncture.
Walking & Running Track is a great way to explore the ship and intake some sea air.
Whirlpools give you vibes to soak up the relaxation and the horizon on each cruise.
Royal Caribbean Cruise for Kids and Teens
Fun isn't just for adults, says the Royal Caribbean, as it offers a wide range of kids and teens activities on the cruise.
A family fun place where they can take a nostalgic turn on the Handcrafted Carousel. It is colorful and full of charm that brings your beloved infant remembrances to sea.
Adventure Ocean Teens & Kids Club offers a UP and Away in the first-ever glow-in-the-dark musical at sea. Here you can follow the puppets Max and Mia, who are landing down to the ocean floor searching for treasure hidden deep beneath the waves.
Adventure Ocean Youth Program is specially designed to ignite the imagination. Here kids have plenty of options to choose their own immersive adventure. These spaces to call their own at the hangout.
Adventure Ocean Youth Programs is not only entertaining kids on board, but it will be educational too!
Aquanauts (3-5 Years) give endless ways to keep the little cruisers busy while their parents want some quality time. It offers bubbling science experiments and dino-size secrets that are just waiting to be uncovered.
At H20 Zone, kids can get drenched, splashed, and sprayed all day long, including interactive geysers, climbable sculptures, water cannons, pools, and waterfalls.
Explorers (6-8 Years) have no end to activities that engage young imaginations. It includes science experiments, Fossil Fever, Space Mud, Meteorology Madness, Art and Craft activities and deck parties.
Fuel Teen Club shows some great comedy movies and other fantastic action films brought to life in their 3D theatre or your stateroom.
Guests can bump up their game at Seaplex. Have the playtime of your life at the most revolutionary indoor active space at sea. It has a full-size basketball court and bumper cars at sea.
Royal Babies and Tots® Nursery offers their tiniest guests and their parent's interactive classes filled with enriching activities to develop their early childhood. This service is only available on Empress, Majesty, Adventure, Jewel, Explorer, and Voyager of the Seas.
Splashaway Bay is an aqua park that's cool, colorful, and all kinds of crazy waterslides along with pools and whirlpools.
Teen Disco is the hot spot for all teen's onboard Royal Caribbean cruises 13 to 17 years. It includes a themed dance party in the evening.
Teen Spaces gives the vibes that are always on this off-the-grid. It is also known as a hideout-hangout space and is the best part of being on board to choose how you spend your time between family time.
The Arcades offers a classic atmosphere with timeless games like Pacman and table hockey, plus the latest Guitar Hero, Fast and Furious Drift, and more.
Trapeze School teaches how to flip. It is a runaway activity and a cutting-edge indoor activity space. Guests can take the first swing on the flying trapeze, with all safety mats for a safe landing.
Tween & Teen Programs allows older kids the freedom to come and go as they please. Whether your teens are looking for some games or hanging out with other cruisers, this program has everything in between.
Voyagers group (9-11 Years) is an adventure ocean's activity that offers different gaming tournaments and showdowns. Even kids can join in a scavenger hunt around the ship and much more.
Royal Caribbean Cruise Facilities
Enrichments programs cover a wide range of topics, from wine tasting to casino tuition.
Explorer Academy
This academy has different types of classes such as wine tasting, casino tuition, dance and fitness, language classes, and cookery. Even guests can visit an onboard art auction to purchase something for their own collection.
Other Details of Royal Caribbean Cruise
Disabled Facilities
All Royal Caribbean ships have wheelchair access doors and elevators, including the staterooms on request. The staterooms are also designed with electric entrance doors and wheelchair-accessible shower facilities. Please note that the guests should manage their wheelchairs/scooters or hire from the vendors outside.
Special Dietary Requirements
Guests will get all special meals, including a wide variety of vegetarian and gluten-free meals are available onboard as standard. And ensure that as a guest, you give your particular dietary requirement 60 days before sailing.
Dress Code
On Royal Caribbean, the dress code is casual during the day. At night, the guests can be in their casual, semi-casual, or formal dress code. It depends on the schedule. The casual attire includes jeans and collared shirts for men and sundresses or pants with blouses for women. At the same time, semi-casuals means shirts, skirts, blouses, or dresses. For formal, people can wear their suits, tuxedos, cocktail dresses, or evening gowns.
Moreover, avoid wearing tank tops and bathing suits in the main dining room or some specialty restaurants because it is not allowed. Even shorts are not permitted during dinner, and footwear is compulsory.
Age Restrictions
Suppose you're sailing from the ports in Europe, New Zealand, Australia, South America, and Asia. In that case, the minimum age should be 18 for the consumption of alcohol. Apart from the above ports, the minimum age is 21, even on the North American port. For cruisers who wish to take services such as spa, casino, or adult nightclub, the cruisers must be 18 years or over. For using pools and solarium, guest age must be 16 or more, and if the age is under 16, they should be accompanied by an adult.
Smoking & E-Cigarette Policy
Royal Caribbean cares about their guest's comfort so, they have created some designated smoking zones. However, they also know that some of the cruisers do smoking. All interior public spaces are smoke-free, while places like dining venues, theater, bar, lounge, hallway, elevator, and jogging track don't have smoking permission.
Drinks Packages
There are different types of drinking packages available onboard Royal Caribbean cruises. For example, non-alcoholic drinks packages, complimentary drinks, classic soda packages, refreshment packages, café select coffee cards, alcoholic drinks packages, and deluxe beverage packages. Each package costs different and has different offerings.
Wi-Fi and Internet Access
To keep their guests connect with your friends and family onboard, Royal Caribbean offers two types of options – 1. VOOM Wireless Internet Access (Wi-Fi) guests will need is a wireless device with Wi-Fi capability and 2. Wired (iCafes) Internet stations are available on all Royal cruises, which vary depending on the ship. The VOOM is available on all boats fleetwide, and the prices vary and change accordingly.
FAQs for Royal Caribbean Cruises
The cheapest Royal Caribbean cruises can start at $200 to $250 per person and go up. A typical cost per night for a room inside is about $50 and for a room on a balcony about $200. According to Royal Caribbean, a seven-day cruise will cost between $135 and $175 per person per day. Depending on your choice, there is a wide range of prices.
Each Royal Caribbean cruise is priced differently according to the destination, sailing dates, departure ports, ship, length, and the number of guests per stateroom. On top of that, cruise vacations include ship accommodations, ocean transport, most meals and some drinks onboard, and entertainment onboard.
Note:
Prices are based on two people sharing a stateroom and are in U.S. Dollars unless otherwise specified.