Below Sailings offer Hurtigruten Norwegian Coastal Express Cruise Deals
---
---
Subscribe Our Newsletter, Receive Cruise Deals by Email.
I agree to receive news and promotional material from this website and I understand that I can cancel at any time. Please refer to Our
Privacy Policy.
---
Hurtigruten Norwegian Coastal Express is a famous cruise line that offers voyages along the scenic Norwegian coastline. The company has been operating for over 125 years. It is renowned for its commitment to sustainable tourism and providing passengers with an authentic Norwegian experience.
One of the best things about Hurtigruten Norwegian Coastal Express is the range of cruise deals and packages available to passengers. Whether you are looking for a short break or a more extended voyage, there is a Hurtigruten cruise deal that will suit your needs.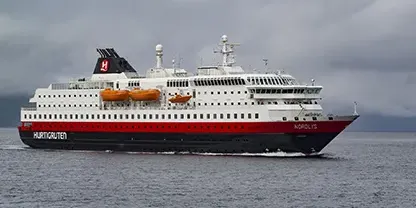 Some of the most popular Hurtigruten Norwegian Coastal Express cruise deals include:
Classic Voyage North/South: This popular package takes passengers from Bergen in the south to Kirkenes in the north or vice versa. The journey covers over 2,500 nautical miles, and passengers experience the breathtaking Norwegian coastline and stunning landscapes.
Northern Lights: Hurtigruten Norwegian Coastal Express also offers special packages that allow passengers to witness the magical Northern Lights. These cruises are available from October to March, allowing passengers to see the stunning Aurora Borealis while sailing along the Norwegian coastline.
Christmas and New Year's Eve: Hurtigruten Norwegian Coastal Express offers special cruises during the festive season, where passengers can enjoy traditional Norwegian celebrations and feasts while experiencing the stunning Norwegian winter scenery.
Explorer Voyages: Hurtigruten Norwegian Coastal Express also offers voyages that take passengers remote locations such as Svalbard, Greenland, and Iceland. These cruises allow passengers to explore some of the world's most pristine and untouched natural environments.
Summer Voyages: During the summer months, Hurtigruten Norwegian Coastal Express offers shorter cruises that allow passengers to experience the Norwegian fjords and coastal towns more relaxed and leisurely.
In addition to these cruise deals, Hurtigruten Norwegian Coastal Express offers early booking discounts and other special offers throughout the year. These deals can help you save money on your next cruise and ensure an unforgettable experience along the stunning Norwegian coastline.
Hurtigruten Norwegian Coastal Cruise Deals: How to find them?
Hurtigruten is known for offering great deals on its expedition cruises, and there are several ways to find them. First, sign up for Hurtigruten's newsletter to receive updates on special promotions or deals. Booking early is also a good idea, as the company often provides early-bird discounts. Last-minute deals are sometimes available, so keep an eye out for these if you're flexible with your travel dates. Package deals that combine cruises with other travel components can also help save money and simplify arrangements. Additionally, traveling during off-season periods can lower prices, especially as Hurtigruten operates in some of the world's more remote locations. Finally, consider the range of cruise itineraries offered and choose one that fits your budget and interests.
Different types of Deals
Holiday Cruise Deals
Black Friday Deals
Presidents' Day Deals
Last Minute Cruise Deals