About Hurtigruten Norwegian Coastal Express Cruises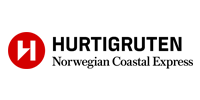 With more than 125 years of service along one of the world's most beautiful coastlines, Hurtigruten is one of the world's most renowned coastal travel experiences. A long and illustrious history has been a part of Hurtigruten. "The express route" in Norwegian refers to the original purpose of the route, which was to facilitate the transport of goods between the country's ends. In today's world, however, it is associated with a more leisurely, relaxed style of travel.
Between Bergen in the south and Kirkenes, deep in the arctic north, Hurtigruten voyages traverse Norway's western and northern coasts. Between these two destinations are 780 miles (or 1,255 kilometers) of fjords, historic towns, incomparable marine and seabird life, and, during certain seasons, the mesmerizing Northern Lights phenomenon.
With Hurtigruten Cruises, passengers can choose from a wide selection of comfortable cabins. Outside cabins offer spectacular views of the scenery from a large picture window or a quaint porthole. There are also some suites with private balconies. Passengers will be transported away from their busy lives onshore to immerse in the unique landscapes resulting from the views, which set the tone for the whole voyage.
An atmosphere of relaxation and conviviality prevails on board. There is a full license on board all ships, and the food is traditional Norwegian. Expert lecturers accompany themed voyages, but passengers are encouraged to share their experiences.
There is a wide range of sizes and purposes of the ports of call. The Hurtigruten ships provide essential goods and services to tiny island communities, including food, mail, and personal transportation. The fishing, shipbuilding, and mining industries have contributed much to the wealth and status of many other communities. In Bergen, at the beginning of the voyage, you will find museums, shops, galleries, and the fish market, as well as the funicular railway that will take you to the summit of Mount Fläyen.
No matter where a traveler goes beyond Bergen, they will find something they love. It may be an Art Nouveau town like Le Sund. Lesund is home to an impressive aquarium built into the coastline after a devastating fire at the turn of the twentieth century.
The fairytale landscapes of Geiranger will delight those who love fjords. Geirangerfjord, a UNESCO World Heritage Site, is also accessible during summer. Onshore excursions are also available for visitors to view the fjords from a whole new perspective.
Norway's pastoral center, Trondheim, is synonymous with the Vikings. The city is also home to one of Europe's most magnificent Gothic cathedrals, Nidaros, and many photogenic wooden buildings, such as the magnificent Stiftsgården palace.
A wildlife enthusiast's paradise, Lofoten and Vesterlen are two island chains. There are many bird species to be spotted here, including sea eagles, guillemots, eider ducks, cormorants, and puffins. Fishermen also live here because of the area's abundant marine life; their waterfront cabins (rorbuer) on stilts are always admired.
Norway is renowned for its herring trade, and few people leave without thinking of it. If you're interested in learning more, you can visit Harstad. This port town has also embraced shipbuilding in equal measure. Experience Norwegian coastal life first-hand with Hurtigruten. A world-famous fjord with charming fishing villages and farms will be on display in Norway. As you sail, you will be accompanied by local Norwegians who have relied on Hurtigruten's ships for generations for travel, post, and cargo.
FAQs for Hurtigruten Norwegian Coastal Express Cruises
The Hurtigruten Norwegian Coastal Express cruise ship is different because it offer unique destinations, world-class food, immerse yourself in local life, and get close to nature and wildlife, Gourmet onboard dining, stunning panorama views, sustainable cruising, and gain knowledge with the expedition team.
Yes, you can see the northern lights from the Norwegian coastal cruise ship. Ensure that you pick your cruise from the list, based on duration, price, and departure date.
They include choice of cabin number, full-board all-day dining with a drink package, complimentary wifi as standard, and a possible visit to the ship's bridge.
Take a voyage between 26 September and 31 March to see the aurora on the Norwegian coast. Assume you do not see the Northern Lights during your voyage. During that time, they will give you a FREE 7-day northbound or 6-day southbound Original Coastal Express Classic Voyage.
There is a wide range of comfortable cabins to choose from. Generally, outside accommodations on the higher decks have picture windows. In comparison, those on the lower decks have portholes that vary in size and location. Each cabin, except the D Grade cabin, has an en-suite bathroom. Towels and hair dryers are provided in almost every cabin. Your cabin may not have a hair dryer, but one can be rented from reception if unavailable. You can choose from various suites on MS Midnatsol and MS Trollfjord, with some featuring a jacuzzi or bath.