Sailings for Oceania Cruises - 2023 Special Offers & Deals
---
---
Subscribe Our Newsletter, Receive Cruise Deals by Email.
I agree to receive news and promotional material from this website and I understand that I can cancel at any time. Please refer to Our
Privacy Policy.
---
Getting on an Oceania Cruises sailing is a great way to enjoy fine dining and everything epicurean. With various captivating itineraries, Oceania offers luxury cruising aboard smaller ships that foster intimacy. Their culinary endeavors, however, truly set them apart. One of Oceania Cruises' ships is named in honor of Jacques Pepin, the renowned French chef. There's more to culinary experiences than just eating. At Oceania's Bon Appetit Culinary Center, you can take culinary classes and learn to make a dish from the local cuisine while touring ports with the ships' chefs.
CruiseBooking.com has the best Oceania cruise deals if you plan a culinary adventure worldwide. A variety of Oceania cruise ships and itineraries are offering these sales and promotions.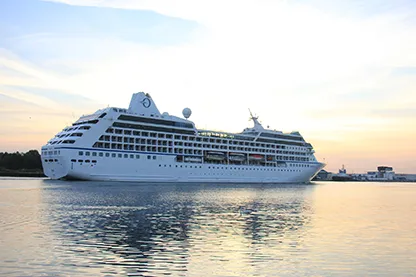 Enjoy luxury sailing around the world with Oceania Cruise deals. Every aspect of Oceania's ships, from the staterooms to the shopping areas and everything in between, is of outstanding quality. You will discover what we mean when you see the exceptional quality of everything onboard.
Travel to exotic destinations such as Africa, Asia, the Mediterranean, and beyond on Oceania Cruises, featuring the finest cuisine at sea. You can travel to a cruise vacation paradise aboard Oceania ships like the Regatta, Insignia, Nautica, Riviera, and more. Book your dream cruise with Oceania Cruises now by researching and comparing deals.
CruiseBooking.com allows you to book Oceania cruises by selecting a destination and a cruise line. Check out our pre-selected cruise deals and find the right cruise for you. Choose your dates and the port of departure once you've found the one you'd like. A cabin preference or cruise ship can also be used to refine your search. There will be a variety of amenities onboard each ship, including gyms, spas, and fitness centers.
Oceania cruise deals: how can you find them?
Choose Oceania cruise deals based on your destination and what you would most like to experience. The deals let you enjoy even more comfort on your vacation by adding additional features for a lower price. You can search by destination and filter by the cruise line to find the best deals. You will only see companies you are interested in traveling with this way. Your results can also be sorted based on the price and duration.
Different Types of Deals
Holiday Cruise Deals
Black Friday Deals
Presidents' Day Deals
Last Minute Deals