Cyber Monday Cruise Sailings - 2023 Best Offers & Discounts
---
---
Subscribe Our Newsletter, Receive Cruise Deals by Email.
I agree to receive news and promotional material from this website and I understand that I can cancel at any time. Please refer to Our
Privacy Policy.
---
Cyber Monday is a highly anticipated online shopping event where you can find incredible discounts and offers on various products and services, including Cyber Monday cruises. It's the perfect opportunity to book your dream cruise vacation at a fraction of the cost. From luxury cruises to family-friendly adventures, there are Cyber Monday deals for every type of traveler. Whether you dream of a Caribbean getaway, an Alaskan expedition, or a mediterranean cruise, Cyber Monday offers exclusive offers and promotions that make your dream vacation more affordable. Don't miss out on these fantastic Cyber Monday cruise deals for 2023 – set sail towards unforgettable experiences at unbeatable prices!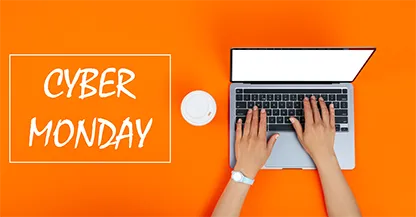 Featured Cyber Monday Cruise Deals of 2023!
If you've been dreaming of embarking on a luxurious cruise vacation, Cyber Monday is the day to set sail on a dreamy vacation. Explore the most Cyber Monday deals on top cruise lines, ensuring you sail away to unforgettable destinations while enjoying significant savings.
FAQs for Cyber Monday Cruise Deals
Cyber Monday is known for offering various deals and discounts across different industries, including the travel sector. While specific offers can vary from year to year and depend on individual cruise lines, some standard discounts, and offers you might expect on Cyber Monday for cruise bookings are Cabin Discounts, Onboard Credit, Free Upgrades, reduced deposits, and beverages and Wi-Fi Packages.
To find discounted rates for popular cruise lines and destinations on Cyber Monday, sign up for our newsletters and set cruise price alerts.
For any specific destinations or itineraries on exclusive Cyber Monday deals, you subscribe to our email list, sign up for cruise alerts, and deal alerts.
You can combine Cyber Monday deals with other promotions or discounts the cruise line offers on our website.
To find the best Cyber Monday deals for cruises, you can set price alerts, sign up for our newsletters, and join our email list.
No, Yes, there any not will likely be restrictions and blackout dates associated with Cyber Monday cruise deals. However, it depends on your chosen cruise line, destination, and itinerary.
You can contact our travel agent or customer care team executive for cancellations and refund policies for cruises booked on Cyber Monday. General cruise line cancellation policies will apply.
In addition to discounts and deals on cabin fares, Cyber Monday cruise bookings may also come with additional perks or amenities. While the offerings can vary depending on the cruise line and promotion, here are some examples of other perks or amenities that may be included, onboard credit, beverage packages, dining upgrades, wi-fi packages, gratuities, and shore excursion discounts.
The ability to customize your cruise package or add extras during Cyber Monday cruise offers can vary depending on the cruise line and the specific terms and conditions of the promotion.