VEGANS CRUISE DEALS SAILINGS
---
---
Subscribe Our Newsletter, Receive Cruise Deals by Email.
I agree to receive news and promotional material from this website and I understand that I can cancel at any time. Please refer to Our
Privacy Policy.
---
Vegan cruises align with your plant-based lifestyle, where the voyage of a lifetime meets conscious living values. Our Vegan Cruise Deals are a unique fusion of luxury travel and compassionate dining on our curated selection of Vegan Cruises. Our curated selection takes you to spectacular destinations while ensuring that each culinary delight served on board is cruelty-free and delectable. Our journey will take you on an exciting journey with mouthwatering vegan cuisine, world wonders, and a commitment to sustainable and compassionate travel. Set sail on a voyage that feeds your soul and palate when you find the perfect Vegan Cruise deal. Discover the ideal cruise deal and embark on a voyage that satisfies not only your wanderlust but also your desire to impact the planet positively.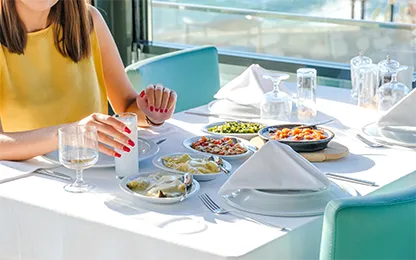 Before setting sail on your inaugural vegan cruise adventure, here are some essential tips to consider:
Plan: Contact the cruise line's special needs department early to inform them of your vegan diet.
Meet with the Dining Manager: Schedule a meeting with the ship's dining manager or maitre d' on the first day to discuss your vegan requirements.
Pre-Order Meals: Find out if you need to pre-order your vegan meals for the following day to ensure proper preparation.
BYO Snacks: Pack your favorite vegan snacks if vegan options are limited onboard (check cruise line policies).
Read Reviews: Look for reviews from fellow vegans who have taken similar cruises for insights.
Explore Port Cities: Research vegan-friendly restaurants in port cities during onshore excursions.
Pack Essentials: Bring vegan condiments or anything specific you like to enjoy while traveling.
Be Patient and Polite: Maintain clear and courteous communication with the staff for a pleasant dining experience.
What cruise lines offer special vegan cruise deals?
1. Oceania Cruises
Oceania is a standout choice for vegans, offering an extensive plant-based dining experience. They introduced over 250 vegan dishes available daily in the Grand Dining Room across their fleet in 2017. In 2019, they expanded their offerings with over 200 new vegan menu items in various dining venues, including specialty restaurants like the Steakhouse and Polo Grill. Their larger ships, Oceania Marina and Oceania Riviera, even feature a morning vegan juice bar by the pool, offering cold-pressed juices, smoothies with homemade cashew milk, and energizing bowls. The menu boasts a diverse selection, from Vegan tortilla Espanola to truffle mac 'n' cheese and coconut milk carrot cake.
2. Holland America
Holland America caters to vegetarians and Indian cuisine enthusiasts with special menus in the main dining room, provided you request them. Indian dishes require a 24-hour advance order. Vegetarian options are available on regular lunch and dinner menus and in specialty dining venues. The buffet offers an impressive salad bar, daily sushi, and made-to-order stations for breakfast and lunch, including portobello mushroom "burgers" at the grill. Sample dishes include Baked cheese polenta with mushrooms and artichoke hearts, Tofu and vegetable stir-fry, curried cauliflower steak and asparagus, vegetable korma, and grilled portobello mushroom with zucchini spaghetti.
3. SeaDream Yacht Club
SeaDream Cruise Line stands out for its exceptional service catering to vegetarians and vegans. The crew goes above and beyond to meet dietary needs. The breakfast menu offers traditional and healthy options like chia seeds and quinoa clusters. Lunch includes a DIY salad bar with fresh organic veggies and homemade spreads. Dinner features a wholly plant-based, organic, and vegan meal, often with raw dishes, alongside regular vegetarian entrees. Customization is encouraged, and the crew is ready to assist before or during your cruise to create your ideal meal. Sample dishes include Truffle tagliatelle pasta, chanterelle, shitake, pink grapefruit ceviche, and lapsang souchong smoky portobello.
4. Carnival Cruise Line
Carnival Cruises Line excels in offering diverse dining options, many of which are complimentary. Their main dining room consistently features vegetarian choices and Indian food lovers can delight in the Indian vegetarian dish offered alongside papadum, raita, and basmati rice. Casual venues also cater to vegetarians, with options like veggie burgers, bean burritos, salads, and pasta. Carnival's pizza is renowned; even the Steakhouse can prepare off-menu vegetarian entrees. Sample dishes include Portobello mushrooms with spinach, zucchini, eggplant parmigiana, and chickpea biscuits with roasted squash and peppers. This variety and commitment to vegetarian-friendly options make Carnival a top choice for diverse dining at sea.
5. Royal Caribbean
Royal Caribbean earns its spot among the best for its commitment to vegetarian and vegan dining options. While the main dining room and Windjammer Cafe have historically offered vegetarian meals alongside meat dishes, Royal Caribbean Cruise has elevated its offerings by introducing a dedicated vegan menu in the main dining room. This expanded availability makes it easier for vegan passengers to enjoy a variety of plant-based dishes in the main dining venue.
Sample dishes include:
Edamame-stuffed portobello mushrooms.
Vegan spaghetti "Bolognese."
Orzo pasta stew with green vegetables.
Toffee "cheesecake" with dark chocolate and a peanut butter crust.
This enhanced focus on vegan cuisine ensures a delightful dining experience for those with plant-based preferences.
Also, Read: Which cruise line has the best vegetarian food?
6. Azamara
Azamara takes dining to a new level with its extensive vegan menu, available in the main dining room for lunch and dinner and in specialty restaurants. The vegan menu caters to diverse preferences with a rich selection of 16 main courses, six appetizers, four soups, and eight side dishes. While specialty restaurants have a cover charge, it's worth noting that the vegan menu is complimentary elsewhere on the ship, and vegetarian and vegan options are marked. The buffet offers vegetarian-friendly Indian dishes, and the poolside grill serves veggie burgers and vegetarian spring rolls. Don't miss Azamara's famous White Night alfresco buffet dinner, a culinary extravaganza. Sample dishes include Tofu satay with nasi goreng, pesto pasta with olives and sun-dried tomatoes, and Moroccan spiced kebab with almond couscous salad, ensuring a delightful experience for vegan and vegetarian guests.
7. Celebrity Cruises
Celebrity Cruise Line stands out for its vegetarian-friendly options. It features dedicated menus in the main dining room (even on Celebrity Edge cruise ship), with a 14-day rotation. Icons on regular menus mark vegetarian and lactose-free choices. Servers typically inquire about dietary preferences on the first night, or you can request the vegetarian menu anytime. However, there's a heavier focus on pasta and cheese for main entrees, with limited bean and tofu options. Specialty venues offer vegetarian choices, except Le Petit Chef, which has a separate vegetarian menu. The buffet provides pasta, pizza, and custom stir-fry. Sample dishes include Sun-dried tomato ricotta pasta, roasted carrot cumin salad, vegetable korma, and vegetable cassoulet. Celebrity ensures a satisfying dining experience for vegetarians.
8. Norwegian Cruise
Norwegian Cruises sets the bar high for variety and choice in luxury cruising, and their approach to food is no exception. They ensure something for everyone with an array of dining options, including a dedicated selection of vegetarian and vegan dishes. In the main dining room, you can count on finding at least one enticing vegan meal to savor, highlighting their commitment to culinary diversity and accommodating passengers with different dietary preferences.
9. Costa Cruise Line
This Costa cruise line elevates the concept of "Mangia" to new heights, especially for vegans and vegetarian diners. They also cater to travelers with gluten-free and other dietary restrictions. Since 2015, they have provided vegan and vegetarian culinary experiences, focusing on delectable Mediterranean options that will tantalize the taste buds.
10. Silversea Cruises
Prepare for a culinary adventure aboard Luxe Silversea, where a world of dining options awaits. Whether you follow a vegan, kosher, Ayurvedic, raw, or gluten-free diet, they've covered you with dedicated menus. To ensure your dietary preferences are met, it's recommended to contact the cruise line two months before sailing and make any special requests. The attentive crew will work alongside you to maintain your nutritional needs and lifestyle throughout your vacation, ensuring a truly indulgent and tailored dining experience.
FAQs for Vegan Cruise Deals
Vegan cruise deals are specially curated vacation packages that cater to individuals who follow a vegan lifestyle. These deals offer a variety of amenities and experiences tailored to meet the dietary preferences and ethical choices of vegan travelers.
On a vegan cruise, you can expect a wide range of plant-based dining options, including vegan-friendly menus and specialty restaurants. Additionally, most vegan cruises provide educational programs, cooking classes, and workshops on veganism, sustainability, and animal welfare.
While vegan cruises primarily cater to vegans, they are also open to individuals with different dietary preferences. Non-vegan travelers can enjoy the unique experiences and services offered on vegan cruises.
Vegan cruises usually have certain restrictions to ensure the entire experience is vegan-friendly. This may include restrictions on animal-based products, such as leather, fur, or animal-tested cosmetics. Additionally, some vegan cruises may prohibit the consumption of animal products on board.
Many regular cruises now offer vegan options in their dining menus to cater to the increasing demand for plant-based meals. However, the variety and availability of vegan options may vary from one cruise line to another. Checking with the cruise line in advance is recommended to ensure suitable opportunities are available.
Most cruise lines allow passengers to bring their own food, including vegan food. However, it is advisable to check the specific policies of the cruise line you are traveling with, as there may be certain restrictions or guidelines regarding the types of food allowed to be brought on board.
Yes, most vegan cruises offer the option to request special vegan meals to accommodate specific dietary requirements or preferences. It is recommended to inform the cruise line about any special requests to ensure a seamless dining experience during your vegan cruise or any cruise.
Vegan cruises often include vegan-focused activities and excursions to enhance the overall experience. These may include vegan cooking demonstrations, plant-based workshops, wine tastings, and visits to vegan-friendly destinations or local vegan restaurants. The specific activities and excursions may vary depending on the cruise line and itinerary.