San Francisco, California Cruises
San Francisco is one the most populous port city in California, United States. With plenty of shopping areas, world-class culture, historical landmarks, and an awe-inspiring skyline. This popular destination is known for its cool summers, fog, steep rolling hills, and Chinatown district. It is also one of the best cities for adventurous travelers due to San Francisco's lush parks and proximity to many incredible natural wonders. The city's Cable cars and bus tours are a more entertaining way to see the city. Even The best way to get around San Francisco is by foot rather than public transportation.
Best things to do in San Francisco
A San Francisco travel guide with all the information you'll need when visiting this port of call. Discover everything you need to know. You can explore the city's artistic side to its culture, heritage, and beautiful coastline on a cruise.
1. Golden Gate Bridge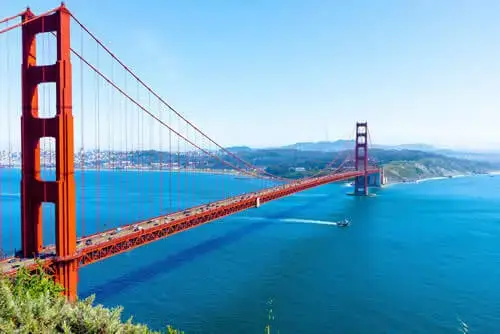 There are almost no high points in San Francisco where you can't see the Golden Gate Bridge's orange towers, the city's unmistakable architectural symbol. When the bridge was opened, it had not changed in color since 1937 because locals loved it. Initially, the undercoat was to be a temporary one before a grey topcoat was applied. Bicycling or driving across it is thrilling, but walking its 1.7-mile length allows you to experience its immense size and take in the Marin headlands and San Francisco itself. At sunset, the pink glow of the city's waning light paints the bridge in a new light - unless, of course, there is fog in the air, in which case it takes on an almost eerie tone.
2. Golden Gate Park
Golden Gate Park is a green space that shouldn't be missed in a city with many parks. It's the largest and most diverse green space in a town with many gardens. In the late 1800s, it was built on wild sand dunes buffeted by sea spray on three miles of land extending west from Haight Street out to the Pacific Ocean. Its hidden meadows and quiet paths still allow you to find some solitude among the throngs of daily visitors (especially in the museum-rich eastern edges).
Cruisers can also enjoy a tranquil stroll in the Japanese Tea Garden with its ponds filled with fish, bonsai and cherry trees, and sloping bridges. Nearby there are 2 must see spots that feature lush foliage and quiet reflection: the extravagant Conservatory of Flowers and the 75-acre San Francisco Botanical Garden.
3. Cable Cars
The glory of these old trams makes them popular for a good reason. They offer a very scenic ride, a wonderful photo opportunity, and also a leisurely ride up some of downtown's steepest hills to the market street and Fisherman's Wharf. These cars make life easy, possible, and practical. Under the streets, cars grip a moving two-inch cable, ascend, and then release at the top to glide down the other side.
Also, Read: 5 Best Places to Visit in San Francisco in 2023
4. Chinatown
A dim sum restaurant, a traditional herbal store, and a steamy teahouse are just a few spots you will find in Chinatown. You travel through the famous district on Grant from Bush to Broadway. If you plan on buying tea or herbs, you can return by either Stockton or Powell, which will give you a better sense of how residents live each day.
5. Castro and Noe Valley
Take a walk from Church to Castro on 19th St, and visit the famous LGBQT district. From there, it is a short walk-up Castro St to 24th St, the main thoroughfare of bohemian Noe Valley. The town has its fair share of wild places, but some maintain a shadow of its former self. Many of its hangouts remain from its heyday in the 1970s—which were represented in 2009's movie, Milk. Still, they're now home to a slightly more conservative breed as cute shops and restaurants lend the area a boutique-like feel.
Best time to visit San Francisco
San Francisco is a great place to visit year-round, but its most popular from September to November. During this time, tourists experience less crowds than in summer. If you visit in spring, the temperature is mild and lacks rain compared to other parts of California.
San Francisco is a bargain-hunting destination during winter when hotels have lower rates and fewer people are around. Protect yourself from chilly temperatures by wearing plenty of layers if you plan on traveling in the winter.
During summer, visitors will experience pleasant weather and a promise of summer festivals such as the North Beach Festival, San Francisco Pride, The San Francisco Marathon, Outside Lands Music Festival, and many more.