By Cruise Booking Team
Updated on: November 09, 2023
Visiting a Christmas market is one of the most fun and interesting things to do during the festive season. Various cruise lines offer this tour to make sure that all the visitors can experience the deep-rooted European tradition and feel the magic of these beautiful and enchanting Christmas markets.
Christmas market cruises will take you on an exciting ride to different cities, so you can experience their culture and take part in their festivities. During your visit to these markets, you will be able to buy various decorations for your Christmas tree, stocking fillers, drink a steaming mug of glühwein, and eat gingerbread and biscuits.
Best Christmas Market Cruises in 2023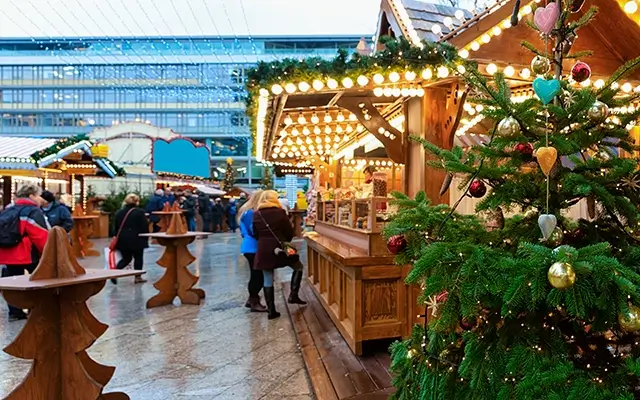 Christmas river cruises through Europe saw a resurgence this year, allowing more people to experience the magic of this market. By taking a ride on a Christmas market cruise, you will be able to shop for Christmas from some of the most famous and beautiful markets. So, start your Christmas celebrations in advance with some popular Christmas Market Cruise 2023.
Uniworld Boutique River Cruises: River Queen | Frankfurt to Nuremberg | 7 Nights
Uniworld Boutique River Cruises' River Queen is a luxurious cruise ship that promises an unforgettable experience to all its guests. It boasts an exterior that takes you back to the 1930s steamship era. The ship's lavish decor features blue and white textured fabrics, marble bathrooms, and captivating artwork, making it a floating sanctuary of comfort, indulgence, and relaxation.
Book River Queen Cruise for 7 Nights | Frankfurt to Nuremberg
Uniworld Boutique River Cruises: River Princess | Frankfurt to Nuremberg | 7 Nights
River Princess is the flagship cruise of the Uniworld Boutique River Cruises. Taking a journey on the cruise ship is sure to delight you with her unique atmosphere and outstanding hospitality. The 130-seater cruise ship is a popular choice amongst travelers. The Captain's Lounge, Sky Lounge, Main Lounge, and Library take the experience of guests to a whole new level.
Book River Princess Cruise for 7 Nights | Frankfurt to Nuremberg
AmaWaterways: AmaDouro | Lisbon to Porto | 10 Nights
The AmaDouro of the AmaWaterways is one of the best river cruise ships on the Douro River. The ship has spacious cabins with balconies, on-demand entertainment, complimentary Wi-Fi, and a main restaurant where you can sample the famous local Port wines.
Book AmaDouro Cruise for 10 Nights | Lisbon to Porto
AmaWaterways: AmaMagna | Prague to Budapest | 12 nights
If you are planning a Christmas market river cruise in Europe, AmaMagna by AmaWaterways is definitely worth considering. It is one of the largest river cruises in the region and offers a unique experience. One of the standout features of AmaMagna is its dining options.
Book AmaMagna Cruise for 12 Nights | Prague to Budapest
Top European Christmas Market Destinations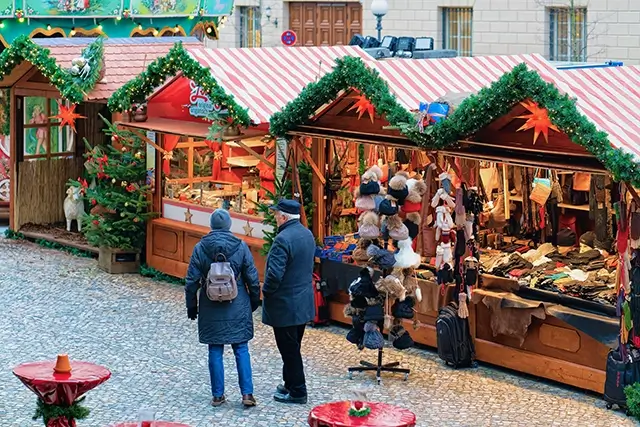 If you are planning to take a Christmas market cruise, European Christmas markets are considered among the best and most beautiful in the world. Though German markets are the most well-known, many other venues throughout the continent are equally impressive. Here are some of the must-visit places during the festive season:
Salzburg, Austria
Known as the hometown of Mozart, the Salzburg Christmas Market is one of the oldest and most traditional Christmas markets in Europe. It is known for its high-quality goods, festive atmosphere, and beautiful setting. One of the things that makes this Christmas Market so special is its focus on quality over quantity. The market stalls are run by local artisans and vendors, and the goods sold are all made with care and attention to detail.
Budapest, Hungary
Budapest mainly has two Christmas markets, Vorosmarty Square and Basilica. Vorosmarty Square is the oldest and traditional Christmas market in the city. It provides a number of food stalls, handicraft shops, and free concert options to visitors. Along with all these, Basilica offers a magnificent Christmas laser projection and an ice-skating rink around a grand Christmas tree.
Prague, Czech Republic
Prague is one of the most beautiful cities to visit during the Christmas season. Everyone knows that mulled wine is a Christmas delicacy. Instead, try a glass of grog, a local drink made with rum, water, lemon, and sugar from this market, for a unique experience. The most important thing that attracts everyone to Prague's Christmas Market is the food. You can enjoy warm, fatty sausages just off the grill, fresh pancakes, and garlic-and-cheese flatbread here.
Strasbourg, France
Known as the Christmas Capital of France, Strasbourg Christmas Markets is considered one of the most traditional markets in Europe. There are more than 300 traditional market stalls throughout the city that sell hand-made Christmas decorations, cookies, cakes, sausages, and all things Christmassy.
Bratislava, Slovakia
Bratislava, the capital of Slovakia, is amongst the most beautiful cities to visit during the Christmas season. During the festive seasons, the city becomes a winter wonderland. With fairy lights draped around Christmas trees and market stalls selling traditional wooden toys and decorations, it creates a magical atmosphere. Visitors can also enjoy delicious food and drinks from these stalls, including specialties like pancakes, sausages, and cakes.
Also Read: River Cruises in December
Reasons to Take a European Christmas Market River Cruise in 2023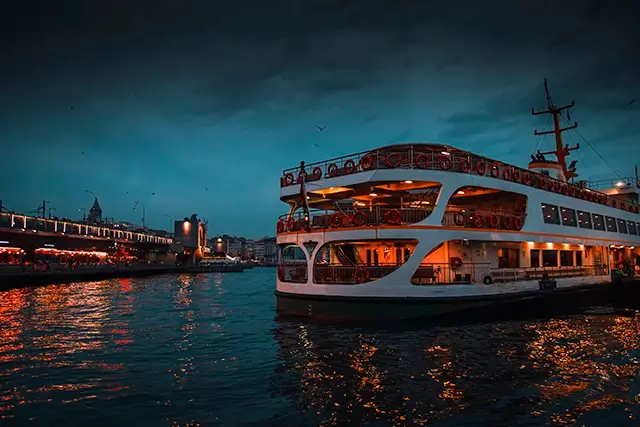 Here are some of the highlights of the European Christmas market river cruises that allure thousands of visitors during the festive seasons:
Exploring Christmas Markets for Unique Family Gifts
Christmas market river cruises in Europe are a great way to find unique and special gifts for family and friends. Some of the most popular items to buy include wooden toys, specialty teas, honey, hats, leather goods, hand-blown glass, scarves, wine, and liqueurs. Also, note that cash is the most reliable way to pay, but some stalls may also accept credit cards.
Christmas Market Cruises: A Daily Delight in Festive Atmosphere
Christmas market cruises allow guests to visit markets at night to enjoy the beautiful and magical atmosphere created by the beautiful lights and decorated stalls, squares, and parks. Cities and towns in Europe also decorate public buildings and plazas with wreaths, bows, and lights.
Experience the Best of European Cities with Christmas Market Cruises
Christmas market river cruises in Europe offer a unique perspective on idyllic cities. All the holiday decorations and mulled wine create a magical atmosphere and allow a delightful exploration of European cities during the festive season.
Savor the Delight of Mulled Wine on Christmas Market Cruises
Mulled wine, otherwise known as gluhwein or glogg, is a Christmas market delicacy in Europe. It is enjoyed by both wine enthusiasts and casual drinkers. Typically, it is red wine infused with cinnamon, cloves, and oranges, sometimes cocktails with brandy, amaretto, or vodka, and served in quirky souvenir mugs. Non-alcoholic versions of this drink, called kinderpunsch, are also available here.
Delight in Delectable Sweets and Savory Treats on Christmas Market Cruises
If you are planning for a Christmas market river cruise in 2023, trying out the sweets and delicacies should be your number one priority. These sweets range from chocolate-dipped dried fruit to elaborate pastries. Some of the most popular sweets include Schmalzkuchen (fried dough balls), Lebkuchen (gingerbread cookies), Maroni (roasted chestnuts), and Heiße Schokolade (hot chocolate). The most popular savory treats include sausages, potato pancakes, and potato dumplings.
Immerse Yourself in Europe's Festive Culture and Events
Visiting the Christmas market in Europe will allow you to immerse yourself in the traditions and celebrations of the holiday season. You will visit cathedrals and abbeys, listen to local singers and musicians, and learn about local holiday traditions.
Also Read: Which is the best European river cruise?
Best Germany Christmas Market Tours to Explore in 2023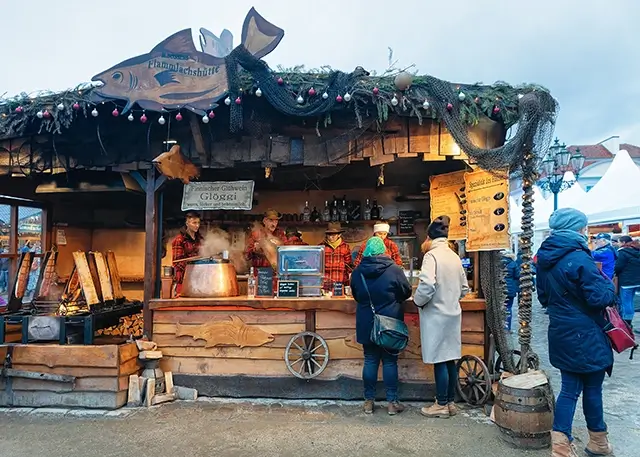 Germany is considered the most essential place to visit during the festive season, as most of the staple Christmas traditions originated in Germany. Here are some of the best tours to take in Germany during the Christmas Market season:
Munich Christmas Markets Tour
It is a two-hour-long tour of the Christmas markets in Munich. There are more than 20 markets scattered throughout the city, and on this tour, you can visit all of them as you will be guided by an expert who will show you all the festive offerings of the city.
Christmas Market Wine and Festive Food Tour
Explore the different festive foods and taste the world-famous festive staple Mull Wine during your visit to Germany. Also, there are many Oktoberfest grounds throughout the city where you can get sloshed and have a great time.
Private Tour with a City Host
Personalize your Christmas Market Tour in Germany and get the most out of your time in Berlin. This helps you save a lot of time and resources, as you will be guided by a local and you will visit the places that are in your itinerary.
Cologne City Tour Experience
When you plan your Rhine River Christmas market cruise, this walking tour in Cologne, located just beside the Rhine River, will show you the best the city has to offer, including the Cologne Cathedral and the Hohenzollern Bridge. You will also learn about the city's history and fun curiosities. As a bonus, you will receive a Cologne gift when you finish the tour.
Must-Visit German Christmas Markets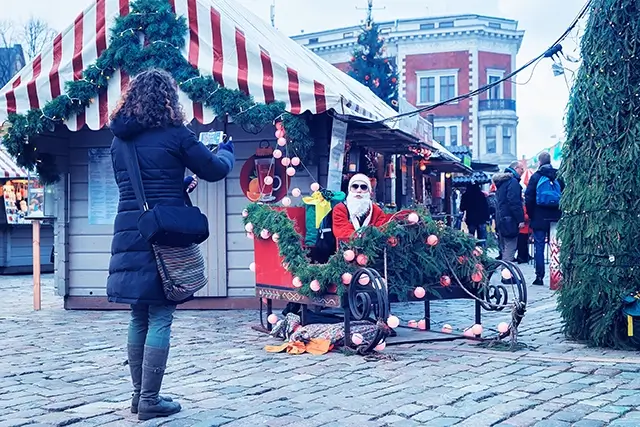 During your German Christmas market cruise, visiting the Christmas Markets of the Deutschland is one of the prime attractions. These markets capture the actual Christmas sentiment of the country. Here are some of the must-visit German Christmas markets:
Christkindlesmarkt, Nuremberg
Nuremberg's Christkindlesmarkt is the quintessential German Christmas market to visit. The market features nearly 200 independent vendors selling handmade crafts, such as hand-made wooden toys, beeswax candles, and dried prune figurines. Visitors should also try the local specialties, including Nürnberg Rostbratwurst and Lebkuchen.
Reiterlesmarkt, Rothenburg ob der Tauber
Rothenburg's Christmas market is an astounding sight to behold. The medieval town is transformed into a fairy-tale wonderland, with winding streets, Tudor houses, and glittering lights. Visitors to this market should try the famous Rothenburger Schneeball pastry, a fried golden pastry made with plum Schnapps.
Striezelmarkt, Dresden
Dresden is the home of Christstollen. It is a fruitcake made with orange peel, rum-infused raisins, and almonds. The city also has one of the oldest Christmas markets in the world, the Striezelmarkt.
Weihnachtsmarkt, Ravenna Gorge
The Weihnachtsmarkt in Germany is the most scenic Christmas market in the country. It is tucked beneath the 40-meter-high arches of a railway bridge, which is lit up in deep red at night. The market is covered in a thick layer of snow, making it a truly enchanting sight to witness.
Also Read: Which is the best European river cruise?
Benefits of Holidaying on Christmas Market Cruises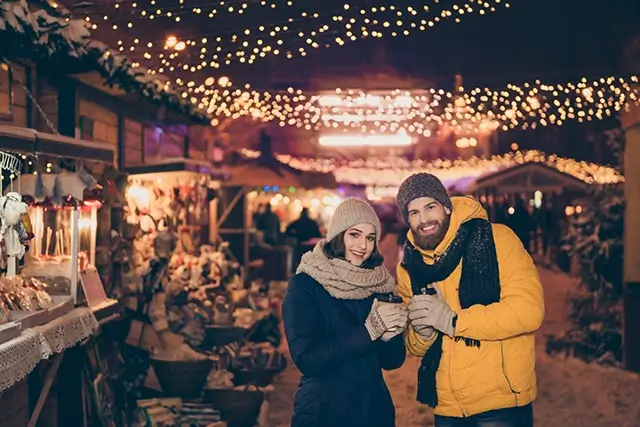 Taking Christmas market cruises 2023 will allow you to explore different countries and their cultures and have once-in-a-lifetime experiences. Here are some of the most critical benefits of holidaying on Christmas river cruises in Europe:
Experience the European Winter
River cruises during the winter offer travelers the chance to experience Europe in its most magnificent form. You can cruise on the Rhine with castles sitting on white frosted hills or walk the streets of Nuremberg, exploring the famous Christmas markets.
Christmas Markets and Different Cultures
If you are planning for a Christmas market tour, you will get the unique opportunity to explore multiple countries and cultures on one itinerary. Visiting these vibrant cities and quaint villages will add to the excitement, and it will offer a glimpse into local life through traditions, foods, and art.
Christmas Shopping
Christmas shopping is a very important and exciting tradition amongst a lot of people. You can do your Christmas shopping from these beautiful markets for all your friends and family. Here, you will be able to get numerous unique gifts that are not available anywhere else in the world.
Tasting Local Specialties
Eating local European specialties such as roasted chestnuts, fresh pretzels, grilled sausages, lovely gingerbread cookies, hot chocolate, and drinking mulled wines is one of the top attractions of these market tours.
Also Check: 10 Night River Cruises
Planning Your 2023 Christmas Market Cruise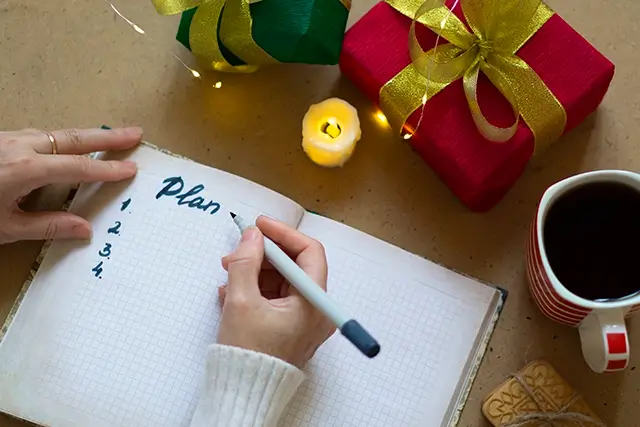 Here are some of the expert-approved tips for planning and booking a Christmas market cruise:
You should take some time to research different Christmas market cruises before you book one. This will help you to find the right cruise within your budget.
While most stalls at Christmas markets accept credit and debit cards, it is still a good idea to bring some cash with you.
Do not wait to buy something you like at a Christmas market. If you see something you like, you should buy it right away to avoid disappointment, as these things sell out very quickly.
Make sure not to spend all of your money at the first Christmas market you visit. There will be other Christmas markets to visit throughout your trip. So, you should save some of your money for spending at these markets.
Christmas markets are usually only open for a few hours each day. This is because the vendors need time to set up and tear down their stalls. You should plan your day carefully so that you have enough time to visit all of the Christmas markets present on your wish list.
Experiencing the Magic: Onboard and Ashore
Other than the Christmas Market visits, the Christmas Market Cruises offer a lot of onboard activities to all its guests. Here are some of the activities you must participate in while onboard your cruise ship:
Gather around the Christmas tree with your loved ones and decorate it with accessories, lights, and garlands.
Enjoy a delicious and festive Christmas dinner with your fellow passengers. The meal may include traditional Christmas dishes, such as roast turkey, ham, and mashed potatoes, as well as desserts like Christmas pudding and mince pies.
Sing traditional Christmas carols to celebrate the holiday season and get into the festive spirit.
Test your knowledge of Christmas trivia with a fun and festive quiz.
Drinking glühwein or German mulled wine made with red wine, sugar, and spices, and is often served with a slice of orange or lemon.
Get into the holiday spirit by baking cakes, cookies, and gingerbread houses.
Insider Tips for a Memorable Christmas Market Cruise
Here are some of the most critical insider tips you should keep in mind to make your Christmas Market Cruise journey memorable:
Book Your Christmas Market Cruise as Early as Possible
When planning a Christmas market tour, make sure to book the cruise at least one year in advance as the demand is very high and the festive season is very short.
Wear Winter and Warm Clothes
Christmas cruises in Europe can be chilly, especially at night. It is essential to pack a hat, gloves, and scarf to stay warm.
Wearing Good and Comfortable Walking Shoes
When you visit the Christmas markets in Europe during your cruise trip, you will have to walk a lot. Make sure to wear sturdy shoes to ensure a comfortable journey.
Varied Prices
Prices for items at Christmas markets can vary depending on the location. It is advisable to consider the specific area you are in and frame your expectations accordingly. If you are uncertain about pricing at different Christmas markets, the cruise concierge can provide valuable insights and guidance.
Enjoy Street Food
Christmas markets in Europe offer a variety of delicious street foods, each country with its unique specialty. Enjoy the local favorite street foods, such as bratwurst, glühwein, and roasted chestnuts.
Conclusion
A Christmas market cruise offers a unique and enchanting way to celebrate this holiday season. This comprehensive guide introduces you to the magic of European Christmas markets and the incredible cruises that take you there. From exploring idyllic cities and tasting local specialties to shopping for unique gifts and enjoying festive onboard activities, these cruises create unforgettable memories.
Early booking is essential, given the high demand for these popular journeys. So, whether you're drawn to the traditional markets of Germany or the charming streets of Budapest, a Christmas market tour promises a winter wonderland of experiences. Start planning your Christmas market cruise with CruiseBooking.com and immerse yourself in the spirit of this festive season.