By Cruise Booking Team
Updated on: November 29, 2023
There are many benefits to taking a cruise. From a protected vantage point, cruises offer a fantastic way to see the world. There are a few trends to keep in mind when planning a cruise. Taking a cruise today can take you to places you didn't even know were possible. In addition to green cruising, women-centric travel, and a chance to rebalance your body and mind, they also offer green cruising. Discover worlds, have fun, and find true relaxation with these attractive options for cruises.
The whole cruise industry and all cruise lines are shaping up for 2024, an exciting year for them to celebrate significant milestones. Major cruise lines such as MSC, Carnival, and Royal Caribbean will be launching new cruises in 2024. So if you're planning on a cruise vacation in the year 2024, here are a few trends to follow before you begin.
Cruise Industry Seeks to Refloat with Cruise Trends in Year 2024
1. Getting More Digitally
The cruise industry is also getting upscale by accepting the digital transformation trend. Apart from adding new itineraries and shore excursions, they are also providing onboard the latest technology for their fellow cruisers. For example, mobile apps. Mostly, all cruise lines have their own mobile apps, which allow them to access ship information, services, check-ins, virtual reality headsets, AI-powered assistants, and many more digital things. Some even have robot bartenders to attend to guests' special requests, while some give virtual tours with VR headsets. However, all cruise lines are investing in the right digital technology to match up with the other industries. Even the operations, such as the booking process, have been streamlined because of technology.
Many cruise ships will start following the new enhanced features and protocols in the upcoming year as the cruising industry prepares for a comeback with touchless embarkation and staggered arrivals, touchless payments, health questionnaires, health and safety drill protocols, and real-time visibility into the venue. Moreover, they have also canceled the self-service buffet system.
2. Hot Cruise Destinations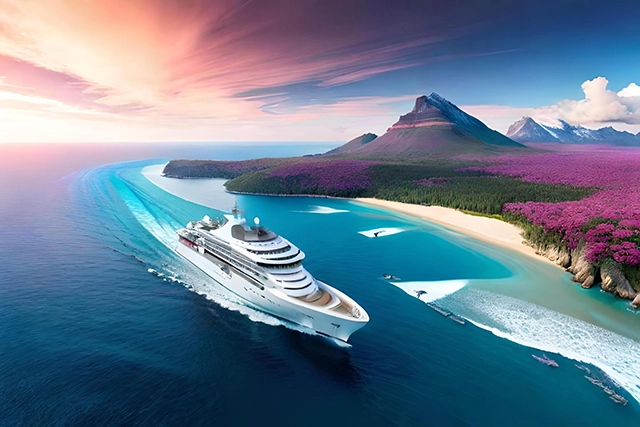 One of the most trending destinations for the year 2023 was Europe; even in 2024, Europe is going on top. The cherry on the top is that European river cruises are getting hotter in 2024. Market research shows fellow cruisers have already booked European river cruises for 2024. However, some other destinations are also trending for the year 2024, which are Alaska, far-flung destinations, the Middle East, the polar region, Israel, Antarctica, and some exotic destinations like Egypt.
Some other trending destinations might be the Bahamas, New Zealand, The Caribbean, Norwegian Fjords, Western Europe, Greece, The Panama Canal, The Galapagos, The Great Barrier Reef, South America, and Iceland.
3. Advance Booking Options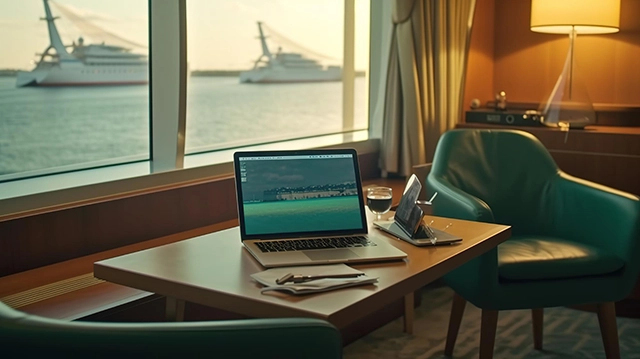 As you know, booking options for a cruise start from 18 months to one week prior to your sailing date, but in 2024, it will start early. Majorly, all cruise lines will allow cruisers to book in advance, even for 2025 itineraries or world cruises. However, cruise lines are encouraging people to book early by providing discounts. Some special promotions are also run during festivals or special days. Booking early ensures the best cabins to choose from.
You May Also Like:
4. The Rise of the Millennial Cruise Vacationer: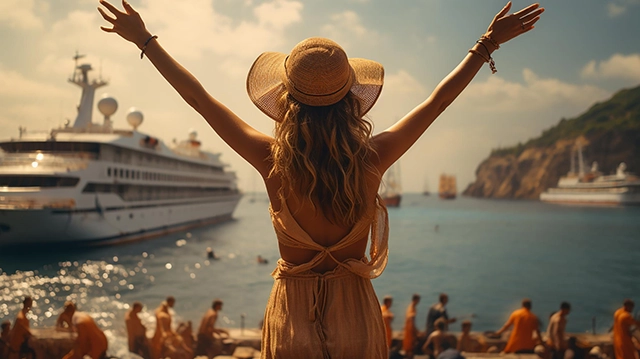 The cruise industry has seen a rise in bookings in 2024 because of the millennial cruisers. In 2024, almost 75% of millennials say they want to go on a cruise once again. The reason these people enjoy their vacation is that they enjoy exploring the world by staying healthy onboard a cruise ship. However, all major cruise lines have started offering fitness classes, personal trainers, and even gyms onboard, including healthy gourmet dining. For example, if you have any special dietary requirements, you can ask your cruise line at the time of booking or prior to boarding the cruise.
Even millennials enjoy on-deck yoga and work in their cafes where Wi-Fi is available 24/7. So, it makes them relaxed as they can work remotely anytime, anywhere, while enjoying their cruise vacation.
5. Price Hikes in Fare
In 2024, people will experience some amount of price increases in the cruise industry. However, those prices will not be more than land packages. For example, Carnival cruise line has raised its cruise price along with its capacity. You can expect very attractive pricing with more cruise lines offering more vessels! A great list of very competitive prices in the range of $500 to more than $25,000. Cruising has entered a new golden age with a new look. Consider activating a price alert on CruiseBooking.com to track the prices of the cruise you are interested in.
You May Also Like:
6. Small Ship Cruises
With the rise of the mega-ship, some travellers opt for a smaller cruise experience. Smaller ships allow cruisers to visit ports where larger ships are unable to go. The small ship experience can be found on river cruises as well as some luxury brands including Silversea, Seabourn, and Regent.
You May Also Like:
7. Women-Centered Trips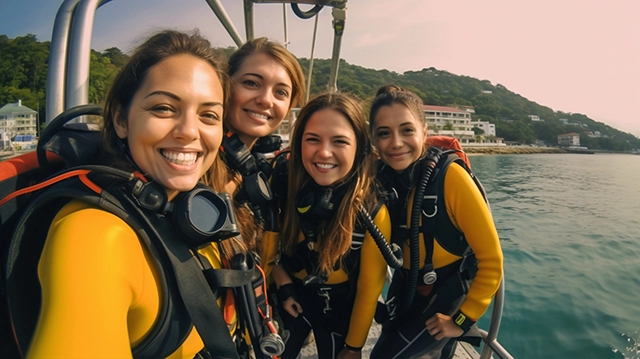 In today's world, women are making more money than ever before and enjoying it in some way or another. Out of which, one thing is traveling, and almost three-quarters of the women want to travel solo. So, cruise industry has started women-centered cruising trips. There are also special events for women on cruise ships, such as exhibitions, panel discussions, and excursions to women-run businesses. There are different categories to travel for women, such as theme cruises, singles cruises, LGBTQ cruises, upscale cruises, party cruises, and cruises to unwind. Moreover, the cruise line ensures that women feel safe, comfortable, and relaxed as they travel to unknown places around the globe.
You May Also Like:
8. Instagram Travel
It's more common for people to talk about travel on social media than from other sources. This trend applies even more than ever to new cruisers in the upcoming year. There are more than a third million posts with hashtag travel in some way. Before going to any place, people search for that place on Instagram for insider information to choose where they want to head for vacation. Thus, this trend will continue this year and more upcoming years because, with the help of social media, people can easily document where they've been and where they will be going. Moreover, people are looking for influencers, bloggers, and experts to help them with charming posts about particular locations.
9. Food and Beverages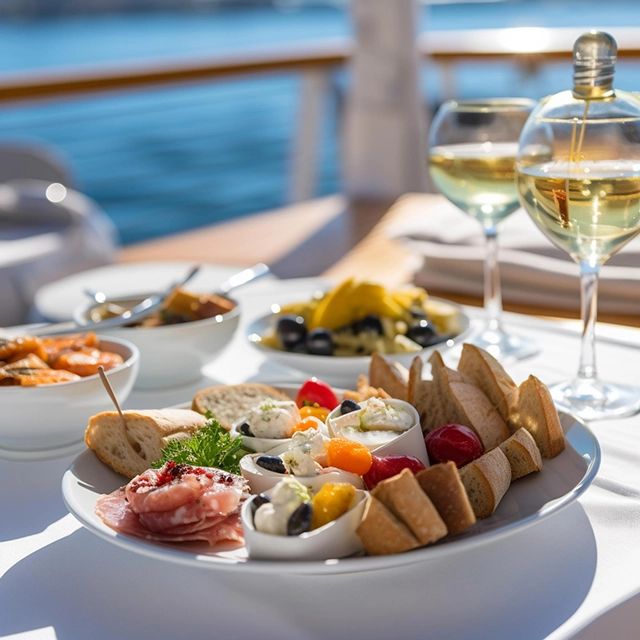 A new way of cruising includes food, beverages, and an emphasis on wellness and healthy eating. Thus, cruises are rising to the challenge with menus that bring in something for everyone to enjoy while not getting that unwanted fat and calories. With this trend, the industry has encouraged healthy eating. Even the staff know how to help the passengers and have incredible options for every single meal. Also, passengers with a strict diet will find it easier to eat right when onboard.
You May Also Like:
10. Longer Cruises & World Cruises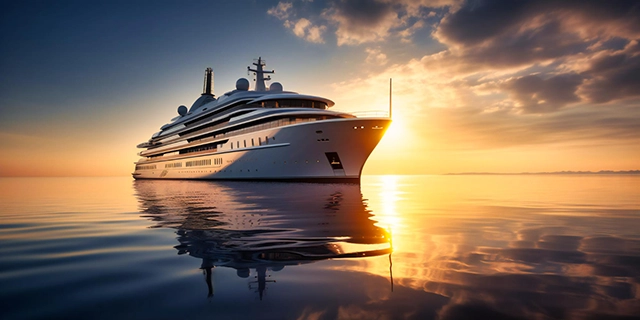 Ready for the trip of a lifetime? Take a world cruise around the globe. There is no other better way to explore the unseen world, hidden beauty, and little gems in the world. If you're on a bucket list of places you always want to see, then follow the world cruising trend. There are places like Antarctica, Galapagos, and hidden private islands that have seen a vast increase in people visiting. So, think about a place and visit that place the following day in complete style and with incredible ease.
You May Also Like:
11. Working and Playing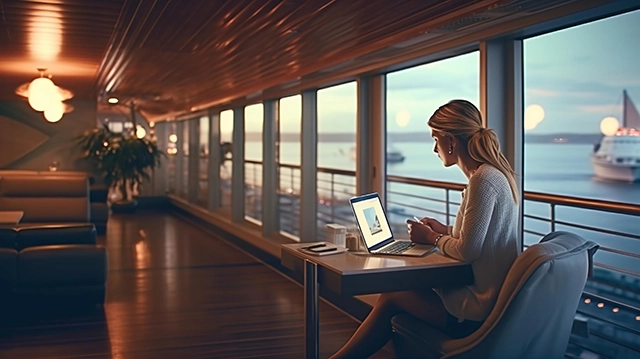 The fact that work and play are essential for life is an upcoming trend for the year 2024. As many people in the world love to travel but can't travel due to work. Travel in 2024 can be a blessing because people can have fun and work simultaneously as they see new places. Many travelers found that working and cruising is a fun thing and can be incredibly useful. Many cruise lines have started offering such workcations to do both. A workcation can be an opportunity to combine chances to network with other people while exploring the unseen world.
12. Onboard Experiences
In 2024, cruisers will look forward to more onboard entertainment as cruises have added more onboard activities. They have involved trivia nights, cooking classes, wine-tasting, rope courses, and many more. Sometimes they also arrange conferences and seminars for their guests. They will ensure that their guests remain entertained throughout the journey by maintaining proper distance and safety.
You May Also Like:
13. Solo Cruising
Solo cruising has always been popular but was quite costly for singles. Many solo travelers want to travel but want to book a cruise within a reasonable budget. They want to get out of their comfort zone by meeting new people when traveling and exploring new places. However, they have to pay for two to book a stateroom. So, some cruise lines started offering discounts and sales to them. Moreover, some of them created a stateroom for one. Cruises accommodate it to solo cruisers without any extra single supplements.
You May Also Like:
14. Cold-Weather Cruising
For many people, cold-weather cruising is the hottest trend. The demand for cruising to cold weather has increased, and it will be on top in 2024. The idea of traveling to a place that is out of the norms makes a unique adventure. The more appealing part is the helicopter and submarine trend. It is perfect, like cherry and ice cream. Many cruise lines are ready to take you to the coldest place globally but are you prepared to visit those places? If yes, read these exciting things that you can do on the Arctic cruise.
You May Also Like:
15. Eco-Friendly Cruise Travel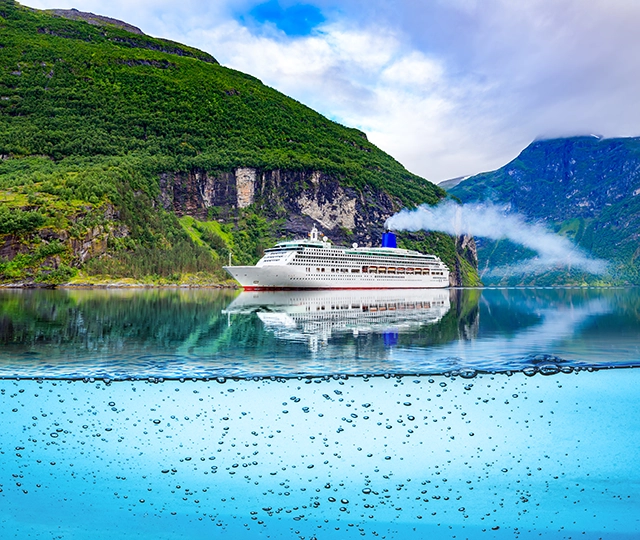 In 2024, a big focal point of the cruising industry will be making the cruising experience more environmentally sustainable by placing more importance on responsible tourism. Eco-friendly cruising encourages travelers to see the world consciously and mindfully. Some cruise lines are already leading the way, such as Royal Caribbean, Aqua Expeditions, and Hurtigruten.
16. Travel Advisors
Travel advisors are a must with so many restrictions and such varied reopening around the country and the world. They will help you to navigate the complicated landscapes of traveling during the pandemic. A good travel advisor will help you plan your itinerary and find the perfect cruise for your needs.
17. High Demand for Unique, Pristine Lands
In recent years, there have been more itineraries to exotic locales than to popular locales like the Caribbean and Alaska. Rare new cruise itineraries will be available for those looking for more off-the-beaten-path excursions. Cruise lines are adding more Polar region itineraries. In addition to Canada, Finland, Norway, Russia, Sweden, Alaska, and Greenland, the Arctic region also includes Iceland and Greenland. Also popular is the continent of Antarctica.
18. Countless River Cruise Ships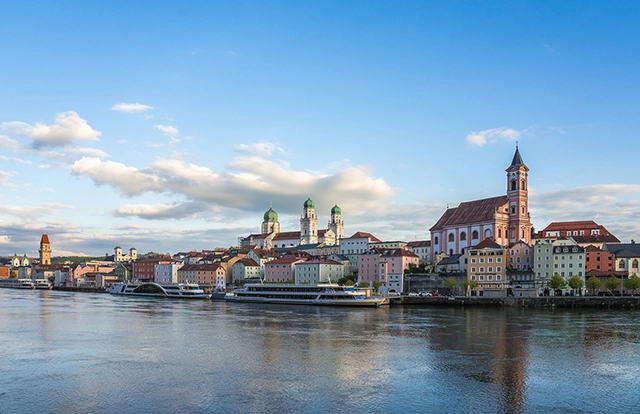 Another development has been the rise of river cruise ships along with the advent of smaller ships. Unlike larger cruise ships, these vessels offer an entirely different ambiance and have access to river routes and cities.
Conclusion
We hope these upcoming 2024-year trends motivate you to travel on a cruise and stop worrying about those viruses this forthcoming year. The only things that will be taken care of in 2024 will be more fun, more destinations, and even more ports.
You May Also Like: