Amsterdam, Netherlands Cruises
Amsterdam is a port city located in the western part of the Netherlands, connected to the North Sea. It is known for its artistic heritage, elaborate canal system, narrow houses with gabled facades, and legacies of the city's 17th century Golden Age. From its picturesque canals and bridges to its historic homes, this port city is like a fairytale. The town is small but has advantages of big cities such as rich culture, nightlife, international restaurants, good transportation, light road traffic, and extensive canals. Consider a day trip from Amsterdam to see the surrounding towns and villages.
Best Things to Do in Amsterdam
The primary thing to do in Amsterdam is to visit one of their 50 museums. Oh, yes, there are other things also there. Here we have listed the top five things you can do while in Amsterdam apart from visiting those 50 museums.
1. Amsterdam Canals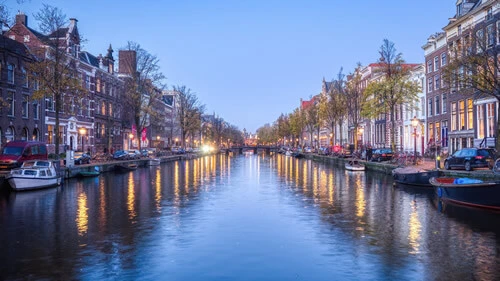 Do you know that Amsterdam is known as "the Venice of the North" due to its canals? Thus, your trip won't be counted complete without a boat ride on these well-known attractions of Amsterdam. Your canal tour will be relaxing and fascinating by day and a romantic gateway at night because many houses and bridges are illuminated under the night sky. Moreover, you can also enjoy the significant event about the historical sail ships called Amsterdam SAIL. This event happens every five years, and the last event was in August 2020. Consequently, the tenth edition of this event will take place in August 2025.
Also, Read: Top 5 things to do with family in Amsterdam
2. Magere Brug
Magere Brug is the famous skinny bridge across the river Amstel between Prinsengracht and Keizersgracht and opposite the Carre Theater. The wooden bridge is built in the Old Dutch style, known as a double swipe bridge. This skinny bridge was replaced by the narrow one in 1871. The bridge becomes a significant attraction at night due to the lights illuminating the bridge. It has become an even more romantic place for lovers and the perfect place for photography. There are several other bridges you can find in Amsterdam, similar to Magere Brug. Still, this one is the top attraction.
3. Dam Square
A short five-minute walk from Central Station will take you into this jam-packed Dam Square. The place is jostling with locals and tourists day and night. No matter the weather condition, there is something always going on. There are food stalls, shops galore, and restaurants, including trendy Magna Plaza and Bijenkorf. The popularity of Dam Square is so much that you might have to wait for your turn to sit at one of the many cafes and bars. Dam Square features Madame Tussauds, the New Church, a concert hall, and a museum dedicated to wax sculptures.
4. Breweries in Amsterdam
Nowadays, Amsterdam has plenty of breweries and related activities and places to visit. The tradition of making beer in Holland dates back centuries. It goes back to medieval monasteries, where monks would perfect their brewing methods and recipes. Currently, you can take a tour of a former Heineken brewery, where you can explore the city's thriving craft beer scene and learn about Holland's most famous exports. Moreover, don't forget to taste a refreshing glass of beer in one of Amsterdam's many cute canal-side bars. This port city has countless small breweries that produce specialty beers with dedication and expert craftsmanship.
5. Van Gogh Museum
Van Gogh Museum maintains the world's most extensive collection of the works of the world's most famous artist – Vincent Van Gogh. The museum has a comprehensive collection of his paintings, drawings, and letters, completed with the art of his contemporaries. His work is organized chronologically into five periods, each representing a different period of his life and work – the Netherlands, Paris, Arles, Saint-Remy, and Auvers-Sur-Olse. As per Vincent, his sunflowers paintings were among the best of the artworks he has ever made. Moreover, visitors will find a massive collection of Japanese prints in his paintings.
Best Time to Visit Amsterdam
April-May and September to November is the best time to visit Amsterdam. During this summery weather, you will enjoy your ride in the canals, sip a cold beer at an outside café, see the blooms of the tulip, and generally appreciate the outdoors. If you want to experience snow, you can visit during winter. Meanwhile, tourists will experience relatively humid air and fog in autumn and spring.