East India Dining Room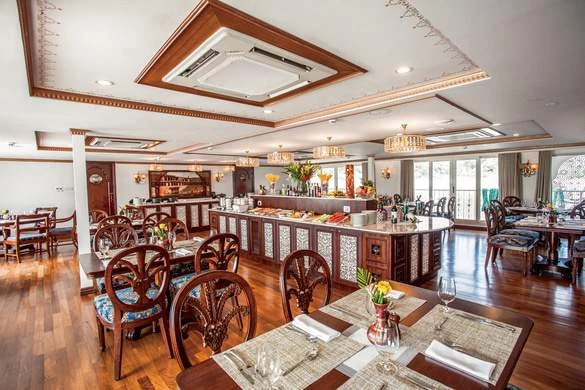 A tribute to the incredibly flavourful cuisine of India, the East India Dining Room delivers one sumptuous meal after another, throughout your journey.Â
Deliciously complex, Indian food can be meat-based or vegetarian, subtle or spicy, savoury or sweet, and everything imaginable in between.
With beautiful murals and floor-to-ceiling windows surrounding the open seating area, guests will enjoy breakfast and lunch buffets and served dinners in elegance and comfort, watching the world around the Ganges passing by.
From Farm to Ship
Farm-to-table isn't just a trendy culinary buzzword around here. It's a governing philosophy and commitment to serving you the very best local dishes created by our master chefs. When in Italy, dinner may consist of Prosciutto di Parma pizza and Osso Buco Milanese, prepared to your liking, with meats and vegetables sourced from just miles away. After a day immersed in Indian culture, your taste buds may do some immersing of their own with Gajar Shorba and Tandoori Chicken Tikka for lunch. Live brilliantly. Dine locally. That's our story and we're sticking to it.
Creative Culinary Options
For those interested in healthier dining options, our Traveling Lite menu features all of the flavor of our traditional menu, but with fewer calories. We also offer a variety of vegetarian and vegan options, prepared just for you. If you have a specific meal preference, just ask. Our chefs will be happy to accommodate.
We learned from the best
Mrs. Beatrice Tollman's culinary vision lives on with her many Signature Dishes you can enjoy onboard. Mrs. Tollman's memoir, A Life in Food, chronicles her gastronomic prowess and joy of being able to share her life's passion with thousands of guests. You'll discover many of the recipes Mrs. Tollman published on our menu, including Bea's Chicken Soup, Sesame Fried Chicken and Honeycomb Ice Cream. If the all-inclusive amenities and luxurious accommodations weren't enough to put you in a state of comfortable bliss, the homegrown cooking will.
Dining Experience:
Complimentary