Captain's Lounge & Library
Complete with full-service bar, the Captains Lounge and Library is the perfect place to unwind with a good book.
Main Lounge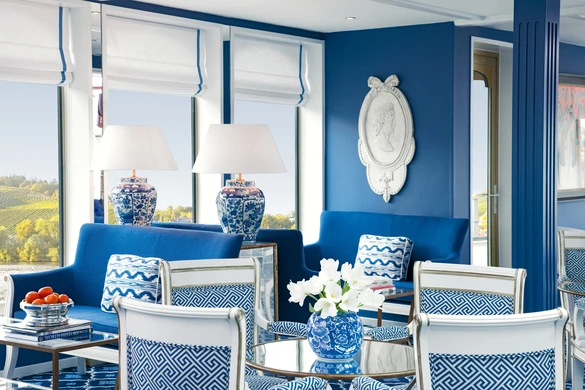 The Main Lounge boasts a panoramic view, a full-service bar and a dance floor.
Signature Cocktails
Our cocktails, much like our ships, are one-of-a-kind and inspired by the destinations we visit. Our bartenders are sharing their favorites with you.
Local Wines
Uniworld cruises through some of the world's most acclaimed wine producing regions in Europe. Our onboard wine menus are expertly curated by our staff of Sommeliers to reflect the local destination. Plus, you can enjoy∘ these local wines as part of your all-inclusive package.
Local Beers
Our onboard beer menus feature unique lagers, ales and stouts from small local breweries, giving you a taste∘ of the world's finest. The best part? It's all included.
Premium Spirits
Extra dirty Grey Goose martini with locally harvested olives? It's all yours. As is everything else you can think of. With our ultra-inclusive amenities you can enjoy unlimited beverages onboard.