SAILINGS FOR CRUISE Drinks - 2023 CRUISE Drinks OFFERS & SAVINGS
---
---
Subscribe Our Newsletter, Receive Cruise Deals by Email.
I agree to receive news and promotional material from this website and I understand that I can cancel at any time. Please refer to Our
Privacy Policy.
---
There is one way to save if you frequently drink alcoholic drinks while cruising: flat-fee drink packages. In some cases, the major mass-market cruise lines offer flat-fee drinks packages.
How do cruise line drink packages work? What is the cost of cruise line drink packages? Check out this ultimate guide to cruise line drink packages.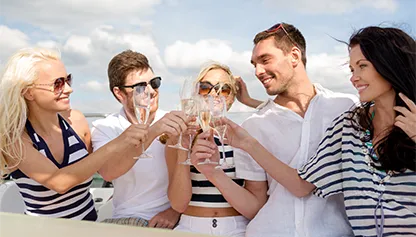 What are cruise ship drinks packages?
During a cruise, you can order unlimited drinks for a flat fee. Drink packages come in several tiers at some lines. Sodas and bottled water are common on basic tiers. Cocktails, wine, beer, and specialty coffee drinks will be available on more elaborate (and expensive) tiers. It is not uncommon for such all-encompassing plans to have more than one tier. Coffee cards also allow you to get discounted coffee drinks at shipboard coffee bars. Also, some offer wine packages.
Do cruise ships offer alcoholic drinks packages?
Various cruises offer free drink packages. Cruise brands like Carnival Cruise Line and Holland America offer drinks packages that cost about $60 per person daily. Norwegian Cruise Line charges $138 per person daily for a top-tier package. A soda package, for example, costs less than a drink package with alcohol. The cost of soda packages is usually under $10. Some cruise lines offer periodic online sales on their drinks packages if you purchase them before sailing.
Drink Specials on Cruise Lines:
Drink promotions and specials, such as discounted beverage packages, happy hour specials, and onboard credit, are common on cruise lines. Drink specials are available on the following cruise lines:
1. Carnival Cruise Line:
Carnival Cruise Lines offers two drink packages: Bottomless Bubbles (additional soft drinks and juices for $5.95 per child and $8.50 per adult per day) and Cheers! (Along with soft drinks, juices, teas, coffee, and juices, this establishment offers wine, beer, and cocktails). The Cheers! The menu includes wine-by-the-glass and cocktails (under $20). If you want to splurge, you can also get 25 percent off a bottle of wine or Champagne and glasses over $20 as part of your package. More choices are available for cocktails and beers on Carnival Cruises than wines. This might be less appealing if you prefer higher-end wine labels.
2. Virgin Voyages Cruise Line
Virgin Cruises, offers free Essential "Drinks on Us" on every sailing. Various drinks can be found here, including still and sparkling waters, non-pressed juices, sodas, teas, and coffee. The drink package doesn't exist per-se as on other cruise lines with daily fees, but you can pre-pay $300 and get an extra $50. There are pros to Virgin Voyages' drinks menu, including award-winning mixologists (like James Beard Award nominee Charles Joly, the Academy Awards' official bartender). Your party members can also use the pre-paid bar tab. You might not need that extra $50 bonus if you pre-pay $300 because beer is typically $5-$6 for a pint, cocktails are $9, and 42 percent of wines are below $10 per glass.
3. MSC Cruises
MSC Cruises offers five different drink packages: an Alcohol-Free Package, a Minors Package, and an Alcohol-Free Package. Other refreshments include mocktails, sodas, energy drinks, mineral and flavored waters, fruit juices, coffee drinks, hot chocolate, and teas. Those packages include alcohol and drink up to $6 on the menu (for $38 per day), up to $9 for $49 per day, and up to $15 for $69 per day. MSC Cruises offers two drink packages (Minors and Alcohol-Free) for little ones, just like kids sail free on many cruises. The Easy Package covers only two beer brands - Heineken and Miller Lite - and no frozen classic cocktails.
4. Celebrity Cruises
The Celebrity Cruises alcohol packages include Classic (up to $9/day), Premium (up to $15/day), and three non-alcoholic options. It consists of various non-alcohol beverages and soda, coffee, and teas. Coconut water is also unlimited, which makes it a cost-effective alternative. A Wines by the Bottle option is also available, which comes in three, five, or seven bottles in each package. The Premium package offers twice as many opportunities in some spirits categories.
5. Princess Cruises
Only four drink options are available on Princess Cruises' drink package, making it one of the easiest packages to figure out. For $59.99 per day, Princess Cruises offers the Premier Beverage Package (including non-alcoholic and alcoholic drinks up to $12 on the menu), the Premier Coffee and Soda Package ($19.99 per day) and the Classic Soda Package ($9.99 per day), which includes coffee, tea, hot chocolate, sodas, mocktails, energy drinks, smoothies, and milkshakes. A Premier Beverage Package includes milkshakes and coffee frappes. This package also offers 25 percent off bottles of wine. There is an additional value to the Premier Coffee & Soda Package: discounts on bottles of water and drinks (other than fountain drinks) by 25 percent. Wine-by-the-glass selections are limited, even with the drinks package, unless you're in a specialty-dining restaurant.
6. Holland America Cruise Line
Guests on this cruise can choose from a wide range of drinks priced at $11 or less, such as alcohol (wine, beer, liquor, and cocktails) and non-alcoholic beverages (sodas and specialty coffee). A week or less sail on Holland America Line's Have It All Cruise Package (including ashore excursions, special dining experiences, and Wi-Fi throughout, $60-$100 per day) makes it even more tempting. The drinks package only includes one tier of drinks, so you'll need to purchase the premium tiers a la carte.
7. Norwegian Cruise Line
With Norwegian Cruise Line, you can choose from five drinks packages, two of which are non-alcoholic (Adult & Teen Soda Program at $7.95 and Children's Soda Program at $5.95). The Premium Beverage Package covers coffee, wine, beer, spirits, fountain sodas, coffee, and teas for $99 per day, and the Premium Plus Beverage Package costs $128. Lower-end wines and spirits differ from higher-end. With 20 wines by the glass and hundreds of spirits and cocktails, the Premium Beverage Package has nothing to lack.
8. Royal Caribbean Cruise Line
Everyone's palate is covered with the cruise line's four different drinks packages, including one that brings Evian water to your room by the case (from $12.99 to $15 per day), which includes alcohol and non-alcohol drinks. The Deluxe Beverage Package offers a 40 percent discount on bottles of wine. Unlike other cruise lines, coffee and soda aren't included in the same drinks package. Upgrade your Classic Soda Package to the Refreshment Package (from $29 to $38) to receive specialty coffee.
Drink specials and packages vary based on the cruise itinerary, ship, and current promotions. Check with the cruise line or visit our website whenever possible for the most up-to-date and accurate information.
FAQs for Cruise Drink Specials
Drink packages are not transferable and typically designed for individual use. Sharing a drink package with other passengers is generally not allowed. It may result in penalties or the cancellation of the package.
Age restrictions exist for purchasing and consuming alcoholic beverages on a cruise. The legal drinking age varies depending on the cruise line and the ship's itinerary, but it is typically 18 or 21. Passengers may be required to show identification to prove their age before purchasing or consuming alcoholic beverages.
Cruise ships often offer non-alcoholic drink specials for passengers who do not consume alcohol. These specials may include discounted prices on mocktails, specialty non-alcoholic beverages, or unlimited soda packages.
Some cruise lines may offer the option to pre-purchase drink specials or drink packages before the cruise begins at a disounted price. This allows passengers to have their drinks ready upon arrival, often saving time and money. Check with our cruise agents to see if this option is available for your cruise.