Copenhagen, Denmark Cruises
Copenhagen is the capital of Denmark and sits on the coastal island of Zealand and Amager. The inner city is surrounded by the districts of Vesterbro, Norrebro, and Osterbro. It is Europe's oldest and cleanest metropolitan area. The town is famous because of its fascinating architecture, parks, gourmet restaurants, and other attractions. Several organizations have nominated it for sustainability, livability, and other factors. Copenhagen is one of Scandinavia's liveliest cities, hosting some of the country's most significant events and boasting some of the best restaurants.
Best Things to do in Copenhagen
In Copenhagen, some sites and attractions are walking distance from the city center while some are a bit far. But if you have a Copenhagen Card, you'll have access to more than 80 attractions. The card is one of the most convenient ways to explore the city. It also includes transportation and can be purchased at terminals or online. Apart from that card, here are some of the things you can do while visiting this port town.
1. Canal Tour
The canal tour gives you a chance to explore Copenhagen differently. It takes around an hour, along with living commentary about the places in multiple languages. When you tour the harbor, you will come across many historical sites and locations, including the backside of Little Mermaid, Amalienborg Palace, the impressive Black Diamond Library, and much more. Visitors can depart from two stands: Gammel Strand and Nyhavn. The boats on which you will hop in are environmentally friendly.
2. Amalienborg Palace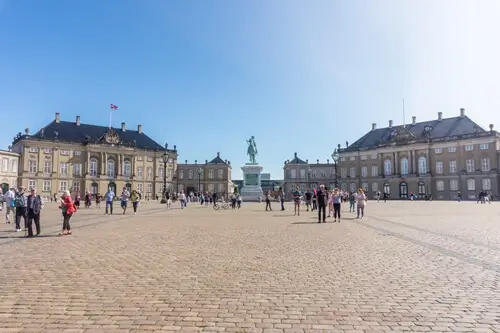 Amalienborg Palace gives you a chance to look into the Danish Royal Family. It is one of the world's oldest monarchies and goes behind the scenes in a real royal palace. If you love history or royalty, this palace is a must to taste royal history. The castle is made up of four identical buildings, namely
Christian VII's Palace: Also known as Moltke's Palace, used as a guest residence
Christian VIII's Palace: Also known as Levetzau's Palace, used as a guest palace for Prince Joachim and Princess Benedikte
Christian IX's Palace: Also known as Schack's Palace, home of the Queen
Frederik VIII's Palace: Also known as Brockdorff's Palace, home of the Crown Prince's family
Moreover, don't miss a chance to see the changing of the guards. The guards march from their barracks by Rosenborg Castle through the streets of Copenhagen to Amalienborg, often accompanied by music. The changing of the guard activity takes place at noon.
3. Little Mermaid
The statue of the Little Mermaid is an iconic symbol of Copenhagen. The statue is free to visit and sits in the water at Langelinie Pier. The statue is made up of Bronze and granite. It has become one of the most famous statues in the world as it is based on the famous Hans Christian Andersen fairy tale of the same name. The mermaid,lived in Copenhagen and gave up everything to unite with a young, handsome prince on land. She rises from the seabed every morning and evening. She stares longingly into the shore from her rock in the water, hoping to catch a glimpse of her beloved prince.
4. Experimentarium
Experimentarium is a world-class science center in Copenhagen. It is located 15 minutes north of Copenhagen city center in Hellerup. It is a celebration of curiosity and is dedicated to playful science by offering people hours of fun for the entire family. The building has three floors with 18 interactive exhibitions about science and technology and an interactive rooftop with open-air activities from spring to fall. Moreover, it gives you a chance to bring science to life through hands-on exploration, science shows and an eatery area.
5. The Round Tower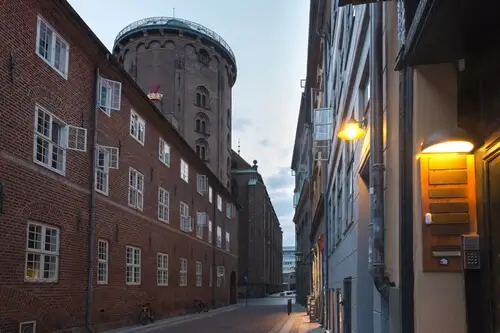 The Round Tower is Copenhagen's most iconic 17th-century tower and an observatory. When you think of an observatory tower you think of lots of stairs to climb, but this tower has ascended a spiral ramp to get to the top. Though the ramp doesn't get right to the top, you still need to climb a few steps, which makes an exciting way to climb. Also, don't forget that the views across Copenhagen from the top are well worth the effort of the climb. Plus, take a moment and visit the attached Trinitatis Church.
Best Time to Visit in Copenhagen
Copenhagen has an oceanic climate. March is typically the best time to travel. If you want to enjoy perfect beach weather and warm temperatures in Copenhagen, the summer is the best time. During July, you can also expect to enjoy eight hours of sunny days each day. In autumn, temperatures drop rapidly, and rainfall increases through October and November. Spring weather is better, with fewer rain showers. During the winter months, you'll likely encounter snowfall, so bring layers of warm clothing.