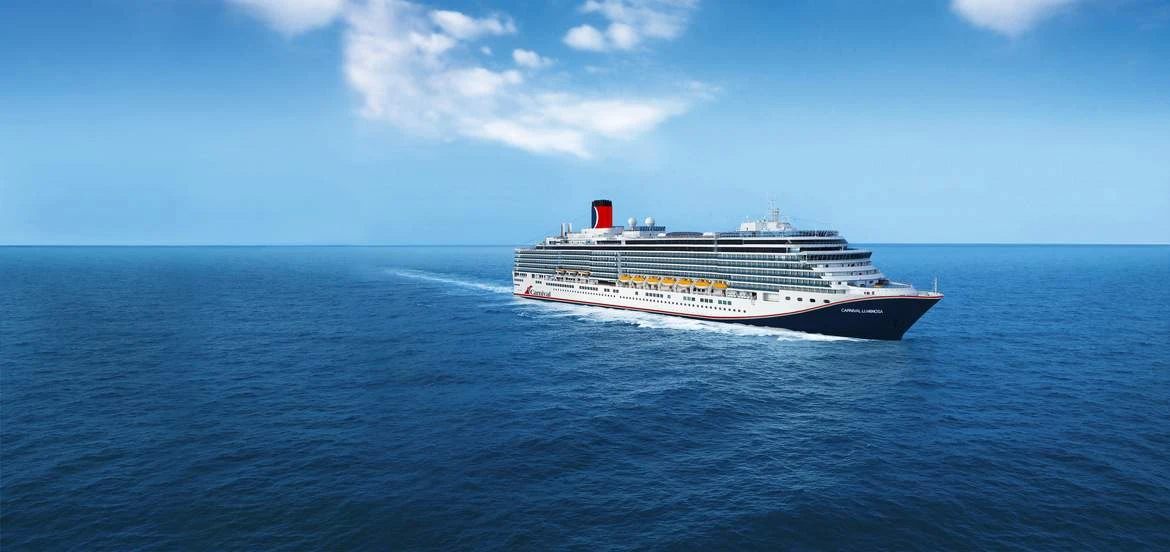 Accommodation
Carnival Luminosa Cruise Ship Accommodation
Explore Cabins, Staterooms and suites on Carnival Luminosa
Every Room Includes
Dedicated stateroom attendant for personalized service
Soft and cozy linens for added comfort
Ample closet and drawer space for storage
In-room safe to keep valuables secure
Television for entertainment
Stateroom climate control for a comfortable stay.
Amenities exclusive to suites
Priority check-in and boarding for a seamless embarkation experience
Priority Main Dining Room time assignment for preferred dining arrangements
Priority debarkation at homeport and select ports of call for smoother disembarkation
Two large bottles of water for added convenience
Pillow-top mattress for luxurious comfort
Bathrobes for a touch of relaxation and indulgence.
Amenities exclusive to Cloud 9 Spa™ staterooms and suites
Unique welcome ritual for a special spa experience right from the start.
Priority spa reservations, ensuring easy access to your desired treatments.
Unlimited use of Thermal Suites with a scrub kit for relaxation and rejuvenation.
Unlimited use of Hydrotherapy Pool for soothing hydrotherapy sessions.
Two complimentary fitness classes per guest, keeping you active and energized.
Complimentary body composition analysis for personalized wellness insights.
Exclusive discounts on treatments during port days, making spa indulgence even more enticing.
Cloud 9 Spa bathrobes and slippers add a touch of comfort and luxury.
Upgraded ELEMIS in-stateroom toiletries, enhancing your in-room pampering experience.
Grand Vista Suite
Largest room on the ship
Features an aft-facing wraparound balcony
Provides panoramic views of the sky and sea
Ideal for enjoying sunshine and scenic vistas
Interior includes convenience and comfort
Equipped with a tub for relaxation
Walk-in dressing area for added convenience.
Extended Balcony Grand Suite
It is more spacious than the standard suite, offering generous interior and exterior space.
Impressive huge balcony for enjoying the outdoor views and sea breeze.
Luxurious tub for relaxation and comfort.
Convenient dressing area with vanity for added convenience and pampering.
Grand Suite
Offers more space than the standard suite, providing a roomy and comfortable experience.
Impressive wraparound balcony offering wide and stunning outdoor views.
Luxurious tub for a relaxing and indulgent bathing experience.
Convenient dressing area for added comfort and convenience.
Cloud 9 Spa Suite
The ultimate spa-style accommodations for a soothing and relaxing experience.
Spacious room with a unique and calming décor.
Walk-in closet for added convenience and storage space.
In-room tub for further relaxation after spa treatments.
Large balcony to enjoy the refreshing sea breeze and beautiful views.
Junior Suite
It is a luxurious experience in a compact size.
Standard-size balcony for outdoor enjoyment.
Walk-in closet for added convenience and storage.
Includes a relaxing tub for your comfort.
Premium Balcony Stateroom
Spacious and comfortable stateroom.
Private balcony for ultimate relaxation.
Enjoy the refreshing sea breeze from your balcony.
Cloud 9 Spa Balcony Stateroom
Relaxing and soothing décor.
Private balcony with refreshing ocean breeze.
Perfect for warming up before or winding down after spa appointments.
Extended Balcony Stateroom
Larger balcony with more outdoor lounge-around space.
Comfortable and well-appointed interior with great views and sunlight.
Perfect for enjoying the open air and relaxing on the spacious balcony.
Balcony Stateroom
Designed to maximize sea breeze and offer stunning views.
Your own personal outdoor oasis just steps away from your room.
Enjoy the refreshing sea view right from your balcony.
Ocean View Stateroom
Picture window offering unique views of the sea scenery.
Enjoy the comfort of your stateroom while taking in the ocean views.
Cloud 9 Spa Interior Stateroom
Spa-inspired room with a warm and relaxing ambiance.
Exclusive spa perks for maximum relaxation.
Enjoy the calming atmosphere of Cloud 9 Spa right in your stateroom.
Interior With Window Stateroom (Obstructed View)
Floor-to-ceiling windows provide ample natural light.
Extra lounging space with a sitting area and sofa.
Note: View may be obstructed, but still enjoy the benefit of natural light.
Interior With Picture Window Stateroom (Walkway View)
The picture window offers a view of the observation deck outside.
Enjoy a great sky view from your stateroom.
Note: The view may be partially obstructed, but it still provides an interesting outlook.
Interior Stateroom
An affordable option for cruising without compromising on comfort or convenience.
Perfect for relaxing after a day of fun onboard.
Dining
Bonsai Sushi™ Express
Food: Sushi
Experience: Cover charge may apply
Made-to-order sushi source at sea.
Offers a mouthwatering selection of sushi, sashimi, rolls, and more.
Perfect for cruisers on the go.
Sushi is made to order and packed up to take with you.
Enjoy sushi anywhere on the ship.
Pizzeria Del Capitano:
Food: Pizzeria
Experience: Complimentary
Open 24 hours a day.
Hand-tossed dough made from imported Italian flour.
Fresh mozzarella and high-quality ingredients.
Wide choice of toppings for customizing pizzas.
Available on select Carnival ships.
Offers delicious and piping hot pizzas anytime.
Also serves a tasty Caesar salad.
Steakhouse:
Food: Steakhouse
Experience: Cover charge may apply
Premium cuts of beef cooked to your liking.
Extensive selection of seafood and gourmet appetizers.
Impressive wine list recognized by Wine Spectator's Award of Excellence.
Reservations are highly recommended.
The atmosphere enhances the dining experience.
Meal includes appetizer, salad, entrée, side, and dessert.
Book a table for an unforgettable evening.
Lido Marketplace:
Food: Casual
Experience: Complimentary
Variety of casual dining spots with diverse options.
BBQ, deli counter, salad bar, Asian station, and pasta bar available.
Chef's special surprise served daily.
Ample indoor and outdoor seating for gatherings.
Enjoy breakfast, lunch, and dinner favorites.
Soft serve, frozen yogurt, and fresh pizza are available 24/7.
Pizza Delivery:
Food: Pizzeria
Experience: Cover charge may apply
Use the Carnival Hub app to order pizza anytime, anywhere on the ship.
Choose your toppings and location, and optionally share a selfie for easy delivery.
Pizza delivery is only $5 per pie, and the pizzas are complimentary.
Enjoy a fresh pizza delivered right to you ASAP(pizza)!
Dining Room:
Food: Classic
Experience: Complimentary
A full three-course dining experience with a rotating menu
Dessert is included in the fare
The main course features delectable favorites like steak, roasted duck, scallops, and prime rib
Tip: Choose Early Dining or Late Dining for reserved seating or Your Time Dining for flexible dining
Steakhouse selections are available anytime in the main dining room
Steakhouse dishes include filet mignon, New York Strip, lobster, and surf & turf
Breakfast in the main dining room offers a variety of options
Eggs cooked to your preference, benedict, omelette-style with choice of filling
Pancakes, waffles, and french toast with unique flavors like vanilla, pecan, or salted caramel
Breakfast standards like oatmeal, granola, fresh fruits, and cereals
Additional options: bacon, sausage, ham, and curated breakfast entrees
Express selection of all the breakfast classics for those on the go
Green Eggs and Ham Breakfast with The Cat in the Hat and Friends™:
Food: Themed
Experience: Cover charge may apply
Decorated with bright colors and whimsical patterns
Unique and fun menus
The menu includes "Green Eggs and Ham," colorful fruit, gravity-defying pancake stacks, funky french toast, "Moose Juice" 'n' "Goose Juice," and more.
Classic breakfast options are also available.
Opportunity to meet and greet Dr. Seuss characters for photos and interactions
Note: Availability may vary and may not be offered on all cruises.
Swirls™
Food: Ice cream parlor
Experience: Complimentary
Swirls™ ice cream offers chocolate, vanilla, and strawberry flavors
Create your own mix of flavors
Open 24/7 on the Lido deck
Enjoy frozen yogurt and soft-serve ice cream
Perfect for beating the heat during the day or as a delightful nightcap after an evening of fun.
The Chef's Table
Food: Chef's table
Experience: Cover charge may apply
Hosted by the Master Executive Chef
An exclusive experience for a select group of 14 guests
Begins with cocktails and hors d'oeuvres
Multi-course dinner featuring unique appetizers, entrees, and desserts
Special menu not available in regular dining areas
Limited seating; reservations should be made early.
Reserve at the ship's Guest Services desk
Treat your taste buds to a VIP culinary adventure with The Chef's Table, a sumptuous and unforgettable dining experience.
Seaday Brunch
Food: Seafood
Experience: Complimentary
Seaday Brunch, the ultimate mid-morning meal on Carnival cruises
Perfect for both early risers and late sleepers
Brunch favorites and unique dishes are offered
Delight in huevos rancheros, special French toast, loaded mac-n-cheese, and diverse egg creations
Fuel up for a day of ship exploration and fun
JavaBlue™ Café
Food: Cafe
Experience: Cover charge may apply
JavaBlue™ Café, the coffee lover's haven on Carnival cruises
A variety of hot and cold drinks to satisfy your coffee cravings
Enjoy fun twists on classic coffee beverages
Indulge in delicious baked treats and comfort snacks
It is the perfect spot to relax and enjoy your favorite coffee creations
The Carnival Deli
Food: Casual
Experience: Complimentary
Carnival Deli, a taste of the old neighborhood
Enjoy classic deli favorites like hot pastrami on rye and grilled Reuben
Hand-carved sandwiches and wraps served fresh with coleslaw or relish
Don't forget the kosher dill pickle to complete your deli experience
Kids' Menus:
Food: Classic
Experience: Complimentary
Delicious and fun options for picky eaters
Familiar favorites like spaghetti, chicken nuggets, hot dogs, and mac-n-cheese
Fresh fruit and veggies are included
Desserts include banana splits and chocolate brownies
24-hour pizza and ice cream available (subject to bedtime)
Kids' Meals For Campers:
Fueling up kids with yummy options
Supervised group dining with new friends
The menu includes pizza, cheese quesadillas, grilled cheese sandwiches, fruit, french fries, spaghetti and meatballs, chicken nuggets, hot dogs, mac-n-cheese, and more.
Desserts feature banana splits and chocolate brownies.
Sweet Spot
Food: Bakery
Experience: Complimentary
Specially-made treats like marble chocolate cheesecake, lemon cream pies, and cherry crumble squares
Variety of desserts to satisfy everyone's sweet tooth
Also offers healthier options like fresh fruit medleys
It is the perfect place to indulge in delicious desserts or skip the meal and enjoy sweet delights
Cruise Inquiry