Seaplex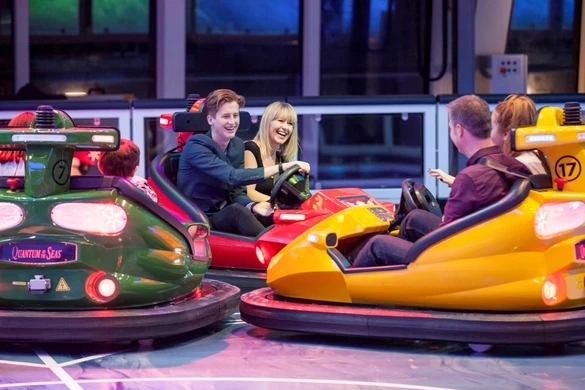 Seaplex is the largest and most innovative indoor activity space at sea. During the day, kids can shoot hoops, run around the large basketball court, or learn trapeze skills at the circus school.
At night, experience the thrill of the ocean's first bumper cars and roller skates to the music of the DJ booth overhead. There's also a Food His truck that offers delicious snacks when you're hungry.
Royal Babies & Tots and Youth Zone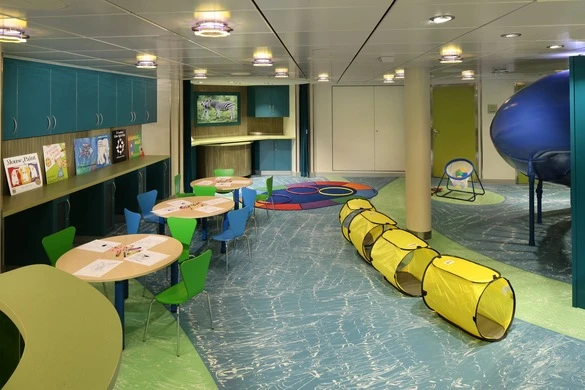 The smallest cruisers (6-36 months) are entertained by trained professionals in the onboard crèche. With day and night delivery options, you can leave your kids behind and enjoy some quiet time. Older children will enjoy our award-winning Youth Zone program.
Adventure Ocean Youth Programme
With three age-specific groups – Aquanauts (3-5 years), Explorers (6-8 years and Voyagers (9-11 years), this award-winning youth programme is so much fun, kids won't even notice that it's educational as well! Events run from morning until ten in the evening every day, kids can make new friends whilst enjoying a whole range of activities and games.
Aquanauts
Enjoy the magic of Bubbling Potions, uncover the dinosaur-sized secrets of Jurassic Jr, and take over the ship with the Pirate Party Parade. Parents of three-year olds can opt for pagers so Adventure Ocean staff can stay in touch.
Explorers
Space Mud, Fossil Fever and Meteorology Madness. Hands-on science gets young minds churning – along with explorations of arts with Adventure Art and Adventure Theatre. Round out the night with dancing through the decades and ice cream for all.
Voyagers
For 9 to 11 year olds there's a range of cool and educational activities including science experiments, backstage tours and new sports like Gagaball.
Teen Programme
Treating teenagers more like adults, this programme is a way for them to meet new friends while they enjoy their favourite pastimes, from morning until 2am. As well as sports, gaming, pool parties, dancing and music, teens have their very own designated areas to hang out in such as The Living Room and Fuel teen night club.
The Living Room is a great space, with chairs and beanbags scattered around the room, surrounded by foosball, Xboxes and a widescreen TV for movies. Teens are allowed to come and go as they please in the Living Room, there no need to sign in or out.
Directly above is Fuel, the teen-only disco. There are dance parties most nights, often with a theme -- Miami night or '90s, for example -- as well as pool parties in the Solarium at the front of the ship.

H2O Zone
Like a small water park at sea, the H20 zone features colorful sculptures spraying water in all directions, interactive fountains, water cannons, geysers, a circular lazy river, a cascading pool and two There is a whirlpool. There is a dedicated toddler pool and a toddler pool for the little ones to enjoy together. There are plenty of comfortable lounge chairs nearby for parents to keep an eye on their kids.
Barbie Experience
Barbie fans will love this amazing experience, with cabins decorated in Barbie fashion, exclusive themed activities like exclusive parties, dance classes, movie screenings, and lots of little extras to make your vacation truly unforgettable.