Serenity Adult-Only Retreat™

Someone at Carnival knows exactly what you need. That's right Serenity Adults Only Retreat™. Look, you'll still be in the same boat with the kids, the noise, and all the carnival-style excitement...all. The world you're in is a world of peace Breeze of the sea And of course there's a bar nearby It's a place where he does things that only he can do Let him reunite with his partner do not.
Jogging Track

Jogging may not come to mind when you think of what to do in the ocean, but you probably should. He doesn't have to walk on water. Carnival he just goes on a cruise. After all, when you go jogging, you're going to have a hard time finding a good vantage point or a nice breeze. Almost all Carnival ships have jogging tracks and are padded for long-distance comfort.
Fitness Centre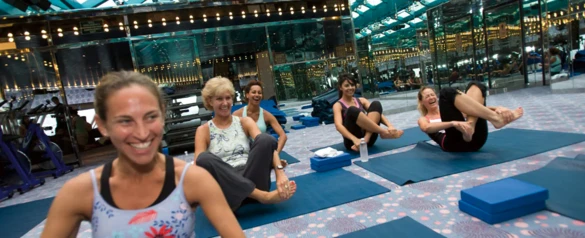 We have some bad news for you — your ship has a gym. In other words, there's no excuse for leaving your fitness routine back on land. That's great news, however, for your body, which will definitely benefit from all the extra energy that vacationing pumps directly into you. And let's not forget the extra time you'll have, since you won't be waking up and spending most of the day at the office or anything like that. If those were some of your go-to excuses, we're sorry, but we all know this is important. Why not treat yourself to some of our fitness classes — you might even have a little fun while you do something great for yourself!

FITNESS CLASSES

You can have all the will in the world, a great attitude that keeps you working hard at the gym, but still not see the results you're hoping for. If that's the case — or you're just looking to shake things up with a little extra fun or challenge in your workout — check out Carnival's selection of onboard fitness classes. Whether it's yoga, pilates, indoor cycling or boot camp, there's a fitness class that'll get you the workout you need, and the instruction you need to do it right. Looking for a little extra attention? Look to persona
Hair & Beauty Salon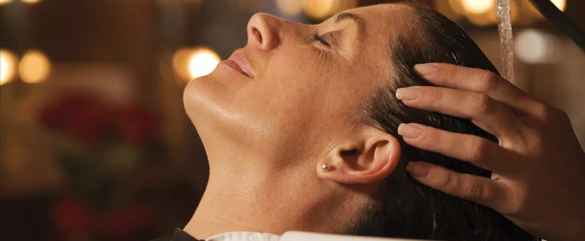 A visit to the salon is an opportunity to relax, chat with others, and focus on yourself. It's not just about getting your hair and nails done...but it's definitely about getting your hair and nails done! They also offer services such as teeth whitening, perfect for taking your smile to the next level: "I'm on vacation, but I look great!"
Mini Golf

Oh, a rink, a golfer's ball zen, a hole, and nothing in between, manicured fairways...plus cacti, treasure chests...and wait, is that a windmill? the way? Who actually designed this course, whoever it was, he had one thing in mind. That's why every Carnival® ship has a course ready for you to hit the pits and soak up the sights, sounds and everything that awaits... Plus seagulls.
Pools

Pool day! Whether today is a day for a quick dip, a splash, a swim, or a serious lounge him session by the pool, Carnival Cruises has the perfect pool for you. In fact, pools are so important to a great cruise that many of our ships are designed with two pools. The rear pool allows you to take in the breeze and view the ocean along with the ship's wake. The Midship pool, on the other hand, offers a different kind of stunning view. A big screen is displayed. Sunshine is yours wherever you relax.
Men's Services

Hey, did you go to the spa recently? Well, why leave all the fun to women? You can actually enjoy many of the same things they do, plus manly services like a barbershop-style razor-sharp shave. It's the perfect time to do a hairstyle, a quick gray blackening, or a fresh cut. And who wouldn't want a little more relaxation with a massage? That's right, big brother.
Medi-Spa

Did someone recently tell you that you are a beautiful person? We tell you - we like you the way you are. With that being said, we would like to inform you that the Carnival Cruise includes the Medi Spa. We certainly aren't saying you need them, but if you're considering botox or dysport treatments, this spa is a good place to get them done. , will be managed at all times by an onboard Medispa doctor who is a licensed physician. These are non-surgical wrinkle removal procedures that show results within days and last for months, so you can continue to enjoy the benefits after you go home.
Spa Carnival

When it comes to complete relaxation from the inside out, nothing beats a trip to the spa. From the minute you step inside, the soothing ambiance begins to work its magic. Renew yourself with premium beauty and wellness therapies, like hot stone massages, aromatherapy or full-body wraps. This is your time to be spoiled, indulged and even beautified. Lie back, close your eyes, and feel the stress sail away as your body and mind experience total tranquility. (Oh yeah, and this feel-good stuff isn't just for the ladies — dudes, there are plenty of treatments on our menu for you too.)

MASSAGE
Cruising always feels good, but it doesn't usually — ooh, right there. Right where? Sorry, we're at the onboard spa, where they do these amazing massages by hand. But they don't just stop there — they've got tools to enhance the benefits too. Select from different hands-on experiences featuring seaweed for detox, herbal poultice for energy, bamboo for deep tissue penetration and hot stones for — ahhh — for perfection. We know you're all about feeling good, and so are these massages.

FACIAL TREATMENTS
Your face is the first thing the world sees, and while a nice smile can make a world of difference, one of the best ways to put a smile on your face is with a nice, refreshing facial. Of course, there's more to it than just feeling great… post-facial, your rejuvenated skin will also be looking its best, so there's definitely substance behind the good looks you'll be catching glimpses of in all the mirrors you pass. Whichever facial option you go for — and our onboard spa offers a few — you'll be treated to a luxuriously enhancing experience.
Basketball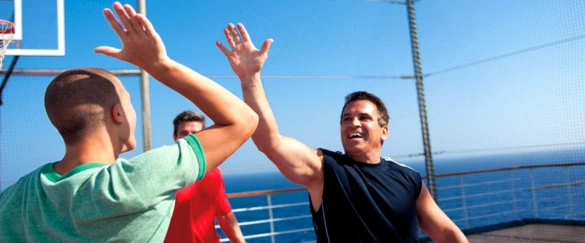 You may think basketball is all about getting the ball through the hoop, but you may never have played on a Carnival® ship. It's all about the journey to Galle here. The scenery and sea breeze to inhale as you pass defenders to throw boulders into buckets. For example, this reminds me of cruising. (But be careful - in our courts, as strange as it may seem, travel is still considered a foul.)