Camp Ocean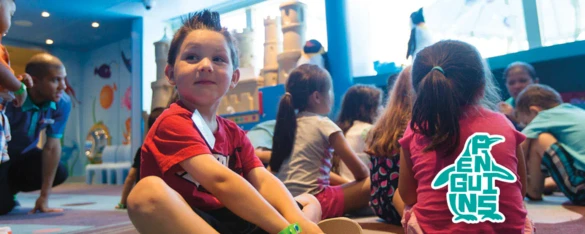 The little ones can enjoy the best parts of summer camp, year-round aboard their Carnival cruise. At Camp Ocean kids will have a blast in supervised, age-based groups and give each a cool marine-life label: Penguins (2 to 5 years), Stingrays (6 to 8 years) and Sharks (9 to 11 years). Together with their group they'll enjoy tons of fun-filled, age-appropriate activities like arts and crafts, songs, games, toys, dancing, movies and video games. When it's mealtime, kids eat together and get their own menus with back-on-land faves like mac & cheese, chicken nuggets and more. The whole time, our experienced counsellors will be there to make sure everyone in these small groups has an amazing time. Plus, when the sun goes down it's Night Owls time — fees apply, but kids get to stay up late having fun while their parents also enjoy themselves well into the night.

ARTS AND CRAFTS
To kids, arts and crafts is a fun way to spend an afternoon. Camp Ocean® presents plenty of creative opportunities for budding Picassos to master Monets, and kids can express themselves with all kinds of crafts from painting to jewellery-making. You know, future living-room-museum pieces.
Night Owls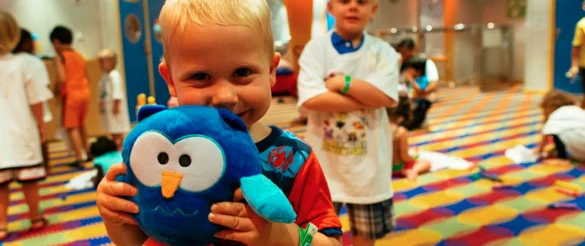 Look back – was there anything better than when you were a kid and had to stay up late? Even as an adult, nights are fun, especially with a Carnival Cruise that has everything there is to do . We've got the perfect one for you and your kids, it's called Night Owls™! For a small fee, kids 11 and under can have fun with their mates until 1am . With music, activities, games and giveaways at a supervised party, you don't have to worry about what you're doing on your last night.
Circle 'C'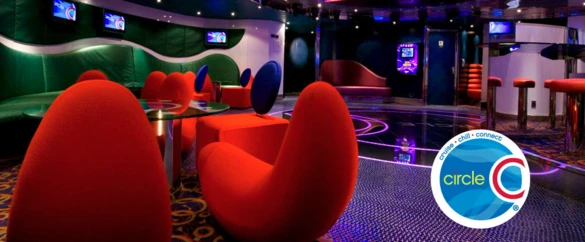 What does the C in the circle "C®" stand for? Now... what about Cruise, Chill, and Connect? (To name a few, of course.) A spot on board where her teens from 12 to her 14 can hang out, meet new friends, and enjoy some pretty awesome activities. Think of any dance parties, games, outdoor movies, and more. Some can be enjoyed in the exclusive Circle 'C' lounge, while others can be enjoyed onboard. All of this is looked after by friendly, fun-loving caretakers who ensure your teenager has the best holiday ever.
Club O2®

Your parents deserve happy holidays, and so do you. So we let them do their thing while you do yours. where? Club O2®. Watching movies, listening to music, working out, playing video games, karaoke, attending his jam sessions, and playing Mardi Gras with other high school students ages 15-17. I will attend the prom.
Seuss at Sea™

From the whimsical and always wonderful world of Dr. Seuss®, Cats in Hats, Fish Red and Blue, Both Kinds of Things - 1 and 2. And they're all coming to a Carnival Cruise near you as Dr. Dr. World. Seuss jumps sideways into his Seuss at Sea™.
The timeless story of Dr. Sousse is the kind of thing your kids will remember and this is the kind of cruise you'll remember for the rest of your life. That family, too, can enjoy a whole new and very special experience in the fantastical world of Dr. Seuss comes to life around her.
A special onboard character parade, interactive storytelling, arts and crafts activities, your favorite Dr. Seuss and more. Seuss at Sea brings your child's favorite books to life.
Zumbini®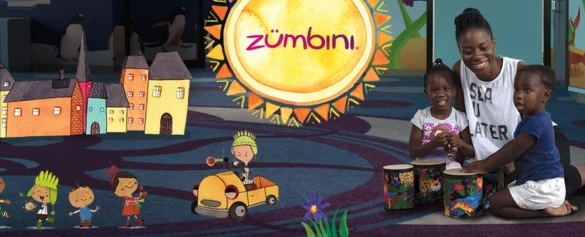 Cruises are great for relaxing...unless you're a kid! Knowing that children have virtually limitless energy and that they are sure to take it with them on vacation, Carnival Cruises will keep them moving with Zumbini®, developed by Zumba® & BabyFirst™. , can grow. Children aged 2 to her 5 enjoy a complimentary 30-minute Zumbini class with each trip. In this class, you can enjoy your family's favorite music on land. The classes include Zumbini songs, activities and special instruments, all in the name of exercise. Additionally, on cruises of 6 days or longer, we host Family Her Zumbini Classes, where parents can join their children and Youth Leaders in a guided activity that focuses on parent-child bonding.
Build-A-Bear Workshop At Sea®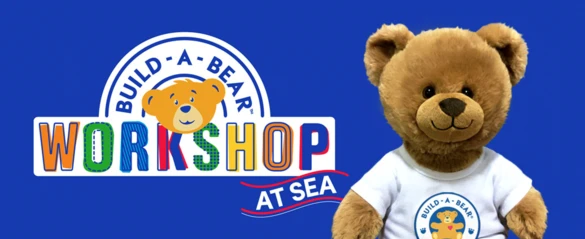 Carnival cruises give children plenty of opportunities to make new friends. Kids at the Build-A-Bear Workshop At Sea® use their little hands and big creativity to bring their new stuffed friend to life. Customize your furry friend from head to toe by choosing bears, clothes and accessories. Stuffed animals come in many forms, including dogs, rabbits, sharks, cats with hats, and carnival-exclusive bear designs. With all these great options, here's another special St. Jude Bear. If you choose to do so, the proceeds will benefit the children of St. Jude Children's Research Hospital®.
Seuss-a-palooza™ Parade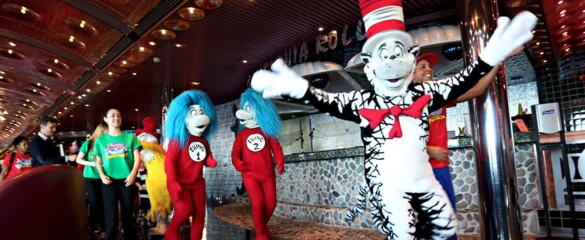 Stand up and cheer for the Seuss-a-palooza™ parade, which is streamed on the decks of some Carnival ships. Join the ebullient procession of the biggest (and smallest) fans this side of the coast with your favorite characters and legions of fun-loving followers. This parade spreads the fun, so spread the word...and remember, you will be on a Carnival Cruise!
ZSPA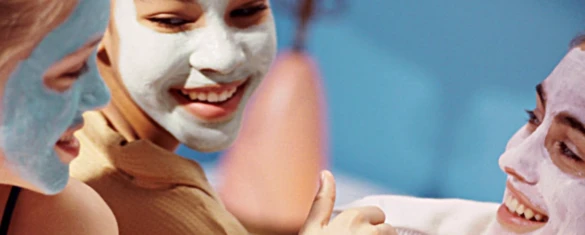 Teenagers need a lot of time - they need to sit back, relax and sometimes have fun just as much as adults do.We understand them. So we tailored his ZSPA treatments on board to their unique needs. ZSPA does it all, from trendy hairstyles to pedicures, he keeps teens looking their best from head to toe. Not only does it look good, it feels great too. Whether you want to do more for yourself with an exclusive fitness class or a little more with a relaxation and indulgence program worth saying 'ah' and 'ah', we can make it possible. Whether it's your first time teen or you're already a seasoned spa pro, ZSPA speaks their language.
Towel Animal Theatre

It may be made of flat towels, but there is nothing two-dimensional about a performance at the Carnival Cruise's Towel Animal Theater. They're rolled, folded, and brought to life by the same master artisans who leave cute little fellas in your booth every night... These super-absorbent stars take to the stage for fans young and old to love. (Want a behind-the-scenes look at how our stars are made? Arrive early at the show for a short towel-folding seminar.)