Guy's Burger Joint

We went looking for someone to help us grill up the best burgers at sea, and we found just the guy. Carnival has teamed up with best-selling author, restaurateur and Food Network personality Guy Fieri to bring all the authentic appeal of a roadside burger shack to Guy's Burger Joint, the cool poolside spot for hot burgers and hand-cut fries. Try a fresh-off-the-grill burger Guy's way, or take it off-road to our toppings bar and truly make it your own.
Dining Experience:
Cover charge may apply
Seaday Brunch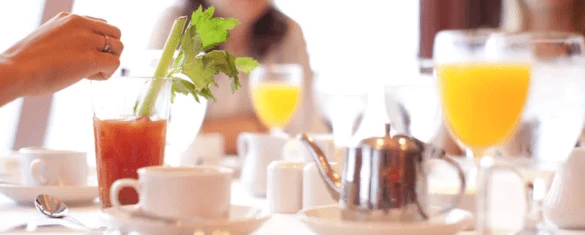 Forget what "they" say — the most important meal of the day is brunch. Slumberers can sleep in and still enjoy breakfast favourites, while early-risers get a head-start on lunch. And Seaday Brunch brings everybody's favourite mid-morning meal to your Carnival cruise, and does it right. You'll enjoy huevos rancheros, special french toast, loaded mac-n-cheese… and yes, more ways to cook eggs than we even thought was possible. Chow down and fuel up — you've got lots of exploring to do, across the ship, for the rest of the day.
Dining Experience:
Cover charge may apply
BlueIguana Cantina™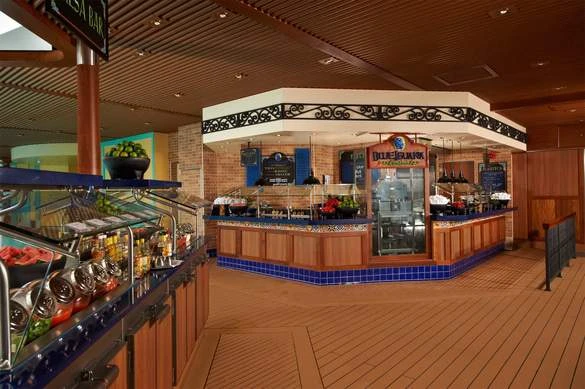 Nobody knows Mexican dining like a blue iguana. Well, our blue iguana, at least. That's why it should come as no surprise that the BlueIguana Cantina™ features freshly made tacos and burritos stuffed specially for your enjoyment. Throw our homemade tortillas and salsa into the mix, and you have a casual dining experience that will make you say "mmmm" (which is actually Iguanese for "more, please").
Dining Experience:
Cover charge may apply
Bonsai Sushi™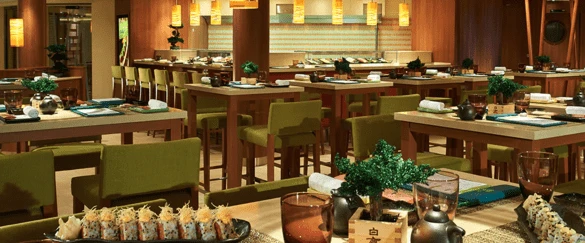 So maybe you've had sushi on a cruise before, but you've never had it like Bonsai Sushi™, our onboard seafood-and-soy-sauce spot. Dine amidst expertly-pruned bonsai trees while enjoying sit-down service and an affordable menu of delectable sushi and sashimi… plus rolls, soups, sides, sakes and desserts. So the next time you're taking an onboard stroll, stop at Bonsai Sushi for a little something satisfying.
Dining Experience:
Cover charge may apply
Dining Room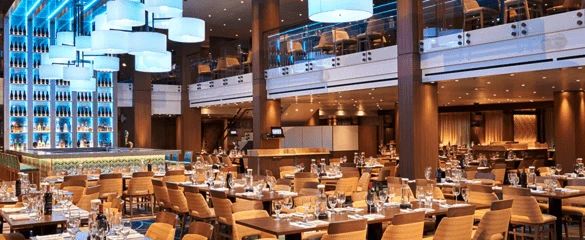 "Hey, which side does the fork go on?" is a question you'll never have to ask at a dining room dinner aboard a Carnival cruise… we set the table for you. We also bring to the table a full three courses in an experience that's filling, but never stuffy — after all, you're just as likely to catch waiters table-dancing as you are to order dessert. Dessert's included (along with the rest of your meal, by the way) in your fare. But don't skip straight to dessert, because the main course is the main attraction — drop in daily and enjoy a rotating menu of delectable favourites like steak, roasted duck, scallops and prime rib.
Tip: When you book, choose Early Dining or Late Dining for reserved seating nightly, or go with Your Time Dining to chow whenever the clock strikes "hungry."

STEAKHOUSE SELECTIONS
Whoever said you can't always get what you want certainly never said it on a Carnival cruise. Odds are that something from our steakhouse sounds good — filet mignon, New York Strip, lobster or surf & turf — and you know what? Now you can get these signature steakhouse dishes on your plate anytime you're enjoying dinner in our lively main dining room. Whether you're with friends, have the kids in tow or are just in the mood for something different in a familiar setting, you'll find great options on your dining room menu.

DINING ROOM BREAKFAST
If looking forward to the whole day of fun that's ahead isn't enough to make an early riser out of you, we have something else that's sure to do the trick. Join us for breakfast in the main dining room and sit down to the kind of menu that might make you want to start things off a little slow. Order up some eggs any way you like them… even benedict- or omelet-style with your choice of filling. Get pancakes, waffles or french toast hot off the griddle — each comes with a surprising and delicious flavour twist like vanilla, pecan or salted caramel. There's breakfast standards like oatmeal, granola and a generous selection of fresh fruits and cereals. Add crispy bacon, awesome sausage — which is actually the only kind — or ham to any dish… or go for more of a curated flavour with a selection of breakfast entrees, including some lighter choices.
If you're thinking that's all nice, but who has time for all this… you do! The very first item on the menu is a plate that kicks your day off with an express selection of all the classics.
Dining Experience:
Complimentary
Steakhouse

Turn your special vacation in the direction of delicious — book a table for an unforgettably delectable evening at the onboard Steakhouse. Our menu features mouthwatering premium cuts of beef cooked to your exact specifications, as well as a fantastic selection of seafood, entrées, gourmet appetisers... and even a wine list that got the nod from Wine Spectator. (They actually call it the Award of Excellence.) The Steakhouse's atmosphere pairs remarkably well with, and perhaps even enhances, the culinary creations of our gourmet chefs.
Tip: Like any destination restaurant, reservations are highly recommended, and can be made online after booking your cruise. Your meal includes an appetiser, salad, entrée, side, and dessert.
Dining Experience:
Cover charge may apply
The Chef's Table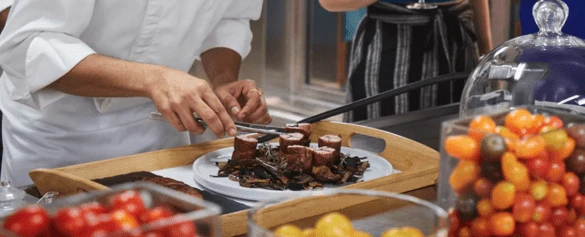 Treat your taste buds to the experience of a lifetime, culminating in a sumptuous multi-course dinner hosted by the Master Executive Chef. Your VIP experience starts with cocktails and hors d'oeuvres for a select group of 14, followed by a mind-blowing full-service dinner of amazing appetisers, entrees and desserts not found on our regular dining menus.
Tip: Reserve early because this once-in-a-lifetime experience has limited seating. Reservations can be made at the ship's Guest Services desk.
Dining Experience:
Cover charge may apply
Coffee Bar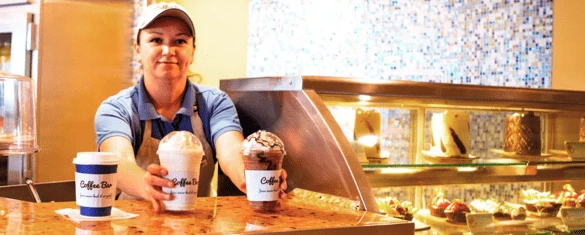 Pause your vacation and treat yourself to a well-deserved break with a specialty coffee drink or freshly-brewed tea… plus some delicious homemade pastries. Or, for an even sweeter option, stop by for a milkshake, slice of cake or cookie.
Dining Experience:
Cover charge may apply
Green Eggs and Ham Breakfast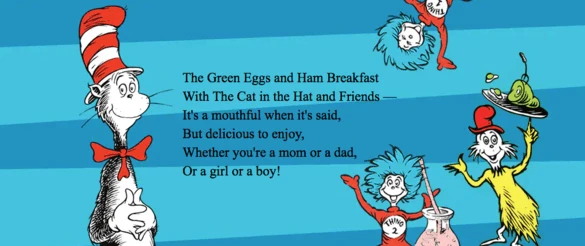 Pack your imagination, but don't forget your appetite as the whole family embarks on a breakfast that's part meal, and part journey into the deliciously whimsical world of Dr. Seuss®.
Sit down to a truly fantastical feast at the Green Eggs and Ham Breakfast with The Cat in the Hat and Friends™. Bright colours and patterns decorate your table, which features fun and unique menus.
Feast! Feast! Feast! Lose yourself exploring a delicious menu where you'll find "Green Eggs and Ham," brightly coloured fruit, gravity-defying pancake stacks, funky french toast, "Moose Juice" 'n' "Goose Juice"… and much more. (Classic breakfast offerings are available as well.) Breakfast is also the perfect time to meet and greet the stars of Dr. Seuss — characters will be around for special photo opportunities and fun interactions, making this a meal to remember.
Dining Experience:
Cover charge may apply
24-Hour Room Service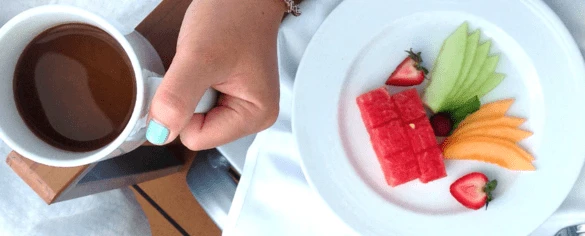 So you're in the mood for some good eats, but you'd rather stay in your comfy, cozy stateroom? Really, who could blame you? Simply pick up the phone and order something tasty from our extensive room service menus. And since you get hungry when you get hungry, room service is available any time of the day (or night), and it's always delivered right to your door.
Tip: There's a menu of salads, sandwiches and sweet stuff we'll bring you — completely free — during the day, plus hot food options available for a small fee. Late-night menu options (after 10 PM) are also available for a small fee.
Dining Experience:
Complimentary
Swirls™

Got room for dessert? Sure you do! Swirls™ ice cream lets you enjoy the sweeter side of brain freeze with a treat that'll have you smiling from ear to ear. Choose from chocolate, vanilla or strawberry… or make your own mix swirled as high as you can balance it. Open on Lido deck 24/7, our frozen yogurt and soft-serve ice cream is a great way to beat the heat all day, or the perfect nightcap after a long evening of fun.
Food type:
Ice Cream Parlour
Dining Experience:
Complimentary
The Carnival Deli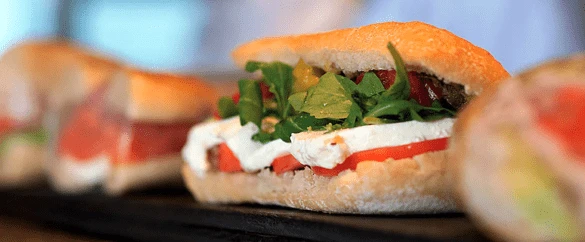 Looking for a little taste from the old neighbourhood? Pile 'em high at the Carnival Deli. Enjoy old time favourites like a hot pastrami on rye, grilled Reuben, or roasted turkey breast on a country roll. Our sandwiches and wraps are always hand-carved and served fresh with coleslaw or relish. Come by, satisfy your craving for a great sandwich and make sure you don't forget the kosher dill.
Dining Experience:
Complimentary
Lido Marketplace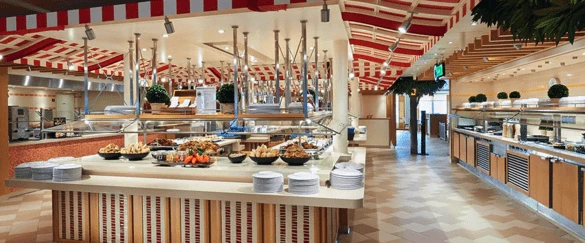 Featuring an amazing variety of casual dining spots, each just a few flip-flopped steps from the last, Lido Marketplace always has a special something ready to satisfy your latest craving spectacularly. Here we do it with dozens of what-to-eat options... great choices like BBQ, a deli counter, salad bar, an Asian station and a pasta bar... plus one spot where the chef serves up a different surprise daily! At Lido Marketplace, there's tons of indoor and outdoor seating made for gathering around, so you can enjoy your personal faves in your favourite company for lunch or dinner, or even breakfast! Lido's also where you can find soft serve, frozen yogurt and fresh pizza 24 hours a day... which so far seems to be enough to satisfy everybody.
Dining Experience:
Complimentary
Pizza Delivery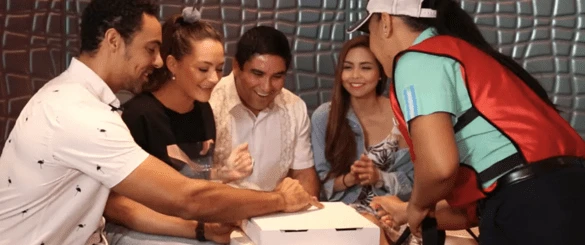 So here's the problem: you're having an amazing fun time on your cruise and a craving strikes. You need pizza! Your options are: 1) let the craving go, 2) put the fun on hold to go get a slice, 3) pull out your phone and snap a selfie — and now one's on its way! If you're wondering when you became a wizard, may we remind you that you actually used the Carnival Hub app? Any time of day, or night, pick your toppings, tell us where on the ship you're hanging out and, optionally, take a selfie to help the delivery folks find you. (Delivery's just $5 per pie… and the pizzas are always free!) Wow, you look hungry — we'll get a fresh one on its way to you, ASAP(izza)!
Dining Experience:
Cover charge may apply
Pizza Pirate
Tossing dough is an age-old art passed down the generations. Lucky for you, someone passed us the secret to the perfect pie. While aboard, this is the place that will shiver your timbers and warm you to the bone, 24 hours a day, with a Margherita, Funghi, Prosciutto, Pepperoni or Quatttro Formaggi pizza served with a delicious Caesar salad. Savvy? Then it's the pirates' life for you!
Dining Experience:
Complimentary
Kids' Menu

Our kids' menus, available at most onboard dining venues, feature foods that are delicious enough — and fun enough — to satisfy even the pickiest of eaters. We've got all the familiar options they love from home, like spaghetti and meatballs, chicken nuggets, hot dogs, mac-n-cheese, peanut butter and jelly sandwiches and — yes mom — fresh fruit and veggies. They should save room for dessert, though, because with sweet stuff like banana splits and chocolate brownies, your young'uns are going to be pretty excited. There's even 24-hour pizza and ice cream… but these are subject to bed-time, of course.
Dining Experience:
Complimentary
RedFrog® Pub

Get into an island state of mind before you even set foot on one. RedFrog® Pub is our laid-back, no-worries, oh-so-lively Key West-inspired pub. Sample Caribbean fare, dominate at the foosball table, enjoy some sweet tunes from live musicians and sip our tasty signature private-label brew, ThirstyFrog® Red. So kick back and feel the island vibe come to life. You'll be a local here before you know it.
Note: Food menu is available on Carnival Breeze® and Carnival Magic®, for an additional cost.
Dining Experience:
Cover charge may apply
Sweet Spot

There's nothing sweeter than a visit to Sweet Spot for our specially-made marble chocolate cheesecake, lemon cream pies, cherry crumble squares and more. There's always something for everyone, including healthier options like fresh fruit medleys. Save room for dessert — or skip the meal altogether — and make sure you satisfy your sweet tooth with this mix of desserts that really hit the spot.
Dining Experience:
Complimentary