By Cruise Booking Team
Updated on:
The company is building its global exposure through sponsorships of sports, including auto racing, soccer, and basketball.
Gianni Onorato, CEO of MSC Cruises, compared the cruise line to Formula 1 racing series: "We share common goals; we are focused on sustainability and driving new technologies, while also being in the entertainment industry." The F1 season gives us the chance to spread our brand message around the world.
This fits with our other sports sponsorships, such as Paris Saint-Germain and Chelsea in soccer, and the New York Knicks in basketball, which are drawing record crowds and viewership.
Onorato added, "These sponsorships give us a high level of visibility across the globe and in key markets."
Chantiers de l'Atlantique's 181,500-ton, 4,888-passenger (double occupancy) Euribia is showcasing MSC Cruises' product this summer.
Despite the fact that the Euribia is the most environmentally friendly cruise ship ever built, Onorato explained: "What is most important is not the decoration itself, but the hashtag 'save the sea' in the new hull livery. We asked the artist to interpret our love of the sea and our need to protect and care for it.
Onorato explained that the Euribia was built to run on LNG, but in her first sailing she used biofuel, which resulted in net-zero greenhouse gas emissions.
He continued, "The Euribia will allow us to sail through the heritage fjords of Norway. She will allow us to visit regions that may become more difficult in the future. Furthermore, our customers want a ship like this that is more environmentally friendly. In my opinion, sustainability will play a key role in people's vacation choices.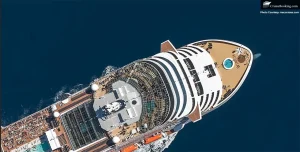 First-year operations will be devoted to Northern Europe on the new ship, which is also equipped with shore power connections.
In addition to shared features, Onorato noted that these have been fine-tuned with other ships of the same platform. As he explained, each new ship is introduced with a new focus on improving and perfecting certain aspects. As a result, we have focused a lot on the entertainment aspect and have three new shows onboard, as well as specialty restaurants serving Japanese, French, and Italian cuisines as well as bars similar to those found in high-end European destinations.
According to Onorato, MSC remains committed to investing in new technologies, such as dual-fuel engines and LNG systems.
While our new ships run on LNG, longer-term solutions may also include hydrogen for our legacy ships. We see non-fossil fuels as the solution.
Whenever new fuels become available, we will modify our ships to burn them.
MSC Cruises has a clear aim to achieve net zero emissions by 2050, while a target to reduce carbon intensity by 40 percent by 2030 is on track and already at 33 percent, according to Onorato.
According to him, the cruise market will continue to grow, and we intend to maintain our lead position. Our goal isn't necessarily to be larger than the other big brands, but to take part in the cake.
We expect to have 4.2 million passengers this year and 2.7 million in 2019. That means that our customers love us, and we will grow in accordance with that.
Our cruise experts will help you to plan your perfect cruise vacation!
phone number with country code (hyphen allowed)