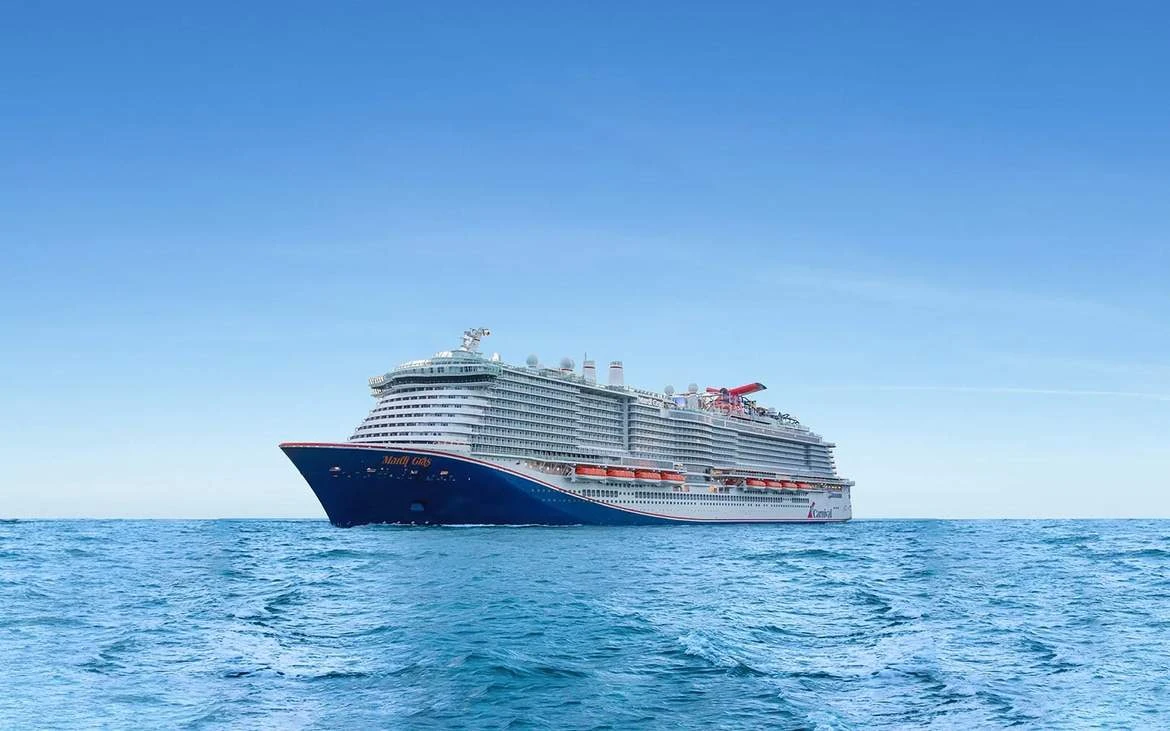 Health and Fitness
Carnival Mardi Gras Cruise Ship Health and Fitness
Explore Health and Fitness Facilities on Carnival Mardi Gras
Cloud 9 Spa
When you need a break from the excitement of your vacation, Cloud 9 Spa™ offers the perfect getaway for relaxation.
Designed exclusively for unwinding, Cloud 9 Spa™ is a serene sanctuary where you can escape from the day's activities and find inner peace.
The skilled staff at Cloud 9 Spa™ are true masters of the art of relaxation, trained to help you unwind and rejuvenate.
What's their secret to creating a blissful experience? A wide range of treatments and services designed to pamper you from head to toe.
Indulge in soothing massages, rejuvenating facials, and indulgent body wraps that will leave you feeling refreshed and revitalized.
Experience the luxury of the thermal suites, where you can enjoy various environments carefully crafted by expert climate artists.
On certain ships, take advantage of the opportunity to immerse yourself in the Thalassotherapy Pool, a unique experience that allows you to soak in sea-water while benefiting from its revitalizing trace elements and vitamins.
At Cloud 9 Spa™, ultimate relaxation is the name of the game, and you'll leave feeling completely rejuvenated and ready to take on more adventures during your cruise.
Sportsquare
Welcome to SportSquare, the ultimate oasis of friendly competition onboard your Carnival cruise.
Leave the competitive daily rat race behind and embrace a variety of exhilarating activities and sports.
Challenge your friends to a thrilling round of mini-golf, or face off against strangers in a heated basketball game.
Reach new heights and conquer the SkyCourse™ aerial adventure ropes course for an adrenaline-pumping experience.
For a cardio challenge, test your speed on the jogging track and aim for record-setting low times as you enjoy breathtaking views and refreshing sea breezes.
SportSquare™ offers a diverse range of sports and games to keep everyone entertained and engaged during the cruise.
Enjoy soccer and volleyball matches on the multi-functional court, which can transform into a basketball court for intense hoop action.
If you prefer indoor games, engage in friendly pool, foosball, and ping-pong battles at the table game area.
For fitness enthusiasts, the fully-equipped SportSquare™ offers stationary bikes, elliptical machines, weight-lifting equipment, and punching bags.
Whether you're a sports enthusiast or just looking for some active fun, SportSquare™ has something for everyone to enjoy during the cruise.
Please note that SportSquare offerings may vary by ship, so check out the exciting sports activities available on your specific Carnival ship!
Basketball
Experience a unique twist on basketball onboard Carnival® ships.
It's not just about scoring points here; it's about enjoying the journey to the hoop, surrounded by stunning sea views and refreshing ocean breezes.
While you dribble your way to the basket, savor the essence of cruising — the destinations may rock, but the joy lies in the journey.
Remember that traveling on the court is still considered a foul in this unusual and enjoyable basketball setting.
Volleyball
Carnival cruise offers many services and assistance, but volleyball is one activity where it's all about self-service fun.
Grab your friends, select your serving style (overhand, underhand, or sidearm), and take to the court to start the play your way.
Whether you're a seasoned volleyball player or a casual enthusiast, the ship's volleyball court provides a perfect space for fun in the sun.
Mini Golf
Experience a day on the links with a whimsical twist at the mini-golf course onboard Carnival® ships.
Enjoy the golfer's zen as you aim for the hole, but be prepared for surprises like cacti, treasure chests, and even a windmill on the course.
Designed for maximum fun, the mini-golf course offers an enjoyable experience for players of all ages and skill levels.
Take in the sights and sounds of the course, including the soothing sea breeze and occasional seagulls, while you put your way to victory.
Jogging Track
Embrace the joy of jogging on the upper deck of your Carnival cruise ship.
While you may not be walking on water, the scenic views and refreshing sea breeze make the jogging track an ideal place for a workout.
Whether you're a seasoned jogger or just looking to stay active, the jogging track, available on most Carnival ships, provides a comfortable and padded surface for your running pleasure.
Enjoy a picturesque jog as you cruise the open-air track and take in the beauty of the ocean around you.
Pools
Get ready for a fabulous POOL DAY on your Carnival cruise, where you can enjoy a variety of aquatic delights and relaxation.
Whether you're in the mood for a refreshing dip, playful splashing, leisurely swimming, or simply lounging by the poolside, we have the perfect pool experience.
Pools are a central part of the cruise experience, and we've gone the extra mile to ensure our ships offer not one but two fantastic pools for your enjoyment.
The aft pool provides a refreshing breeze and stunning sea views, allowing you to soak up the Serenity while gazing at the ship's wake trailing behind.
Meanwhile, the midship pools offer a different kind of excitement, with a grand view of a large outdoor screen where you can catch your favorite movies, shows, and sporting events right by the pool.
No matter which pool you choose to chill in, you'll have plenty of sunshine to bask in and create unforgettable memories under the warm rays.
Whether you're with family and friends or enjoying some quiet time alone, our pools are designed to cater to all your poolside desires.
Join in the laughter and joy as you splash around with your loved ones or find your tranquil spot to relax with a good book.
Embrace the fun and energy of the pool atmosphere, or find a moment of tranquility amidst the sparkling waters and scenic views.
Whatever your pool preferences, a delightful experience awaits you on your Carnival cruise, promising days filled with endless enjoyment and relaxation.
Fitness Centre
No excuses! On board our ship, we offer a fully-equipped fitness center, ensuring you can maintain your workout routine while cruising.
Take advantage of the gym facilities and keep your body energized and active throughout your vacation.
With more time to spare on a cruise, it's the perfect opportunity to focus on your health and well-being.
Don't let your go-to excuses hold you back; prioritize your fitness and enjoy the benefits it brings.
Join our invigorating fitness classes for an enjoyable and challenging workout experience.
We offer a variety of classes, including yoga, pilates, indoor cycling, and boot camp, catering to different fitness preferences.
Shake things up and add some fun to your workout routine with our diverse selection of fitness classes.
If you're looking for personalized guidance, consider our personal training sessions for a tailored workout to meet your needs.
Our expert instructors ensure you get the most out of your fitness sessions and perform exercises correctly.
Embrace the opportunity to combine fun and fitness on your cruise journey, leaving you feeling revitalized and refreshed.
Hair & Beauty Salon
Enjoy a relaxing and pampering experience at our onboard Hair & Beauty Salon during your cruise.
Beyond just hair and nails, our salon offers a wide range of services to help you look and feel your best.
Treat yourself to top-notch salon styles and services that match the quality you're used to back on land.
Indulge in professional hair treatments, haircuts, and styling, leaving you with fabulous vacation-ready looks.
Our skilled nail technicians provide manicures and pedicures, ensuring your hands and feet are picture-perfect.
Enhance your vacation glow with our teeth whitening services, taking your vacation smiles to the next level.
The salon is perfect for socializing, relaxing, and enjoying quality "me" time during your cruise.
Our salon professionals are dedicated to providing top-tier services and helping you achieve your desired look.
Embrace the opportunity to elevate your appearance and leave the salon feeling refreshed and confident.
Whether it's for a special occasion or to feel fabulous on your vacation, our Hair & Beauty Salon has everything you need to look and feel your best at sea.
Serenity Adult Only Retreat
The Serenity Adult-Only Retreat™ is a slice of paradise carefully designed to cater to your every need on a Carnival cruise.
While the rest of the ship is filled with excitement, kids, and entertainment, Serenity offers a tranquil escape exclusively for adults.
Step into Serenity, and you'll feel like you've entered a serene oasis, far away from the hustle and bustle of the ship.
Complete peace and relaxation await you at Serenity, where you can bask in the soothing sea breezes and enjoy uninterrupted moments of tranquility.
This exclusive retreat is a haven for adults seeking respite, and you'll find yourself surrounded by like-minded individuals who value a peaceful atmosphere.
Reconnect with your partner and enjoy quality time together in this adults-only haven, where you can create cherished memories.
Serenity is also the perfect place to indulge in some "me-time" – catch up on reading that book you've meant to finish or simply unwind and do absolutely nothing.
A bar nearby ensures you can enjoy your favorite drinks while soaking in the serene ambiance.
Whether you want to relax in a private cabana, lounge on comfortable seating, or gaze out at the sea, Serenity Adult-Only Retreat™ has everything you need for an idyllic and rejuvenating experience on your Carnival cruise.
Men's Spa Services
Hey there, guys! Don't let the ladies have all the spa fun—our Men's Spa Services have got you covered.
Enjoy a wide range of spa treatments tailored specifically for men, providing a relaxing and rejuvenating experience.
Indulge in classic barbershop-style shaves, where you can get a razor-close shave paired with a refreshing facial to keep you looking sharp.
Need a fresh look? Take advantage of the cruise and try a whole new hairstyle, or opt for a quick grey-hair darkening treatment or a stylish trim.
Our experienced barbers are here to ensure you leave looking your best and feeling confident.
Treat yourself to a massage designed to relieve tension, reduce stress, and provide much-needed relaxation—because every guy deserves some downtime.
You'll find the perfect massage to suit your preferences, from deep tissue massages to soothing treatments.
Feel rejuvenated and ready to take on all the fun and excitement of your cruise with our specialized men's spa services.
Our spa professionals understand the unique needs of men's grooming and relaxation, ensuring a comfortable and tailored experience.
Take the chance to pamper yourself and experience the benefits of our Men's Spa Services during your unforgettable cruise vacation.
Loft 19
Loft 19™ offers the perfect blend of fun and indulgence, providing a retreat-style experience on your Carnival cruise.
This exclusive area is a haven for relaxation, allowing you to bask in the sun's warmth from the comfort of a plush lounge chair.
For a truly luxurious experience, dip in Loft 19's infinity whirlpool, where you can unwind and soak in the breathtaking views.
If you prefer shade, you can rent a private cabana, providing you with a secluded oasis to enjoy throughout the day.
Cabanas are limited in number, so reserve yours early to secure a spot for the day or the entire voyage.
By reserving a cabana, you'll be treated to extra indulgences, including fresh fruit, chilled towels, a delicious lunch delivery, and attentive concierge service.
The Loft 19 experience is designed to cater to every need, ensuring you feel pampered and rejuvenated during your cruise.
Guests staying in Carnival Excel-level suites enjoy complimentary access to Loft 19™, providing them with an exclusive opportunity to unwind and enjoy the luxurious amenities.
Additionally, guests with Excel-level suites receive priority cabana reservations, ensuring they have the first pick of these exclusive retreats.
Whether you're seeking relaxation under the sun or a private sanctuary with stunning ocean views, Loft 19™ offers a premier experience for those seeking indulgence and tranquility on their Carnival cruise.
Medi-Spa
Discover the Medi-spa onboard your Carnival cruise, offering a range of non-surgical, anti-wrinkle treatments.
Rest assured that our Medi-spa physician, a licensed medical doctor, administers all procedures with expertise and care.
While we believe you're beautiful just the way you are, the Medi-spa provides an opportunity for those interested in treatments like Botox or Dysport.
Take advantage of being on vacation and try these non-surgical procedures in a relaxing and rejuvenating setting.
Results from Botox and Dysport treatments can be seen in just days and can last for months, giving you a refreshed look throughout your cruise and beyond.
The Medi-spa uses safe and proven techniques to help reduce the appearance of wrinkles and fine lines.
Embrace the option to enhance your natural beauty and address any concerns you may have with our Medi-spa treatments.
Feel confident knowing that your treatments are overseen by a qualified medical professional, ensuring your safety and satisfaction.
The Medi-spa provides a comfortable and discreet environment for those seeking aesthetic procedures during their cruise.
Whether you're curious about these treatments or have previous experience, our onboard Medi-spa is equipped to cater to your individual preferences and needs.
Cruise Inquiry