By Cruise Booking Team
Updated on: November 10, 2023
In the Cruise Industry, there are plenty of new cruise ships coming in the year 2024. With the best dining options, amazing entertainment, large and better suites and staterooms, and new updated technology, new upcoming cruises will be a boom in the industry. The benefit of upcoming cruises is travelers can explore diverse destinations while enjoying the comforts and amenities of a floating resort. These modern cruises and their features will surely convince you to live a cruising life once in a lifetime. From luxury ocean ships to river cruise ships, we are going to cover in detail information on the list of new upcoming cruise ships in 2024.
List of New Cruise Ships in 2024
1. Sun Princess (Princess Cruises): Start first Sphere-class ships for next Generation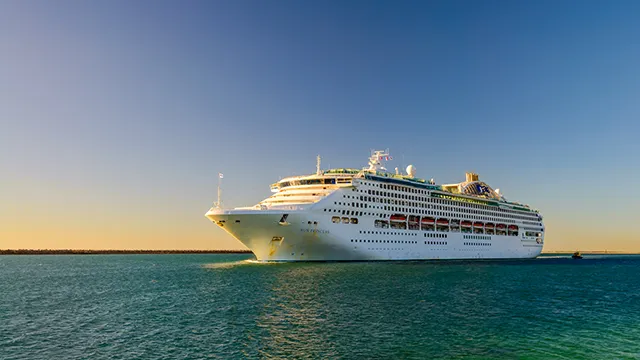 In Feb 2024, Princess Cruises will launch its upcoming cruise ship, "Sun Princess," with 2150 cabins, 4300 passengers or guest capacity, 21 decks, 175,500 tones, and 1133 feet length. For families, this cruise ship is a better option. She is the first Sphere-class ship of Princess Cruises. She offers extraordinary accommodations, entertainment areas like Park19 Family Activity Zone, Dome, Princess Arena, decadent dining options, luxurious suites, pool areas, decks, and many more attractive areas.
Sun Princess is the most awaited cruise in the list of best cruise ships in 2024. She is famous for Multiple restaurants, bars, a theater, pools, a spa, and fitness facilities. The cruise will start sailing from Port Everglades in Florida. The Sun Princess primarily operates in the Asia-Pacific region, including destinations in Australia, New Zealand, and Southeast Asia like Singapore, Thailand, Malaysia, and Vietnam. Japan, Hawaii, and the South Pacific Islands are also on the list.
2. Icon of the Seas (Royal Caribbean): Upcoming largest cruise ship in the world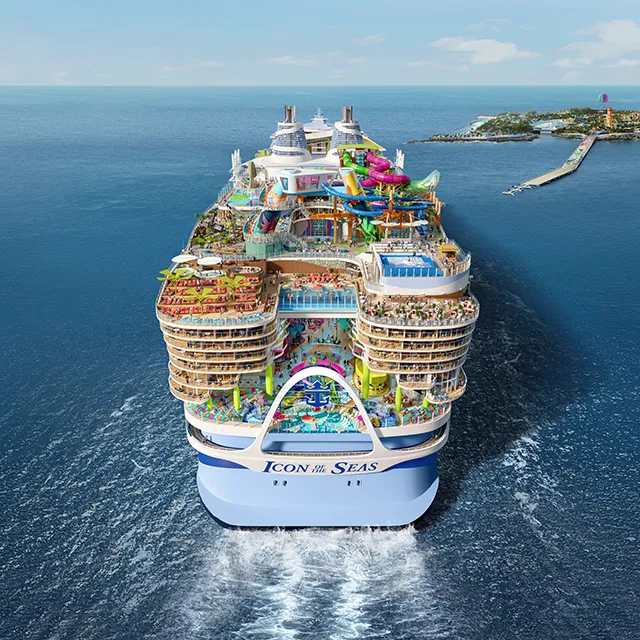 In 2016, Royal Caribbean got the trademark for "Icon of the Seas," They recently announced that they would launch in January 2024 after completing the final trial. Icon of the Seas will be the first "Icon class" cruise ship of Royal Caribbean. With 20 decks, 7 swimming pools, 6 water slides, 2805 cabins, 250,800 gross tons, 67,500 kW (90,520 hp) generating power, 7600 passengers capacity, and 2350 crew member capacity, Icon of the Seas taking the place of the largest cruise ship in the world.
The Ship will have many new features and exciting things to do, like the largest and tallest water park of the ship, multiple dining options, family-focused accommodations, diving shows, entertainment space, and many more attractions. The journey of Icon of the Seas will begin from Miami, USA, on January 27, 2024. She offers weeklong Eastern and Western Caribbean itineraries, and you can visit their private island, Perfect Day at CocoCay. If we talk about famous destinations of Icon of the Seas, Cozumel, Mexico, Philipsburg, St. Maarten, Roatan, and Honduras are on the list.
3. Queen Anne (Cunard Cruises): Finest future generation cruise ship of its era
Cunard announced that the Queen Anne cruise ship will start on 3rd May 2024. The new vessel is based on the Holland America Line's Pinnacle-class ship MS Koningsdam. She is the 4th ship in the current fleet and 249th in history to extend the Cunard Line for future generations with 3000 capacities of passengers, 1245 crew members, and 113,000 gross tonnages. The Queen Anne cruise on the name of Queen Anne, just like Queen Mary 2, Queen Victoria, and Queen Elizabeth.
Queen Anne ship has 2 decks, an 825-seat Royal Court Theatre, 15 restaurants, including Britannia Restaurant, Golden Lion pub, and luxury accommodation. Also, Two-Michelin-starred chef Michel Roux is a partner with this line to make a new menu for the ship's Queens Grill. The Queen Anne cruise ship has a completely redesigned interior, drawing on the 184-year history of Cunard while giving the brand a new update and contemporary aesthetic.
Queen Anne will depart from Southampton on May 3, 2024, visit La Coruna on May 5, 2024, Lisbon on May 7, 2024, and then return to Southampton on May 10, 2024. She will sail from Barcelona, Southampton, Hamburg, Fort Lauderdale, Port Everglades, Kiel, Sydney, Rome, Civitavecchia, Manhattan, Singapore, San Francisco, Hong Kong, Dubai, Auckland, Piraeus, Piraeus, and Laviron.
4. Disney Treasure (Disney Cruise Line): Get Ready for a Fairy Tale and a Mysterious Adventure
Disney Cruise Line is ready to sail their upcoming 6th cruise ship, "Disney Treasure," in 2024. Disney Treasure is the second ship in the list of "Wish-Class." The capacity of passengers and crew members on the ship is 5555, with 1250 staterooms. As always, Disney Treasure comes with Disney theme properties and characters, serval restaurants, Walt Disney Pictures, Marvel Cinematic Universe, Star Wars, Aladdin theme, and Pixar. The cruise will feature a theme based on a "Coco" themed restaurant, a Tomorrow Tower Suite inspired by EPCOT, and a Jungle Cruise-inspired lounge. The ship is set to have a 144,000 GT, 1119 ft length, and 128 ft width. As per look, she looks the same as Disney Wish.
The Disney Treasure will be sailing from Port Canaveral, Florida, on December 21, 2024, two years after sister cruise Disney Wish. The ship comes with 7-night packages and will journey for the Eastern and Western Caribbean. Kids will be happy in the AquaMouse slide based on a Mickey and Minnie-themed adventure story, along with two casual café, Mulan and Princess Moana. Sweet Shop of Jumbeaux is inspired by "Zootopia" and adults-only lounges based on Disney theme park attractions.
5. Silver Ray (Silversea Cruises): Get excited for a ray of light
Get ready for the second "Nova Class" ship, "Silver Ray". Silversea- a luxury brand operated by Royal Caribbean Group, announced that the Silver Ray will arrive in the summer of 2024. Silver Ray looks the same as her sister cruise Silver Nova, including asymmetrical design, pioneering and extraordinary use of glass in public areas and in the suite for privacy purposes. Silver Ray will sail with 728 Guest Capacity, 544 Crew capacity, and 54,700 tone tonnage.
After her debut in the summer of 2024, she will start a journey in Northern Europe and the Mediterranean. The journey range will be 7 to 71 days, depending on budget and destinations. Don't miss out on the best dining options, top luxurious suits, and Accommodation and Spa and other public areas. She is one of the most spacious ships, providing high space to guests. Cruise lovers will get various options for dining and luxury suites. After all, she is a "ray of light" for Silversea Cruises.
6. Utopia of the Seas (Royal Caribbean): Sixth giant in a family with signature slide Ultimate Abyss
Another big news for Royal Caribbean fans! With a capacity of 6,700 passengers and 2400 crew members, Royal Caribbean will launch the record-breaking upcoming cruise "Utopia of the Seas" in July 2024. Utopia of the Seas is the first ship in "oasis class" and the second in Royal Caribbean history, which is powered by LNG (Liquefied Natural Gas). Utopia of the Seas has room layouts for three, four, five, and more passengers.
Utopia of the Seas will depart from Port Canaveral (Orlando). The cruise will make 3-to-4-night cruises to Nassau, Perfect Day at CocoCay, and the Bahamas. She is smaller than the upcoming Icon of the Seas. Still, it will be the best choice for cruise lovers as She offers luxury staterooms, Ocean view accommodations, 3 waterslides, 21 dining venues, 2 casinos, 8 hot tubes, and 5 pools to enjoy your vacation with family.
7. Ilma (Ritz-Carlton): The casual freedom of a yachting vacation
Ritz-Carlton is launching its second ''superyacht'' Ilma - "water" in Maltese in 2024. Ilma is larger than the ship Evrima as Ilma will carry 456 passengers and will be 46,750 gross tons. She will feature 228 suites, all with private terraces and 1,076 square feet of space. Ilma will be powered by LNG - the cleanest marine fuel. Ilma offers six bars, five restaurants, Spa and a children's area for the Ritz Kids program.
Between the Mediterranean and the Caribbean, Ilma will divide its time. The journey will be around 7-10 nights. Live a luxury life with Ilma's luxury-minded crew-to-passenger, as they will provide one crew member for every single passenger.
8. Explora II (Explora Journeys): The most luxurious vessel with green technology
The new luxury brand of Explora Journeys, "Explora II," will launch in the summer of 2024. With 922 passengers, the capacity is the same as the sister cruise Explora I. She has 461 ocean-facing suites as they compromise 67 Ocean Penthouses, 371 Ocean Grand Terrace Suites and Ocean Terrace, 27 Ocean Residences And one Owner's Residence. Enjoy life abroad with 5-star dining, European Luxury, the best comfort, and sophisticated suits with ocean views.
Explora II will start her journey from the Mediterranean in the summer of 2024 and sail from Barcelona to Athens (Piraeus), departing on August 12, 2024. Explora II will travel to many destinations worldwide, like Italy, Spain, Cyprus, Israel, Greece, and Croatia, before transiting the Suez Canal to sail to Egypt. Also, it will cover the Arabian Gulf before sailing to India and on to the Seychelles, Africa, and Maldives.
9. Viking Vela (Viking Ocean Cruises): The elegance with modern Scandinavian design
Viking Ocean Cruises is also on the list to launch the new upcoming cruise, Viking Vela, in 2024. The ship is larger than the old model and will carry 998 guests with 470 crew members. The Viking Vela will be 101 feet wide and 784 feet in length, which is almost 40 feet longer and 7 feet broader than the other ships in the lines. All cabins are available with 24-hour room service, bathrooms with heated floors, a mini-bar, plush robes and slippers, and premium toiletries.
Viking Vela is ready to launch in December 2024 and spend its first season in Northern Europe, offering itineraries to the British Isles, Scandinavia, Iceland, the Norwegian Fjords, and more. Cruises include the new 26-night 'British Isles and Iceland Explorer' from Reykjavik to London Greenwich, during the maiden season start at 12 nights, including 'Iceland's Majestic Landscapes' from Bergen to Reykjavík, the popular 14-night 'Viking Homelands' sailing from Stockholm to Bergen and itineraries focused on the northern lights.
10. American Liberty and American Legend (American Cruise Lines): Join a mission of Cruising Close to Home
American Cruise Lines introduced two new "Coastal Cat" cruises, "American Liberty" and "American Legend," with 100 passengers capacity, 50 crew members, 6 common areas, and 241 feet in length for the upcoming year 2024. All 56 cabins on American Liberty and American Legend are outside-facing with walk-out verandas. American Cruise Lines is planning to have 12 of these types of cruises. Both Cruises have various kinds of luxurious suites with private balconies and Swim/Activity Platforms to relax and spend the best quality moments with your loved ones.
American Liberty will launch on 17 June 2024, while American Legend debut in October 2024. American Liberty will debut with the seven-night Chesapeake Bay Cruise round-trip from Baltimore- the "historic triangle" of Yorktown, Jamestown, Williamsburg, and other stops at St Michaels, Cambridge, and Annapolis. American Legend cruise will be selling American Revolution cruise along with Chesapeake Bay, also Complete Southeast and Florida Gulf Coast & Keys itineraries.
11. Avalon Alegria (Avalon Waterways): The first-ever river cruise in Portugal
Avalon Waterways announced the first-ever river vessel in Portugal, "Avalon Alegria." They will debut on this river cruise on March 31, 2024, with 102 passengers and 33 crew members capacity. She has 37 Panorama Suites with 200 square feet located on the uppermost Royal and Sapphire Decks and 14 Deluxe Staterooms with 172 to 180 square feet on the lower Indigo Deck with fixed windows.
The Ship will sail on the 10-night Vida Portugal: Vineyards & Villages with the Douro itinerary, including a three-night hotel stay in Lisbon. This Ship is called "River of Gold" as it is a smaller version of the line's mainstream European ships with the same excursion options and amenities.
12. AmaMagdalena and AmaLilia (AmaWaterways): The first mainstream river cruise for Colombia's Magdalena River
AmaWaterways will debut the first mainstream river cruise line with the cruise AmaMagdalena to sailing on Colombia's Magdalena River. The AmaMagdalena will come with 60 passengers capacity, 30 staterooms, and 30 crew members capacity. The Journey of AmaMagdalena will start on November 9, 2024, and explore Colombia's cultural and natural heritage. AmaMagdalena has the Sun Deck, a fitness room, a Main Restaurant serving exquisite Western favorites, an intimate al fresco specialty dining experience, and Latin American cuisine.
AmaLilia cruise will become the second cruise in Egypt to journey on the Nile River in 2024. AmaLilia debuts with 82 passenger capacity, 41 staterooms, including 13 marvelous suites, and 65 crew members capacity. AmaLilia will debut with the 11-night Secrets of Egypt & Nile itinerary departing on March 4, 2024. At AmaLilia, you will experience luxurious amenities, Middle Eastern spices at the Main Restaurant, and the multi-course tasting menu at The Chef's Table.
13. Carnival Firenze (Carnival Cruise Line): The Next Carnival Fun Italian-Style Cruise
The upcoming Carnival Cruise ship "Carnival Firenze" is a Venice-class cruise ship that will sail in spring 2024. The third ship of Carnival will operate under the "Carnival Fun Italian Style" banner. Built-in 2021 as "Costa Firenze," the "Vista-Class" cruise ship was basically made to cover China and later transferred to Carnival Cruise and renamed Carnival Firenze. She has a capacity of 4072 passengers and 1278 crew members with 2,136 suites and cabins across 11 decks.
Carnival Firenze will sail from Long Beach, Los Angeles (California), and sail to Los Angeles, Ensenada, Cabo San Lucas, Puerto Vallarta, Catalina Island (California), and Mazatlan. Public areas on the cruise include La Laguna Aqua Park with a splash zone and two slides, a theater, four pools (one with a retractable roof), Rope Garden adventure park, an al fresco fitness area, a kids' club, teen zone, jogging track, and spa.
Also Read: Upcoming Festive Cruise Deals for Festive Occasions
Conclusion
In the year 2024, the Whole cruise industry and cruise lines are ready to welcome their upcoming cruise ship to crash the market. The year will come with more adventure and remarks with awaiting cruise ships. From the largest cruise ship "Icon of the Seas" to sea cruise to the "Avalon Alegria" – the first-ever river cruise in Portugal, all family-friendly cruises will come with new features with some extra-large and luxury accommodations, fun and entertainment activities, tasty and delicious cuisine and many more.
You can be sure 2024 will be a thrilling year for travelers and the cruise industry.