About Virgin Voyages Cruises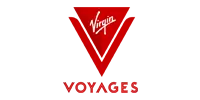 Join Virgin Voyages for an ocean cruise blending the elegance of a boutique hotel with Virgin's unmistakable style and service. At Virgin, everyone deserves to feel like a RockStar, so they provide a sophisticated yet relaxed Adults Only experience free of formality. In addition to offering four to eight-night cruises, Virgin Voyages' maiden ship Scarlet Lady sails from Miami to The Beach Club in Bimini, Bahamas, where sailors can relax and soak up the sun.
With four ships of 1,10,000 tons and 2,700-plus passengers, Virgin Voyages will be a major player in the cruise industry. In 2020, Scarlet Lady was the first one to debut. A seven-night Caribbean itinerary was offered from Miami. Guests under 18 will not be allowed to sail, and all sailings will be only for adults. Virgin Voyages makes a (big) splash with their four gorgeous ships. With Michelin-starred curated menus and jaw-dropping entertainment, you'll fall in love with this exclusive adult experience. Sailors can experience the people that make each place unique through 26 curated itineraries spanning over 100 ports on four continents. The voyages include more than $600 in value, including meals at more than 20 unique eateries, tips, WiFi, essential drinks, and unlimited fitness classes.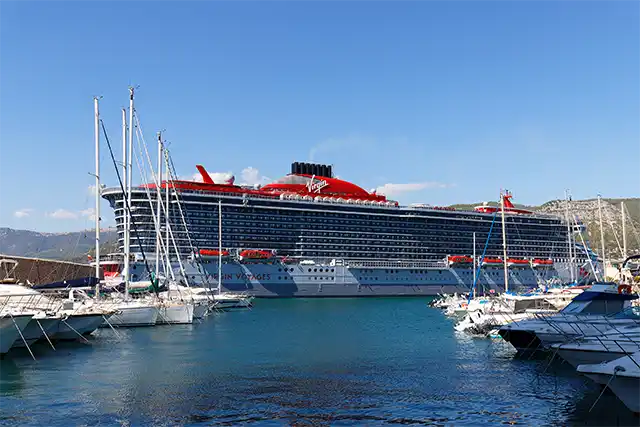 With its sleek, hip ships, Richard Branson's Virgin Voyages aims to shake up the cruise industry. The Scarlet Lady was the first ship on the line to offer regular sailings in the fall of 2021 with the world's first tattoo parlor, tons of dining options, free exercise classes, drag performances, and an app that lets you order Champagne right from your phone, which will arrive right on board. Early in 2022, Valiant Lady, the second ship, made its debut.
With Virgin Voyages, Richard Branson is shaking up the cruise industry like never before. With an emphasis on relaxation during the day and nightlife in the evenings, Virgin Voyages sails with a concept known as Rebellious Luxe, combining luxury and hedonism with wellness and conservation. Take a cruise with Virgin Voyages and discover how exciting a cruise can be, complete with casinos, bars and clubs, and boozy brunches.
As one of the world's leading travel brands, Virgin Voyages offers irresistible holidays around the globe. The company has three ships in the works with Fincantieri, a master shipbuilder with operations throughout the United States, the United Kingdom, and Europe. With the arrival of Virgin Voyages' first ship, Scarlet Lady, in 2020, the ship will sail to the Caribbean, hosting over 2,700 sailors and 1,150 amazing crew. We'll keep you posted. Virgin Voyages' second ship, Valiant Lady, will begin her Mediterranean season in 2021 at Barcelona's Port.
Key Selling Points
1. Exclusively for adults 18+
Children are not allowed. We highly encourage you to let your inner child out.
2. A wide variety of world-class restaurants
The voyage fare includes intimate eateries with a wide range of food options and expertly crafted menus.
3. Luxurious Design + Elegant Design
Designed to resemble a boutique hotel at sea, Virgin Voyages offers a superyacht aesthetic with award-winning spaces.
4. Unlimited fitness classes + Vitamin Sea
You decide how much wellness you want. All these activities are included in the voyage fare, including yoga, meditation, cycling, and HIIT classes.
5. Taking Destinations to the next level
With homeports in Miami, San Juan, Barcelona, Piraeus (Athens), Melbourne, and Auckland, we offer dream destinations on 2- to 15-night itineraries around the Caribbean, Mediterranean, and Oceania.
6. Take advantage of their entertainment.
Experiences that inspire and transform audiences with exciting, contemporary, and immersive original shows.
7. The value of the package is always over $600.
A surprise receipt and pages of the fine print on vacation are the last things you need. We include over $600 in value in every voyage, including WiFi, fine dining, fitness classes, tips, and essential drinks.
Frequently Asked Questions about Virgin Voyages
In order to improve the Sailors' experience, Virgin Voyages created their cancellation policy. The following information is important: Booking - 120 Days: Deposit amount, which can be used as a Future Cruise Credit, if requested, 119 - 45 Days: Any funds paid will be converted to a Future Cruise Credit (valid for 1 year from sailing date) and 44 - 0 Days: No refunds, names on reservation can be replaced up to 48 hours prior to sailing.
No, they offer fair drinks pricing and so much more included in every voyage fare "On Us" so there is a premium drink to suit every Sailor's budget.
Virgin Voyages Rockstar suite drinks package includes 1 x Ryder Pinot Noir 375 ml, 1 x Ryder Rosé 375ml, 1 x Moet Chandon Brut 375ml, 2 x Fever Tree Tonic 200ml, 2 x Fever Tree Ginger Beer, 2 x cans Heineken beer, 2 x Stray the Course beer can (Virgin Voyages Exclusive Beer), 2 x Red Bull, 2 x Sugar Free Red Bull, 2 x Health-Ade/Pink Lady Kombucha 237 ml, 1 x Rum – Bacardi Superior 375 ml, 1 x Gin – Hendrick's 375 ml, 1 x Vodka – Belvedere 375 ml, 1 x Tequila – Casa Noble Reposado 375 ml and 1 x Whiskey – Buffalo Trace Bourbon 375 ml.
To check Virgin Voyages Cruise schedule 2023, visit our Virgin Voyages Itinerary page.