Main Dining Room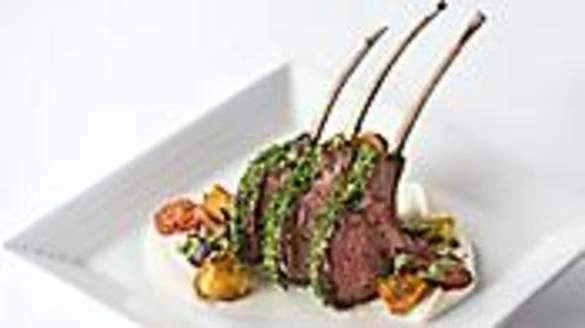 GOURMET COURSES
In the Main Dining Room, you can experience flavours that take you from Jamaica to Jaipur, a rotating menu of delicious dishes always offering something unexpected. A multi-level restaurant that in the morning is the perfect spot to enjoy a hearty brunch paired with refreshing mimosas, at dinnertime transforms into a world class dining experience with a menu that invites you to taste your way around the world course by course.
ATTIRE
Smart Casual
MENU HIGHLIGHTS
Many of the dishes on the Main Dining Room's menu rotate each night, which means you could go an entire week without ever repeating a course. Every meal here begins with something delicious from the starters section of the menu — like savoury duck terrine layered with apricot chutney on toasted sourdough bread, a flaky Vidalia onion tart baked with whipped eggs, cream, and smoked bacon, or spiced eggplant and Kalamata olive tartare prepared with red pepper hummus and served on crispy garlic bread. Then, choose from international entrees like Moroccan spiced ahi tuna served over mint couscous, sautéed spinach and tequila peppers with a cool yogurt vinaigrette. Or mojo-marinated bone-in pork loin paired with sweet potatoes, broccoli and a cumin-citrus reduction. Dessert is also worth getting excited about, with options like sweet cream-soaked tres leches, home-style carrot cake with cream cheese frosting, and a light and fluffy Grand Marnier soufflé.
NOTE
Food offerings may differ by ship and sailing.
PRO TIP
The food in the Main Dining Room is complimentary, and you can order as many courses as you like.
Dining Experience:
Complimentary
Windjammer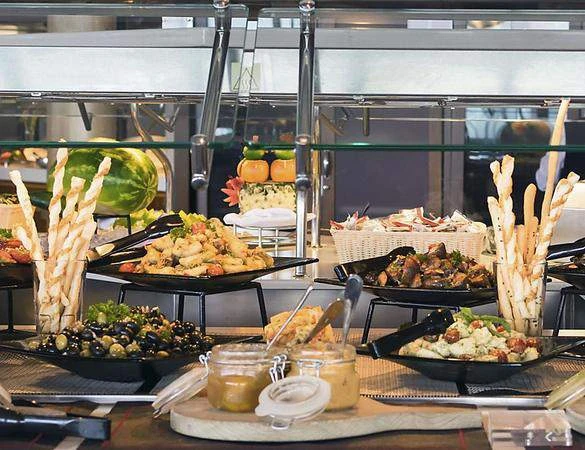 TASTE YOUR WAY AROUND THE WORLD
The Windjammer is your go-to restaurant for tantalising global flavours served as complimentary. Like just-pressed paninis packed with all your favourite meats and cheeses. Flaky pastries fresh from the oven and omelettes however you like them. And hearty mains that run the gamut from crispy buttermilk fried chicken to Vietnamese braised Ho Chi Minh pork.
ATTIRE
Casual
MENU HIGHLIGHTS
Whatever kind of dish you're in the mood for, you'll find something tasty worth trying at the Windjammer. Pop in during the morning for scrambled egg Bhurji served with roti, or home-style crispy chicken and waffles. Refuel in between adventures with a refreshing watermelon and feta salad or classic fish and chips. Or sample your way from Italy to India with dishes like traditional chicken marsala, savoury pork vindaloo, tangy duck a l'Orange and flavourful Caribbean goat curry.
PRO TIP
There are plenty of gluten-free and vegetarian options offered.
RESTRICTIONS
Fully-covered shoes and shirts required.
NOTE
Food options may differ by sailing.
Dining Experience:
Complimentary
Café Latte-tudes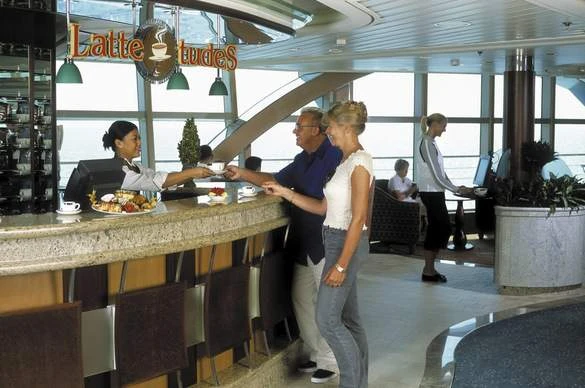 YES WAY CAFÉ
When you find yourself craving a steaming hot cuppa, Café Latte-tudes has just what you need. From a nice breakfast blend to get you going to an after-dinner cappuccino or macchiato, you'll find all your favourite sweets and specialty coffee beverages at this cozy cafe.
ATTIRE
Casual
MENU INTRO
Café Latte-tudes serves up all sorts of delicious specialty coffee beverages and plenty of tantalising sweet treats to satisfy your cravings all day long. Come by any time and order something delicious off the menu.
PRO TIP
You don't need a reservation to visit Café Latte-tudes — this casual spot welcomes walk-ins.
Dining Experience:
Complimentary
Izumi Sushi & Hot Rocks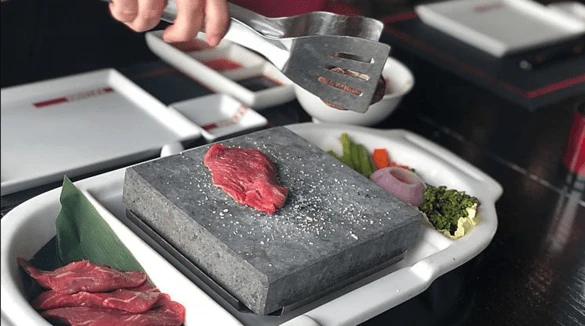 ASIAN FLAVOUR THAT ROCKS
From expertly rolled sushi, fresh sashimi, and delicate nigiri, to izakaya-style appetisers and flavourful meats cooked perfectly on ishiyaki grilling stones — this hard-rocking spin on the fleet favourite Izumi is one specialty dining experience you don't want to miss out on.
ATTIRE
Smart Casual
HOW TO PURCHASE
Cruise Planner or Onboard
MENU HIGHLIGHTS
At Izumi Sushi & Hot Rocks, every meal begins with a complimentary appetiser of edamame served with course kosher salt. Level up your meal with a deep-fried firecracker spring roll, filled with tender shrimp, crabmeat, cream cheese and sambal chilli. If you like spice, try the tuna wasabi carpaccio, sliced thin and paired with the house ponzu olive oil, wasabi aioli, masago smelt eggs, garlic chips and jalapeno. For sushi lovers, the Izumi spider roll is a must — it comes filled with tempura soft shell crab, creamy avocado, masago, and sweet unagi sauce. And of course, you can't leave without trying something from the ishiyaki hot rock section of the menu. Go all out with the surf and turf experience — you'll enjoy a half lobster tail, beef tenderloin, and assorted Asian vegetables served sizzling on a hot cooking stone and accompanied by white or fried rice and a selection of delicious homemade dipping sauces.
PRO TIP
Can't decide what to order from the menu? Look for items with a symbol indicating the chef's recommendations.
Dining Experience:
Cover charge may apply
Chef's Table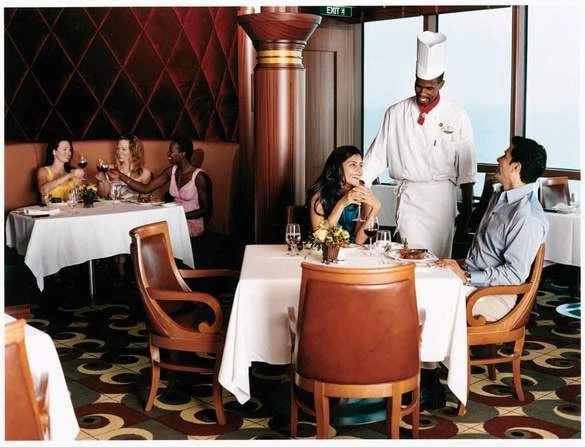 AS VIP AND INTIMATE AS CAN BE
Welcome to Chef's Table, the most exclusive and elevated dining experience on our fleet. Join an intimate group of fellow foodies on a private epicurean journey led by the ship's Chef de Cuisine. You'll sit down to a white tablecloth dinner spotlighting five exquisite courses that range from scallop carpaccio with yuzu vinaigrette, to grilled filet mignon served with truffle potato puree — each expertly paired with the perfect wine to highlight every flavor on the menu.
ATTIRE
Formal
NOTE
Available on select sailings.
MENU HIGHLIGHTS
Start your meal with the Scallop carpaccio, served with yuzu vinaigrette and crispy quinoa. Then transition to the Smoked tomato soup, sprinkled with garlic focaccia croutons and parmesan. Seafood lovers rave about the Maine lobster salad, flavored with pineapple, cilantro, and vanilla dressing, and the Roasted branzino paired with grilled vegetables and lemon confit. Blending peanut butter ganache, Valrhona chocolate mousse, and salted caramel gelato, our signature dessert, The world, is the ultimate sweet ending.
PRO TIP
Each dish is paired with a somm-selected glass of premium red or white wine.
Dining Experience:
Cover charge may apply
Chops Grille?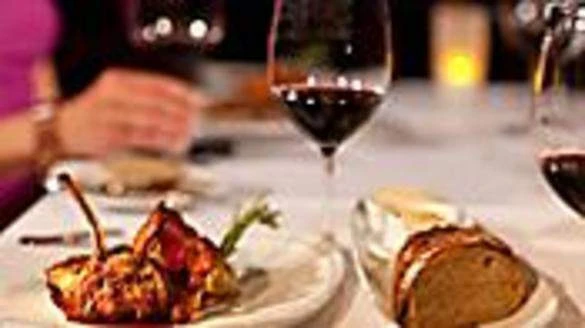 CLASSIC AMERICAN STEAKHOUSE
For more than a decade, the chefs at Chops Grille have specialised in serving up quality, hand-cut meat. Dinner at this hallmark Royal Caribbean specialty restaurant goes far beyond the typical steakhouse experience, though, with reimagined classics like succulent Maine lobster, gruyere cheese tater tots, white truffle-scented mushroom soup, and of course, expertly prepared prime beef.
ATTIRE
Smart Casual
INSIDER TIP
Open for lunch on sea days only.
MENU HIGHLIGHTS
The best way to begin a meal at Chops Grille is with the charred beef carpaccio, sliced thin and served rare with fresh arugula, Parmesan cheese, and truffle mustard dressing. If you're a seafood lover, upgrade your menu with one of the restaurant's chilled seafood towers — each comes with jumbo shrimp, green-lipped mussels, clams, Jonah crab claws, and Maine lobster. As far as entrees go, the tender filet is one of the most popular items on the menu. If nine ounces is a bit too much for you, opt for the smaller 6-ounce petite filet — it packs in just as much flavour as the standard cut. If you're a traditionalist, complement your meal with an order of steaming Yukon Gold mashed potatoes and creamed spinach, or change things up with Chops' signature gruyere cheese tater tots and truffled French fries. And don't forget to save room for a refreshing slice of tart key lime meringue pie or classic New York cheesecake, served with raspberries and lemon confit.
PRO TIP
The chefs at Chops Grille will hand cut, season, and grill each steak to your specifications. When in doubt, don't be afraid to ask for the chef's recommendation.
Food type:
Steak & Seafood
Dining Experience:
Cover charge may apply
Park Café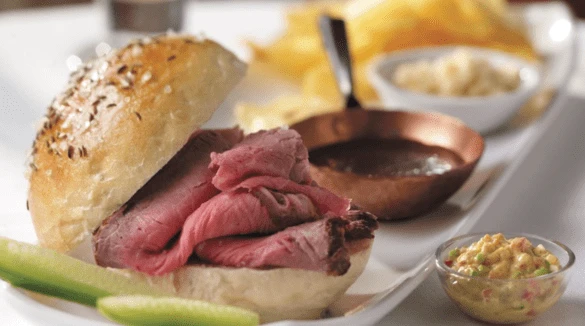 DIALLED UP DELI BITES
In the mood for deli classics that knock it out of the park? Head to Park Café, where you'll find quick bites to please every palate. Crisp made-to-order salads? Check. Fresh-pressed paninis and sandwiches? Double check. And don't miss the legendary Royal Kümmelweck roast beef sandwich — it's a guest favourite (and a rite of passage for cruising foodies).
ATTIRE
Casual
MENU INTRO
The menu at Park Cafe offers something for everyone during breakfast, lunch and afternoon snack. Come here for deli classics, like soups and sandwiches, plus sweet treats and a stellar breakfast spread.
PRO TIP
Craving something light and green? Order a signature pre-made salad, or have the team make one custom just for you.
Dining Experience:
Complimentary
Giovanni's Table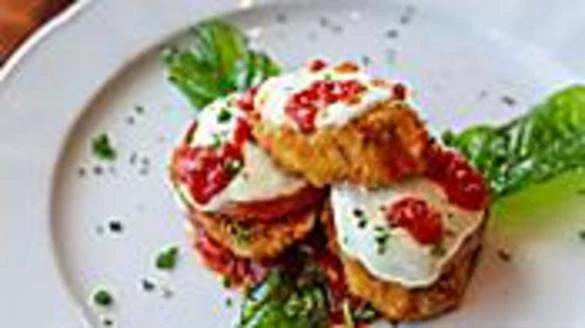 EAT MORE ITALIAN
Every meal at Giovanni's Table is a family-style celebration of rustic Italian flavour. You'll find all your favourite Old-World classics on the menu here, like house focaccia served with marinated artichokes, olives and pesto, fluffy gnocchi tossed in a thyme-scented sauce of lamb and root vegetables, traditional risotto finished with porcini and truffle mushroom tapenade and veal osso buco paired with creamy cheese polenta, ripe tomatoes and sautéed green beans.
ATTIRE
Smart Casual
HOW TO PURCHASE
Cruise Planner or Onboard
MENU HIGHLIGHTS
First things first – ask for an order of the house focaccia, which comes with marinated artichokes, olives and pesto. And don't miss the antipasti per due, an appetiser big enough for two that comes heaped with Italian salami, prosciutto, marinated anchovies, grilled artichokes, Cambozola cheese and more. There are plenty of tasty options to choose from if you're a pasta lover, from parpadelle with pancetta in a rich radicchio cream, to taglierini tossed with cherry tomatoes, calamari, bay scallops and pesto. And if you're craving a hearty Italian-style main course, try the polpette alla romana — tender veal meatballs in a rich tomato-herb sauce — or the costolette d'agnello alle erbe — grilled lamb chops served in a Merlot reduction with baby vegetable caponata and sautéed spinach.
PRO TIP
Giovanni's Table is a great restaurant to dial up date night. If you're celebrating a special occasion, just let the staff know ahead of time. They'll help make it extra special!
Dining Experience:
Cover charge may apply
Room Service
DELICIOUS DELIVERED TO YOUR DOOR
Want to savour a meal in the comfort of your stateroom? Order delicious in-room dining any time — day or night. Tuck into breakfast in bed with a fresh omelet or a steaming stack of pancakes. Or enjoy an intimate date night in after a long day of adventure onboard and ashore. Room service makes it easy to treat your taste buds without having to set foot outside your door.
NOTE
Room service menu may differ by sailing.
MENU HIGHLIGHTS
The continental breakfast items on the room service menu are complimentary, but you can also upgrade with fried eggs or an omelet if you want something a little heartier. You can even make brunch boozy with mimosas or the Ultimate Bloody Mary. If you're ordering lunch or dinner, choose from flavourful finger foods like crispy chicken tenders, a melt-in-your-mouth grilled cheese sandwich, hot dogs your way, or the much-loved Royal Burger — it's eight ounces of prime Wagyu beef topped with crispy bacon and aged cheddar on a toasted bun. The creamy classic tomato soup, grilled quesadilla, and fried chicken wings are also guest favourites..
PRO TIP
Cruising with kids? There's a section on the menu just for them with simple but delicious sandwiches and tasty sides.
Dining Experience:
Cover charge may apply