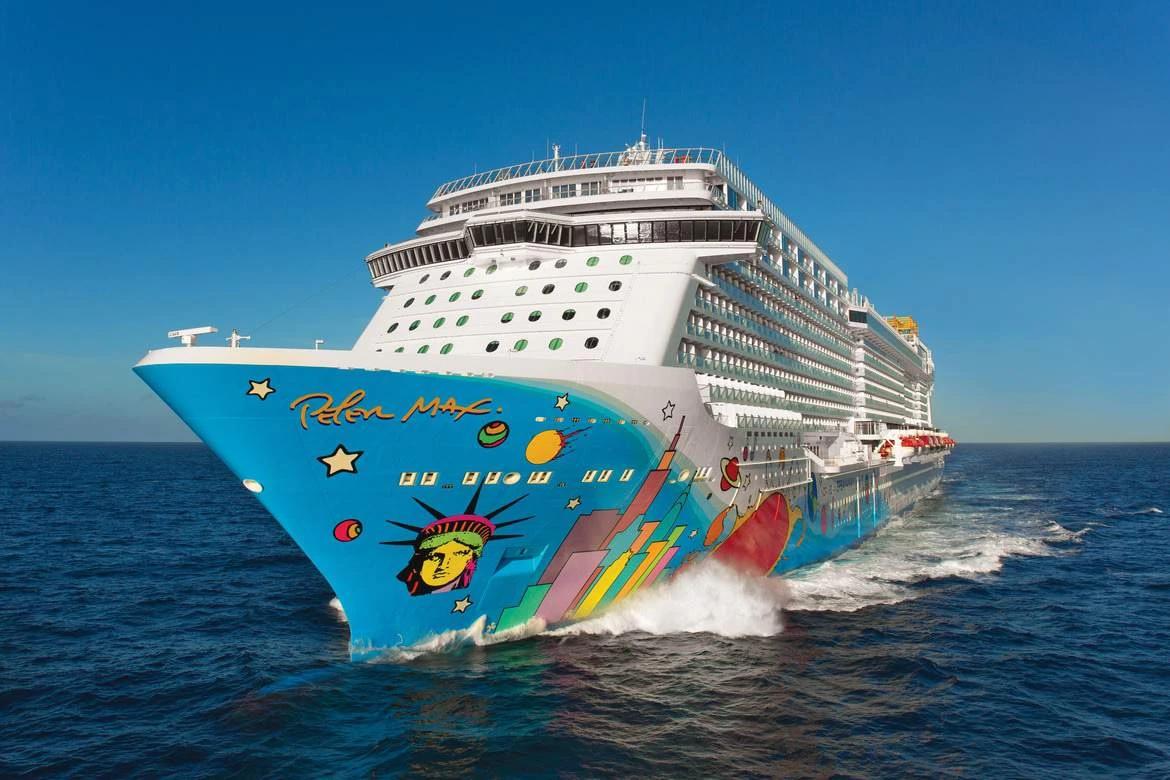 Useful to know
Useful Things to Know About Norwegian Breakaway
Explore Useful Things to Know About Norwegian Breakaway
Disabled Facilities
Norwegian Cruise Line welcomes guests with special needs, providing information on holiday suitability before booking.
Wheelchair-accessible staterooms offer grab rails, lowered amenities, and wide doors for easy access.
Guests using wheelchairs must bring collapsible ones; rentals are available through Scooteround.
Limited staterooms cater to hearing-/vision-impaired guests with alarm systems and allowance for guide dogs.
Oxygen users must bring their own; Special Needs at Sea supplies oxygen with prior arrangement.
Medical conditions must be disclosed at booking; passage denial is possible for safety reasons.
Staterooms feature insulin-storage refrigerators; dietary needs are accommodated with advance notice.
Visit www.ncl.eu for more information on special accommodations and dietary requirements.
Special Dietary Requirements
Inform Norwegian Reservations Agent or Travel Agent at booking about food allergies or dietary needs.
Allow 30 days' notice before sailing for special requests like Kosher or gluten-free meals.
Kosher Meal requests within 30 days may not be guaranteed.
Guests can't bring food needing ship staff prep or cold storage on board for safety reasons.
Alcohol and Beverage Policy
In itineraries with ports in the USA, Canada, or China, guests must be 21+ to buy or consume alcohol (terms vary for beverage packages; check at booking).
Premium Inclusive alcoholic beverages are included for guests aged 21+.
For other itineraries, guests 18+ (excluding US, Canada, and China citizens) can buy alcohol.
On US, Canada, and China port cruises (except Alaska/Hawaii), 18-20 year-olds can have wine/beer with parental consent.
Parent completes Young Adult Alcoholic Beverage Waiver form at Guest Services Desk during embarkation.
Smoking Policy
Indoor public areas on all ships (except cigar lounges and Casino) are smoke-free.
Cigar Lounge: Cigar smoking is allowed; there are no cigarettes, pipes, or e-cigarettes.
Casino: Smoking is allowed in Casino on certain ships, except for cigars and pipes.
Staterooms: No smoking in staterooms/balconies; $250 cleaning charge if violated.
Outdoor Areas: No smoking near food venues, jogging track, kid's pool, etc.
The Haven: Smoking is not allowed in the courtyard; it is allowed on Sun Deck (selected ships).
Deck-Specific Smoking Areas: Designated smoking spots for various ship classes on specific decks.
Specific Ship Exceptions: Detailed smoking areas for specific ships are mentioned.
Packing Tips / Dress Code
Dress code: Resort casual or dress up - your choice; "Dress-Up or Not Night" offers a chance for special photos.
Cruise Casual: Wear casual daytime outfits, including dresses, skirts, pants, jeans, and tops for women and khakis, jeans, shorts, and shirts for men. Swimwear is allowed at buffet and outdoor restaurants with a cover-up and footwear.
Bring a sweater for AC; kids under 12 can wear nice shorts in all restaurants.
Note: Tank tops for men, flip flops, caps, overly faded jeans, torn jeans, and low-hanging jeans are not allowed in main dining or specialty restaurants.
All Decked-out: Smart casual for formal dining or upscale specialty restaurants; women wear slacks, jeans, dresses, skirts, and tops; men wear jeans/slacks, collared shirts, and closed-toed shoes.
Ready for Adventure: Pack for shore excursions, including comfy walking shoes; closed-toed shoes are recommended.
Special Events: Dress up for Norwegian's Night Out, and bring an all-white outfit for the White Hot Party.
Sail & Sustain - Our Commitment
Our ongoing commitment to preserving oceans, environment, people, and communities.
Embedding sustainability across our operations for an unrivaled guest experience.
Environmental protection core value: Safety, Security, Health, and Environmental Protection policy in place.
Goals: Prevent pollution incidents, reduce environmental impact, proper waste disposal, recycling, and reuse.
Pursuing ISO 14001 certification objectives and targets for continuous improvement.
Innovative environmental policies and technologies implemented across our fleet.
Comply with international, national, state, and local regulations (MARPOL, USCG, EPA).
Accredited with ISO 14001 standard for Environmental Management Systems, reducing impact and increasing efficiency.
Water Conservation & Management
Onboard Production: Water used for guest/crew needs, galleys, laundry, pools, etc.
Increasing Water Production: Advanced plants use seawater as source, reducing freshwater bunkering.
Reverse Osmosis (RO): Produces fresh water from seawater using high-pressure pumps and filters.
Evaporators: Generate fresh water from seawater via heat sources like Exhaust Gas Boilers.
Bunkered Water: Potable water acquired in port for onboard use.
Wastewater Treatment Systems:

Equipped with Advanced Wastewater Purification systems (AWPs) for wastewater treatment.
AWP-treated effluent meets/international regulations and some municipal standards.
Regular third-party and onboard water quality tests ensure compliance.

Bilge Water:

Bilge water from machinery/engine spaces held in storage tanks.
Discharged only after meeting international, national, and company regulations.
Equipped with automatic stopping device and oil content meter for compliance.
Non-compliant bilge water is recirculated until meeting standards; the remaining is landed ashore.

Ballast Water

Ballasting for stability involves taking on seawater in tanks.
Some species hitchhike and transfer globally; treating ballast water removes organisms.
Prevents non-native/invasive species introduction into local ecosystems.
Waste Mitigation
Sensitivity to Sensitive Areas: Ships visit sensitive regions, aiming to lead as stewards.
Zero-Tolerance for Overboard Items: Strict policy against discarding items at sea.
Environmental Hotline: Guests, crew, and shoreside staff are urged to report incidents.
Progressive Waste Management: Waste management program reduces environmental impact.
Waste Reduction: Emphasis on reusing recycling; clear benchmarks for waste minimization.
Partnership with Waste Management: Developed Live Load offload operation to improve waste disposal efficiency.
Employee Initiatives:

Food and clothing drives involve shoreside and shipboard employees.
Employees participate in beach/community clean-ups.
During refurbishment, technical equipment and furniture are recycled/donated.
Fuel & Energy Efficiency
Acknowledgment of climate change responsibility and commitment to action.
Exhaust Gas Cleaning System (EGCS): Innovative technology reduces sulfur oxide and particulate emissions by up to 99%.
EGCS-equipped ships include Norwegian Bliss, Encore, Epic, Escape, Gem, Jade, Jewel, Joy, Pearl, Sun, and Pride of America.
In-port Power Generation: Ships generate power for heating, AC, lighting, and hot water like a hotel.
Cold-Ironing: Some ports offer onshore grid connections to reduce emissions while docked.
Cold-Ironing-equipped ships include Norwegian Bliss, Encore, Epic, Jewel, Joy, and Star.
Energy Data Collection: Data used to identify major energy consumers and improve efficiency.
Shipboard Energy Efficiency Management Plan (SEEMP): Ship-specific plan enhancing efficiency through various measures.
Wasted Heat Recovery (WHR): Successful program recovering heat from engines for water production and fuel savings.
Accessibility
Inclusivity in Freestyle Cruising: Norwegian Cruise Line strives to make fun accessible to all.
Freedom of Choice: Committed to offering every guest the opportunity to enjoy cruising their way.
Dedicated Access Team: Norwegian's experienced cruise professionals trained for special requirements.
Access Coordinators: The access Desk team ensures a safe, accessible cruise experience.
Contact Information:

Toll-free number for accessible travel: 01 541 0297.
Access Desk Coordinators discuss needs and expectations for cruising.
Fill out the Special Accommodation Requirements Information form from the Access Desk.
Contact via voice, fax, email, or travel agent.
Mission: Providing safe, accessible cruise experience to the extent feasible.
Service Charges
Confidence in Freestyle Cruising: Assured of enjoyable experience and exceptional service from our crew.
Automatic Service Charge: A discretionary per guest per day charge added to shipboard account.

Studios, Inside, Oceanview, Balcony Staterooms: US$16 per guest per day (3+ years)
Club Balcony Suites: US$18 per guest per day (3+ years)
Suites, The Haven Suites, Concierge staterooms: US$20 per guest per day (3+ years)

Shared among staff enhancing cruise experience, including restaurant and stateroom staff.
Pre-Payment Option: Service charges can be paid in advance.
Feedback: Notify onboard Guest Services Desk if concerns arise during cruise for prompt resolution.
Adjustment Option: Service charge adjustment is possible on board if issues are not resolved.
Refund Policy: Pre-paid service charges aren't refundable on board; apply for a refund after returning home through Guest Relations.
Specific Roles: Certain positions (concierge, butler, youth program, beverage) are not included in the overall service charge; separate gratuities are encouraged for their services.
Additional Charges: 20% gratuity for spa, salon, and beverage purchases; 20% gratuity for specialty restaurants entertainment-based dining (excludes Free at Sea dining/drinks packages).
Medical Facilities
Onboard Medical Care: Each ship is equipped with a physician and nurse for medical care.
Customary Charges Apply: Medical services are provided with associated charges.
Common Medications Available: The ship's doctor can prescribe commonly used medications.
Ensuring Passenger Health: The medical team is available to address health needs while cruising.
Wi-Fi & Internet Access
24-Hour Internet Cafés: All ships have internet cafés for continuous connectivity.
Wireless Internet (Wi-Fi): Available fleet-wide for wireless access.
Rates and Services: More information about rates and services can be found on the provided link.
Central Telephone Number: For ship contact, dial 001 732 335 3280 (from US$ 7.95/minute); need ship name and credit card.
Mobile Phone Connectivity: Use compatible mobiles onboard; international roaming charges apply to your home account.
Service Provider Rates: Final rates are set by provider, not NCL; check with provider directly for more details.
Services
Beauty Parlor & Spa Services: Enjoy Mandara Spa Salon for hair styling, manicures, pedicures, facials, and massages.
Duty-Free Shopping: Gift shops offer fine jewelry, perfumes, clothing, cosmetics, and limited drug store items.
Laundry & Dry-Cleaning: Convenient services are available onboard.
Internet Café: 24-hour access to stay connected.
Art Auctions: Participate in onboard art auctions.
Photography Services: Professional photographs captured during the cruise.
Age Restrictions
Infants: Minimum 6 months for sailing, 12 months for voyages with 3+ consecutive days at sea.
Minor: Under 18 years at embarkation.
Young Adult: Aged 18-20.
Age Restrictions in Certain Ports: On US, Canada, and China port itineraries, under-21 guests need to be accompanied by 21+ guests in same/connecting/side by side stateroom.
Exceptions: Applies to under-18 guests (except citizens of US, Canada, and China) on all other cruises.
Parent/Guardian Release Form: Required for under-18s traveling with non-parent/legal guardian adults.
Canadian Port: Under-18s with single parents need approval letter from non-traveling parents.
Married Couples Under 21: Can share a stateroom with proof of marriage.
Age Limits for Facilities:

Fitness Centre: Under 16 not allowed.
Casino, Thermal Spa: Minimum age 18.
Some Bars/Lounges (Spice H2O) on specific ships are adult-only (18+).
Lifeguards at family pools children under 12 need adult supervision.

Parental Responsibility: Safety of children (up to 18) lies with parents/accompanying adults, regardless of lifeguard presence.
Unattended Children: Children must not be left alone onboard when adults go ashore for safety reasons.
Cruise Inquiry